A Prayer for Fathers (Free Printable)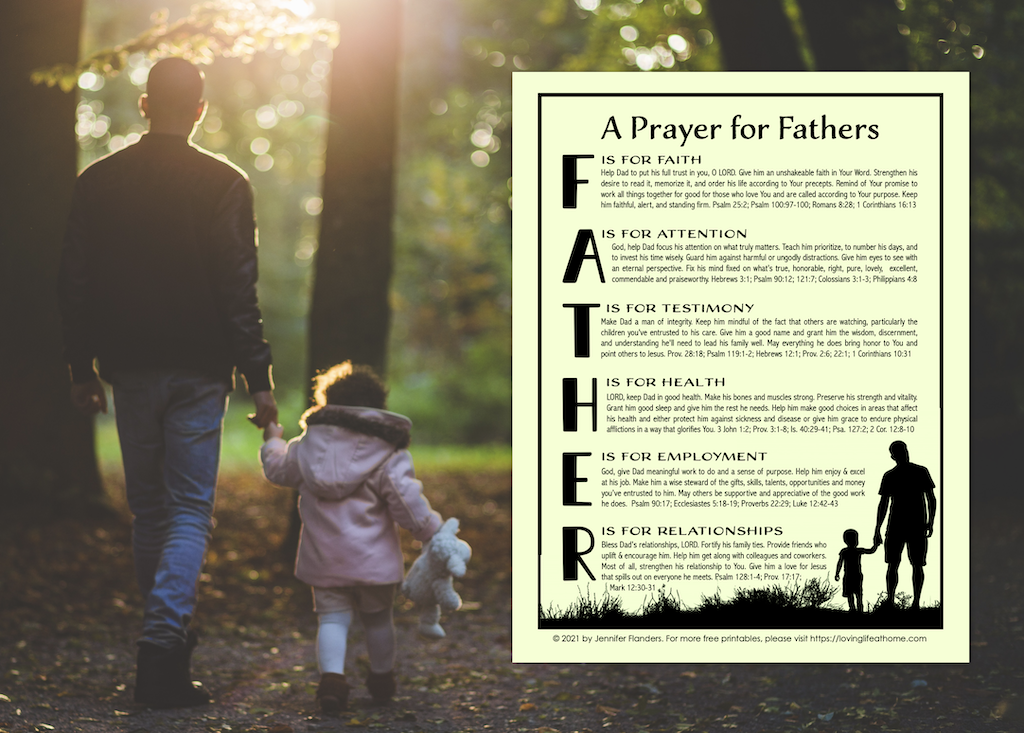 Today's post was inspired by one of my readers. While writing to thank me for all my free printable prayer guides, she noted that I hadn't published a prayer for fathers and requested I make one ASAP.
Since Sunday is Father's Day, now seems the perfect time to share what I came up with.
Most of the prayers I prayed as a child for my own father were reactive rather than proactive. When he was sick, I prayed he'd get well. When he was laid off, I prayed he'd find a new job. On more than one occasion, I prayed he'd change his mind when he said no to something I really wanted to do. To be honest, the idea of praying for my dad whether he "needed it" or not never even occurred to me until I was an adult.
So it blesses my heart to hear from young people who are committed to praying regularly for their fathers (and mothers, siblings, grandparents, etc). Because I've lived long enough now to know that God hears and honors those kind of proactive prayers!
A Prayer for Fathers
F is for Faith
Help Dad to put his full trust in you, O LORD. Give him an unshakeable faith in Your Word and strengthen his desire to read it, memorize it, and order his life according to Your precepts. Remind of Your promise to work all things together for good for those who love You and are called according to Your purpose. Keep him faithful, alert, and standing firm.
Psalm 25:2; Psalm 100:97-100; Romans 8:28; 1 Corinthians 16:13
A is for Attention
God, help Dad focus his attention on what truly matters. Teach him prioritize, to number his days, and to invest his time wisely. Guard him against harmful or ungodly distractions. Give him eyes to see with an eternal perspective. Keep his mind fixed on whatever is true, honorable, right, pure, lovely, commendable, excellent, and praiseworthy.
Hebrews 3:1; Psalm 90:12; Psalm 121:7; Colossians 3:1-3; Philippians 4:8
T is for Testimony
Make Dad a man of integrity. Keep him mindful of the fact that others are watching, particularly the children you've entrusted to his care. Give him a good name and grant him the wisdom, discernment, and understanding he'll need to lead his family well. May everything he does bring honor to You and point others to Jesus.
Proverbs 28:18; Psalm 119:1-2; Hebrews 12:1; Proverbs 22:1; Proverbs 2:6; 1 Corinthians 10:31
H is for Health
LORD, keep Dad in good health. Make his bones and muscles strong. Preserve his strength and vitality. Grant him good sleep and give him the rest he needs. Help him make good choices in areas that affect his health and either protect him against sickness and disease or give him grace to endure his physical afflictions in a way that glorifies You.
3 John 1:2; Proverbs 3:1-8; Isaiah 40:29-41; Psalm 127:2; 2 Corinthians 12:8-10
E is for Employment
God, give Dad meaningful work to do and a sense of purpose. Help him enjoy and excel at his job. Make him a wise steward of the gifts, skills, talents, opportunities, and money you've entrusted to him. May others be supportive and appreciative of the good work he does.
Psalm 90:17; Ecclesiastes 5:18-19; Proverbs 22:29; Luke 12:42-43
R is for Relationships
Bless Dad's relationships, LORD. Fortify his family ties. Provide friends who uplift and encourage him. Help him get along with colleagues and coworkers. Most of all, strengthen his relationship to You. Give him a love for Jesus that spills out on everyone he meets.
Psalm 128:1-4; Proverbs 17:17; Mark 12:30-31
Want a printable version of this prayer for fathers? Click on the image below to download the free prayer guide.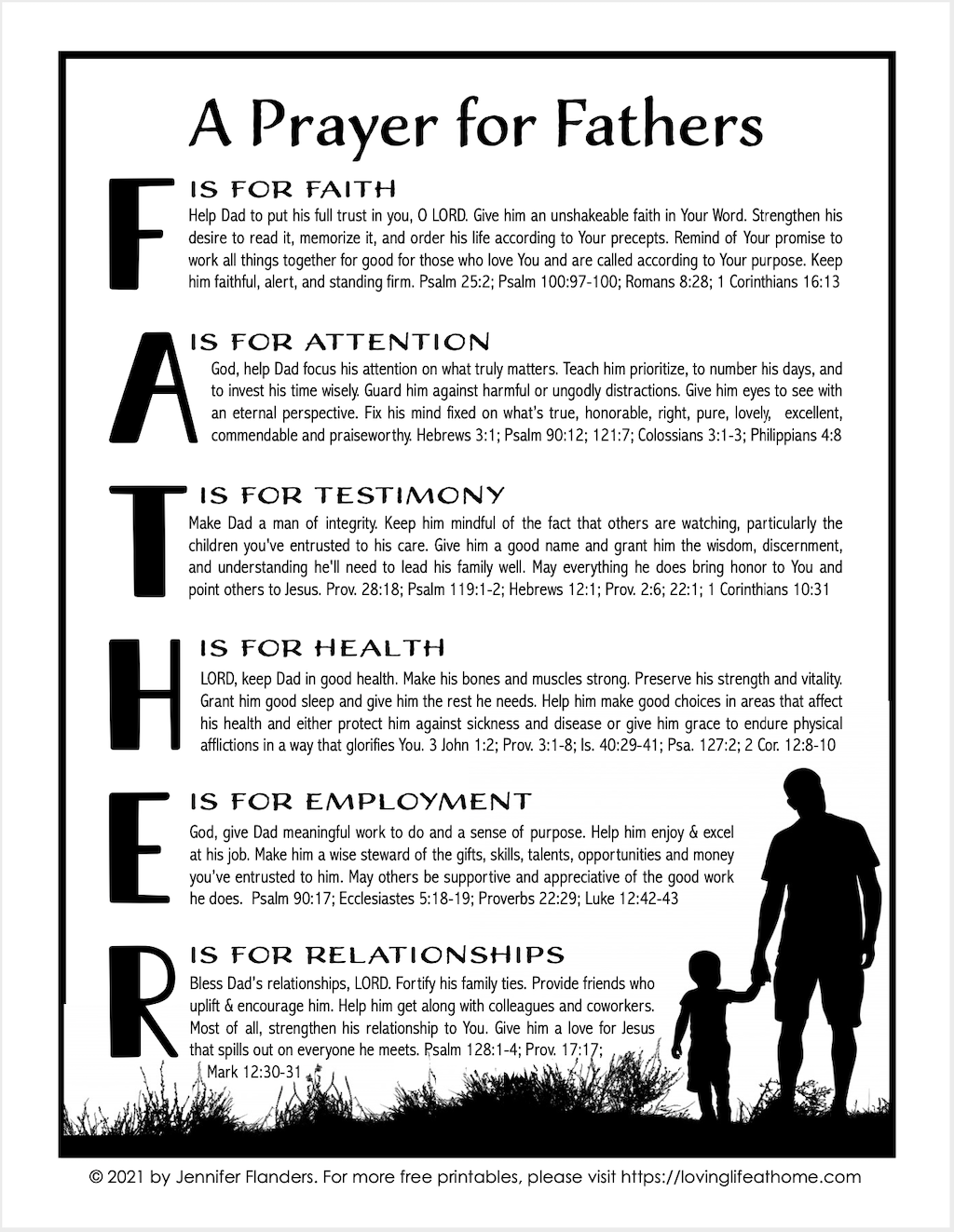 More Free Printable Prayer Guides
This Prayer for Fathers joins a long list of prayer guides I've published on this blog. Click through the links below to print out any of these guides.
Can you think of a prayer guide you'd like to see that isn't already listed? Tell me about it in the comment section below. I may use your idea for my next printable prayer.