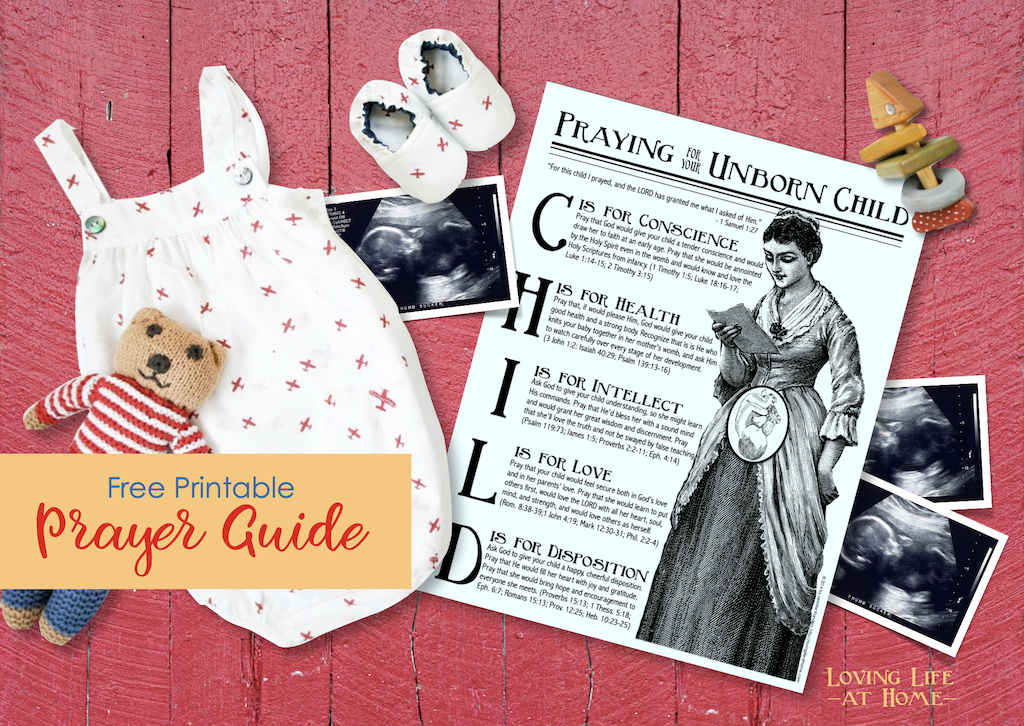 A friend of mine once told me that, all through one of her pregnancies, she prayed God would give her a beautiful little girl with blue eyes and dark hair.
God granted that request, but the little girl was also quite stubborn. She was so headstrong, in fact, that by the time she was two years old, my friend was wishing she'd spent more of her pregnancy praying for her daughter's character than for her physical features!
Of course, I don't think praying for a baby is like ordering off a menu, but I do know that God delights in giving us the desires of our heart (Psalm 37:4-5) — especially when those desires are in line with His own.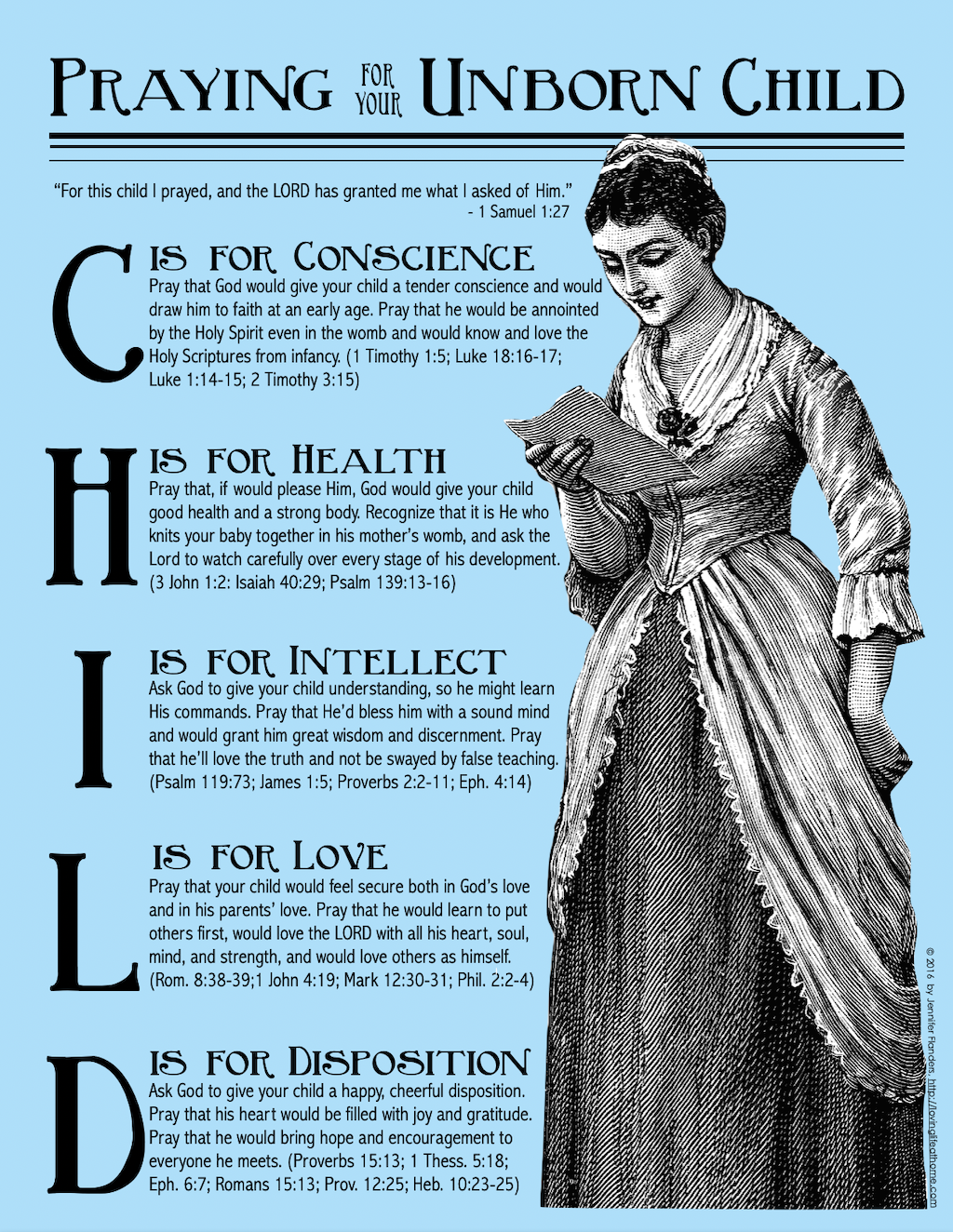 While it never occurred to me or my husband to pray for a child's hair or eye color, or even for a particular sex, we certainly sent up many other heartfelt petitions for our children, beginning from the first moment we learned we were expecting, if not before.
Here are the things for which we most fervently prayed:
Praying for Your Unborn Child
C is for Conscience
Pray that God would give your child a tender conscience and would draw her to faith at an early age. Ask that she would be anointed by the Holy Spirit even in the womb and would know and love the Holy Scriptures from infancy. (1 Timothy 1:5; Luke 18:16-17; Luke 1:14-15; 2 Timothy 3:15)
H is for Health
Pray that, if would please Him, God would give your child good health and a strong body. Recognize that is is He who knits your baby together in her mother's womb, and ask Him to watch carefully over every stage of her development. (3 John 1:2; Isaiah 40:29; Psalm 139:13-16)
I is for Intellect
Ask God to give your child understanding, so she might learn His commands. Pray that He'd bless her with a sound mind and would grant her wisdom and discernment. Pray that she would love the truth and not be swayed by false teaching. (Psalm 119:73; James 1:5; Proverbs 2:2-11; Ephesians 4:14)
L is for Love
Pray that your child would feel secure both in God's love and in her parents' love. Ask God to help her learn to put others first. Pray that she would love the LORD with all her heart, soul, mind, and strength, and would love others as herself. (Romans 8:38-39; 1 John 4:19; Mark 12:30-31; Philippians 2:2-4)
D is for Disposition
Ask God to give your child a happy, cheerful disposition. Pray that He would fill her heart with joy and gratitude. Pray that she would bring hope and encouragement to everyone she meets. (Proverbs 15:13; 1 Thessalonians 5:18; Ephesians 6:7; Romans 15:13; Proverbs 12:25; Hebrews 10:23-25)
"For this child I prayed, and the LORD has granted me what I asked of Him." (1 Samuel 1:27)
Do you (did you) pray for your babies before they were born? On what things were you most likely to focus your requests?
Parents should never underestimate the power of prayer. Even if you've not prayed consistently in the past, you can start now. Here are a couple of our other free printable guides to help you do that:
We invite you to check out our printables page for even more!
UPDATE: Do you already know the sex of your baby? My "Praying for Your Unborn Child" printable was originally written using feminine pronouns, since my last baby had been a girl. But thanks to several reader requests, I've created a version with masculine pronouns now, too. So… take your pick: