Prayer for Travelers (Free Printable)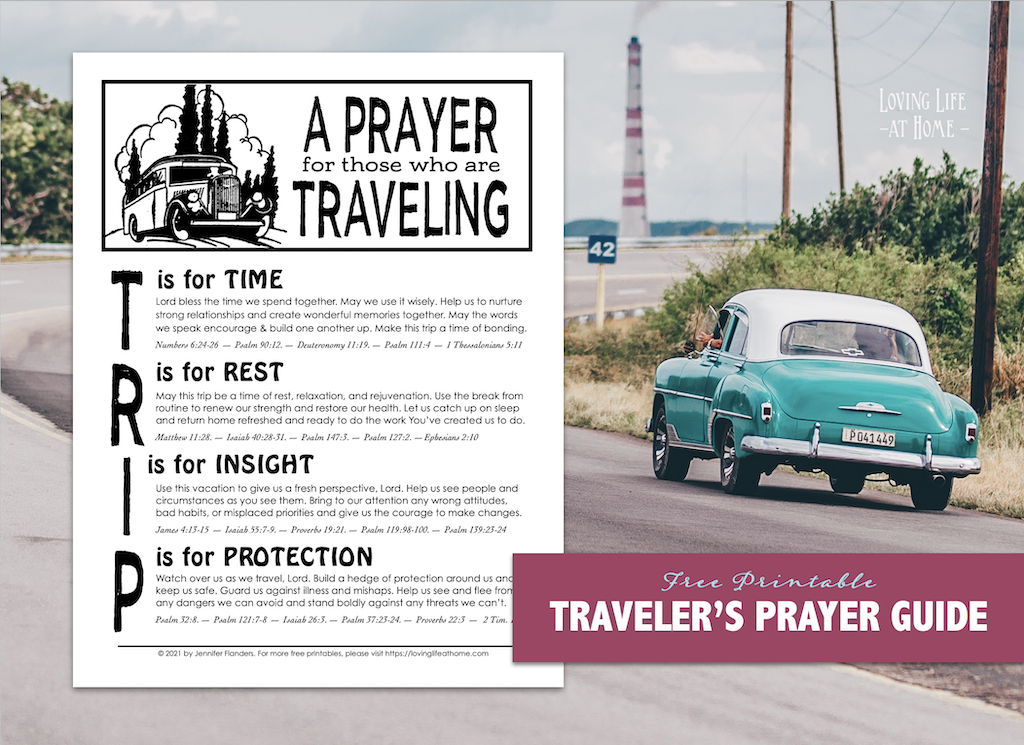 My family loves to travel, and we do a lot of it. But before we embark on any extended trip, I always email my mother a detailed itinerary of everything we'll be doing while we're away.
Before the advent of cell phones, I did this so Mom would know how to reach us if she needed to. But I continue to do it even now, because I know my mother prays for each member of my family every single day. And the more she knows about what's going on in our lives, the more specifically she prays.
I'm convinced that Mom's prayers are one of the primary reasons our vacations have always gone so smoothly. In that sense, she is the inspiration behind the free printable Prayer for Travelers I'm sharing today. These requests form an acrostic with the letters in T-R-I-P. Use it next time you travel and see if you notice any difference. 🙂
A Prayer for Travelers
T is for Time
"Lord bless the time we spend together. May we use it wisely. Help us to nurture strong relationships and create wonderful memories together. May the words we speak encourage & build one another up. Make this trip a time of bonding."
Numbers 6:24-26; Psalm 90:12; Deuteronomy 11:19;Psalm 111:4; 1 Thessalonians 5:11
R is for Rest
May this trip be a time of rest, relaxation, and rejuvenation. Use the break from routine to renew our strength and restore our health. Let us catch up on sleep and return home refreshed and ready to do the work You've created us to do.
Matthew 11:28; Isaiah 40:28-31; Psalm 147:3; Psalm 127:2; Ephesians 2:10
I is for Insight
Use this vacation to give us a fresh perspective, Lord. Help us see people and circumstances as you see them. Bring to our attention any wrong attitudes, bad habits, or misplaced priorities and give us the courage to make needed adjustments.
James 4:13-15; Isaiah 55:7-9; Proverbs 19:21; Psalm 119:98-100; Psalm 139:23-24
P is for Protection
Watch over us as we travel, Lord. Build a hedge of protection around us and keep us safe. Guard us against illness and mishaps. Help us see and flee from any dangers we can avoid and stand boldly against any threats we can't.
Psalm 32:8; Psalm 121:7-8; Isaiah 26:3; Psalm 37:23-24; Proverbs 22:3; 2 Timothy 1:7
For a free printable version of this Prayer for Travelers, click on the image below: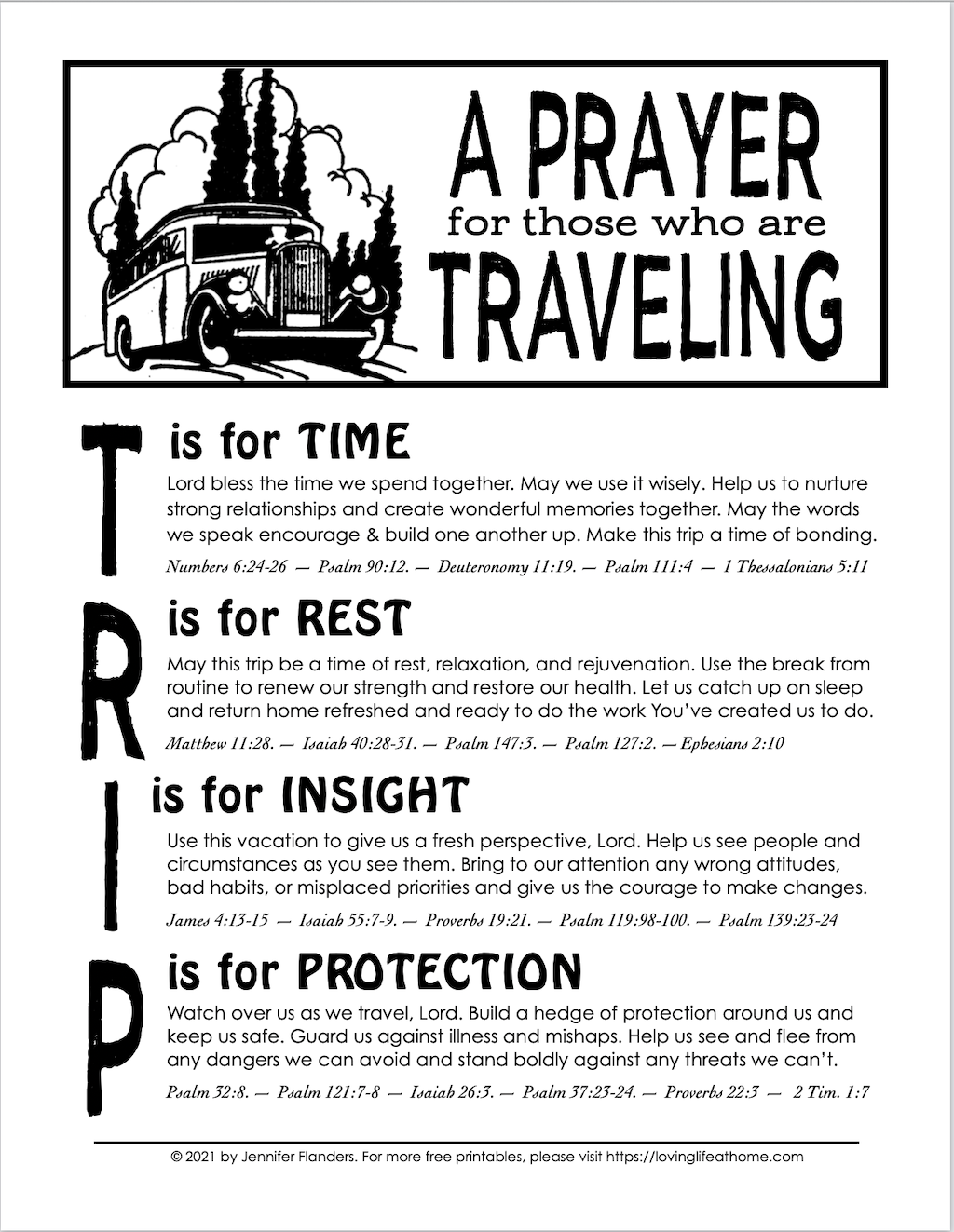 Fun Travel Ideas for Families
If your family loves to go as much as mine does, check out my book Pack Up & Leave. It's chockfull of smart tips that will make your next family road trip or vacation more economical, educational, and memorable.