A Prayer for the Sick (Free Printable)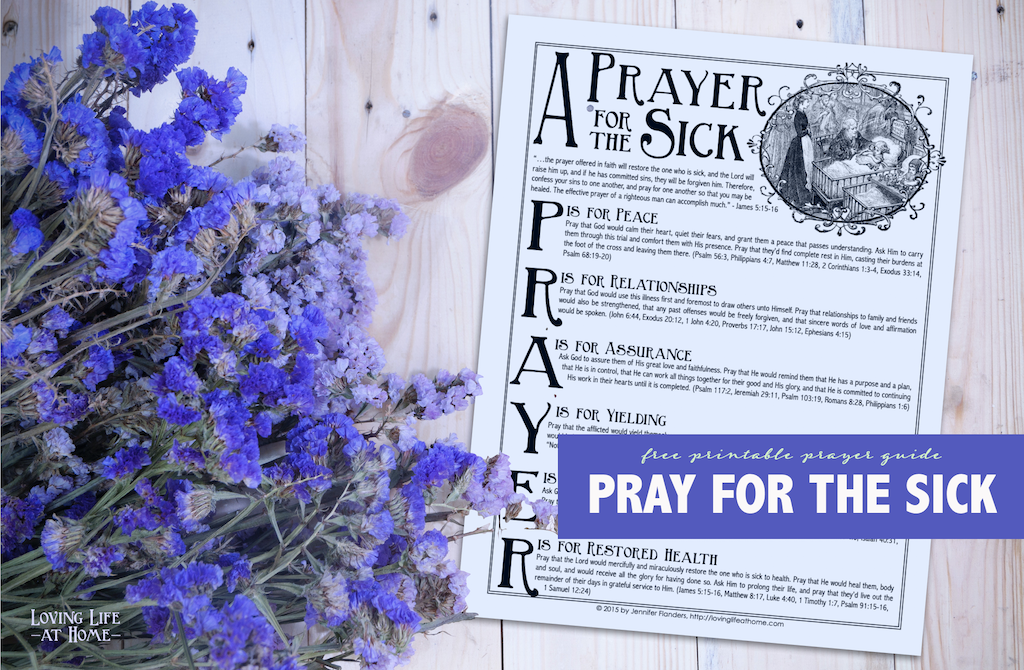 A friend of mine recently asked me to pray for her nephew, who is presently fighting a recurrence of a malignant brain cancer known as medulloblastoma.
His name is Gabe — if you'd like to send up a prayer for him, too, I know they'd be grateful — and he graduated from high school the day before this latest tumor was discovered.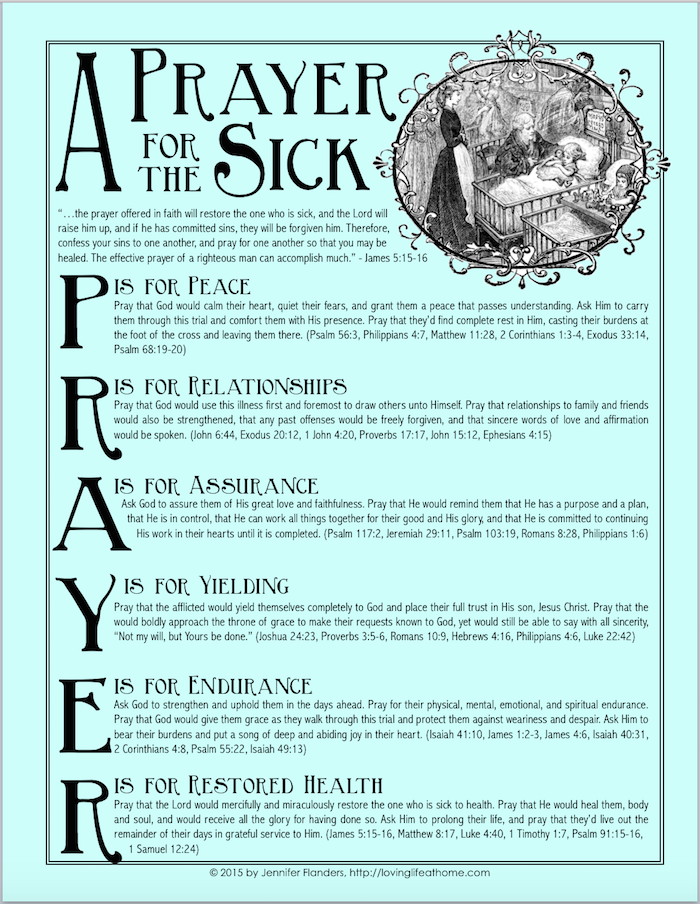 I've been thinking about Gabe a lot lately. It makes my mother-heart hurt to even imagine what their family is going through.
Sometimes, when problems loom large, it's hard to know where to even begin in your prayers, but in this instance, God brought the following Scriptures to mind almost immediately. These are the verses I've been praying over Gabe:
P is for Peace
Pray that God would calm their heart, quiet their fears, and grant them a peace that passes understanding. Ask Him to carry them through this trial and comfort them with His presence. Pray that they'd find complete rest in Him, casting their burdens at the foot of the cross and leaving them there. (Psalm 56:3, Philippians 4:7, Matthew 11:28, 2 Corinthians 1:3-4 Exodus 33:14, Psalm 68:19-20)
R is for Relationships
Pray that God would use this illness first and foremost to draw others unto Himself. Pray that relationships to family and friends would also be strengthened, that any past offenses would be freely forgiven, and that sincere words of love and affirmation would be spoken. (John 6:44, Exodus 20:12, 1 John 4:20, Proverbs 17:17, John 15:12, Ephesians 4:15)
A is for Assurance
Ask God to assure them of His great love and faithfulness. Pray that He would remind them that He has a purpose and a plan, that He is in control, that He can work all things together for their good and His glory, and that He is committed to continuing His work in their hearts until it is completed. (Psalm 117:2, Jeremiah 29:11, Psalm 103:19, Romans 8:28, Philippians 1:6)
Y is for Yielding
Pray that the afflicted would yield themselves completely to God and place their full trust in His son, Jesus Christ. Pray that the would boldly approach the throne of grace to make their requests known unto God, yet would still be able to say with all sincerity, "Not my will, but Yours be done." (Joshua 24:23, Proverbs 3:5-6, Romans 10:9, Hebrews 4:16, Philippians 4:6, Luke 22:42)
E is for Endurance
Ask God to strengthen and uphold them in the days ahead. Pray for their physical, mental, emotional, and spiritual fortitude. Pray that God would give them grace as they walk through this trial and protect them against weariness and despair. Ask Him to bear their burdens and put a song of deep and abiding joy in their heart. (Isaiah 41:10, James 1:2-3, James 4:6, Isaiah 40:31, 2 Corinthians 4:8, Psalm 55:22, Isaiah 49:13)
R is for Restored Health
Pray that the Lord would mercifully and miraculously restore the one who is sick to health. Pray that He would heal them, body and soul, and would receive all the glory for having done so. Ask Him to prolong their life, and pray that they'd live out the remainder of their days in grateful service to Him. ( James 5:15-16, Matthew 8:17, Luke 4:40, 1 Timothy 1:7, Psalm 91:15-16, 1 Samuel 12:24)
Do you have friends or family members who are struggling with poor health? Pray for them! Scripture tells us:
"…the prayer offered in faith will restore the one who is sick, and the Lord will raise him up, and if he has committed sins, they will be forgiven him. Therefore, confess your sins to one another, and pray for one another so that you may be healed. The effective prayer of a righteous man can accomplish much." – James 5:15-16
To download a free printable copy of this prayer guide for the sick, click here. To view copies of our other prayer guides, follow this link.