For the Mother whose Child is Leaving Home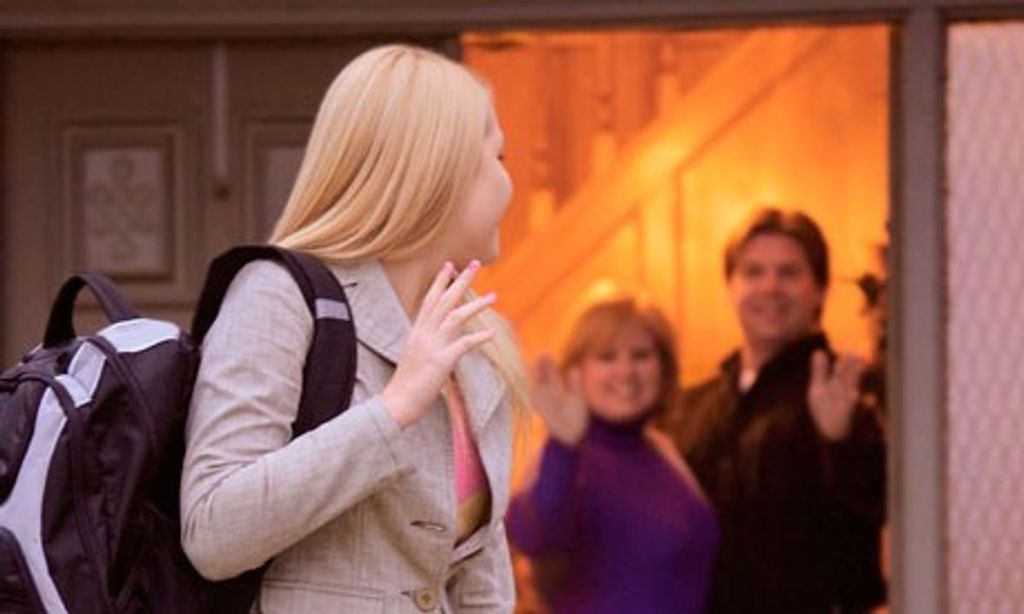 A message for the mother whose child is leaving home:
You knew it was coming.
From the first moment you held that tiny baby in your arms, you knew the day would dawn when you'd have to let her go.
But it came much sooner than you expected, didn't it? The child who yesterday was snuggling in your lap has almost overnight transformed into a wonderful young adult who is packing bags, leaving home, moving away… and taking your heart along for the ride.
So now you are choking back the tears and trying to swallow that lump in your throat. Not because you have a lot of regrets. You don't. You were the best mother you knew how to be, and you love your child more than life itself.
Always have. Always will.
But, oh how you miss her! You miss hearing the details of her days. The happy chatter. The sparkle in her eye. The infectious laugh. The music she made when practicing piano.
And that empty place at the dining room table is a daily reminder that she's gone.
It's a bittersweet time of life. But in the midst of your lonely, melancholy moods, I hope you'll find encouragement in these thoughts:
This is the natural order of things.

Our little ones were never meant to stay little forever.

The whole goal of parenting is to work ourselves out of a job. To raise capable, confident children who are able not only to survive, but to thrive as responsible, caring adults.

Leaving home brings them one step closer to that objective.

We still have telephones.

And Skype. And Facetime. And instant messaging. And Twitter. And email. Not to mention snail mail (a perennial favorite in our household).

Even when my daughter spent six months on the other side of the globe, whenever she Skyped us, it was almost like having her back in our living room.

When our fore-mothers said goodbye to their adult children, it was often as they were boarding a ship to sail to the New World or climbing into a covered wagon to cross a continent. Those mothers knew they literally might never see their child again.

When you think about it in those terms, we really have it easy.

Kids come back to visit (bringing reinforcements with them).

Whether your child is moving into the dorms or exchanging vows at an altar, she isn't leaving your life forever. Not only will you hear from her again, but she'll come home to visit, as well.

And when she does, there's a good chance she'll bring her college classmates, then later a spouse and children, with her.

So do what you can to make home a warm and welcoming place to be, and be happy for whatever time she's able to spend there with you.

The other people in your home are depending on you.

If your child left younger siblings at home when she moved away, then you haven't worked yourself out of a job quite yet. Your other children need you to remain fully engaged in their lives. Let the first child's leaving motivate you to use well the time that remains with the others.

If you are blessed to still have a husband at home, now would be a great time to give him an extra measure of love and attention, as well. One of these days, that last little bird will finally fledge and fly away, and then it will just be the two of you together again. By investing wisely in your marriage along the way, you can ensure it continues to flourish even after the nest is empty.

If this child's departure left you truly alone, with no spouse and no younger children needing your attention, then look for ways to invest in the lives of others in your church and community.

My own mother, now widowed, lives out this principle beautifully: She works in the nursery at church (weekly), attends Bible Study Fellowship (weekly), teaches a BSF children's class (weekly), volunteers with Buckner Children's Home (weekly), is active with several widows' and senior citizens' groups (often hosting them in her home), and plays a vital role in the lives of her children and grandchildren. Mom is proof that living alone doesn't have to mean being lonely.

The next season of life deserves to be savored.

If you spend too much time pining for the season just past, you'll fail to fully appreciate the season in which you presently find yourself.

Those happy, hectic years of nursing babies and changing diapers and chasing toddlers marked one of the sweetest, most precious seasons of my life. But I must admit that when I first began my journey into motherhood, I spent many a night wishing for a little more of the uninterrupted sleep I'd enjoyed in the previous season! If I hadn't learned to embrace those midnight feedings, I would have missed out on a lot of warmth and joy and closeness that came from those sweet, undistracted hours with my babes.

Now, after being pregnant and/or nursing for twenty-five years solid, it would seem my baby days are behind me. But rather than grieving that the last season has come to an end, I'm determined to make the most of the season I'm in now.
Your child's leaving home is not the end of the story — certainly not for her, but not for you, either. It's simply turning the page and beginning a new chapter.
Best of all, you get to help determine the direction that chapter will take. Will it be a drama or a romance? A tear jerker or a comedy? A plodding documentary or a page-turning adventure?
You've got a lot of life left to live, so come on out of your child's empty bedroom, dry your eyes, and get busy living it. Your next adventure awaits!