Q&A: What If My Drive is Stronger than His?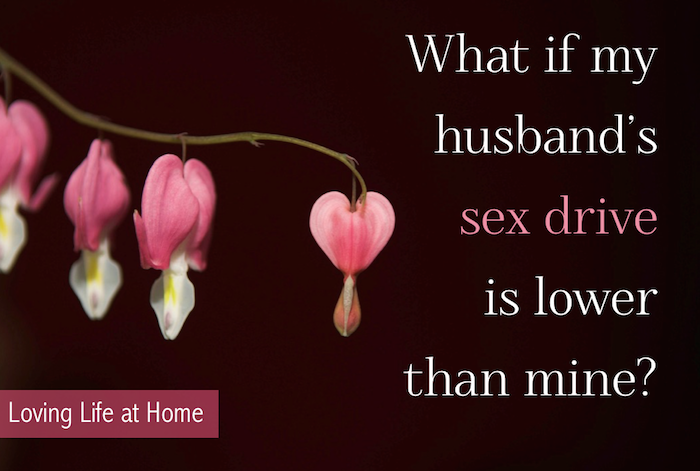 QUESTION: "Your book [Love Your Husband/ Love Yourself] mainly deals with wives who are denying their husbands of sex. What if it's the other way around and the husband has a lower drive than the wife?"
ANSWER: The Bible teaches that the husband has a responsibility to the wife in this area, just as surely as the wife has a responsibility to the husband. (See 1 Corinthians 7:2-5) Each is completely dependent upon the other, as we are given no other righteous alternative for experiencing sexual fulfillment other than with one's own spouse (thus God's command that neither is to deprive the other).
That's why I think the frequency with which a couple has sex should really be determined by whichever spouse has the stronger drive. I suggest you discuss the matter with your husband and remind him of your complete dependence upon his active cooperation. You might also read this post, as it has other suggestions for a wife whose husband seems disinterested in sex.
Although it is more common for the man to have the stronger drive, I've heard from many, many wives for whom the roles are reversed. It is an agonizing place to be.
If something were to change and I found myself in that situation, I wouldn't hesitate to discuss it with my husband. Depending on how that talk went, I would probably get a doctor and/or counselor involved, as well.
And since, in our case, a sudden disinterest in sex would be a huge departure from his thirty-year norm, once I ruled out any health concerns or other legitimate causes, I would likely be asking some tough questions about masturbation, pornography, and/or adultery.
A frank discussion about those topics might be in order, even if there hasn't been an abrupt change in your husband's interest in intimacy. Although there are definitely some physical things that will affect a man's libido — low testosterone, depression, anxiety, fatigue, alcohol, drugs, and certain prescription meds, to name just a few — there is a big difference between a man with a low sex drive and a man with a high sex drive who is getting his needs met elsewhere.