That Time I Had a Baby at 45
Spoiler alert: I had a baby at 45 and am feeling sentimental. If your little one is growing up as fast as mine is, you may want some Kleenex before reading the poem at the end of this post.
Our family has a lot to celebrate this week: Yesterday was my youngest daughter's birthday. Today is my birthday. Tomorrow is my husband's birthday. And the following day marks the 30th anniversary of the day we met, which also happens to be "Lovers Day" — isn't that fitting?
I've taken my own aging and my husband's advancing years in stride. Turning 50 didn't faze me last year, and 51 doesn't seem like a big deal, either (although I have noticed my bones creaking a lot more now than they did a decade ago).
The thing that's been hardest to accept is the idea that this sweet little baby could be six years old already: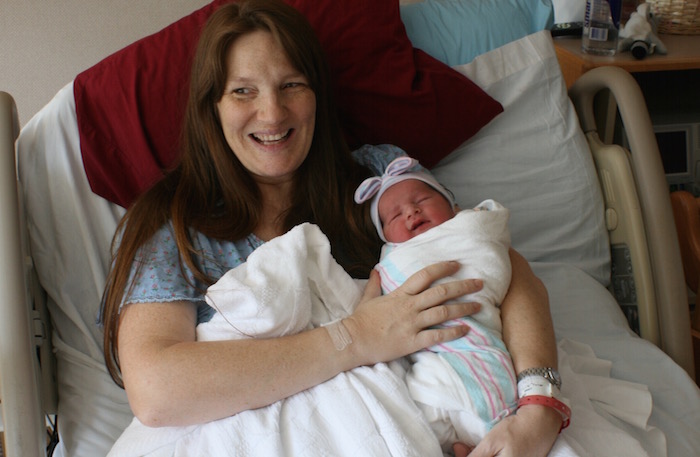 She's growing up so fast! She can read. She can ride a bike without training wheels. She even lost her first tooth yesterday!
But the fact that there are no younger siblings trailing in her wake makes the bittersweetness of each new milestone particularly poignant. That's why I made it one of my New Year's resolutions this year to hold Abigail in my lap at least once every day: I know those days of cuddling will end far sooner than I'm ready to say goodbye to them.
Incidentally, Abby told me that one of her New Year's resolutions was to sit in my lap at least once every day — so it's been working out beautifully so far. We've only missed one day in four months — March 1. (That was election day for the Texas state primaries, and I worked the polls all day, personally checking in and credentialing one thousand, one hundred fifteen voters in the span of 12 hours. It meant leaving the house before Abby woke up and returning after she'd gone to bed. So no lap time that day. 🙁 )
Abigail was born the day before I turned 45. I had my first child at 23, my second 16 months later, and another every couple of years after that for two decades. One of the best benefits of big-family living is that I haven't had to give up the joys of one stage to embrace the pleasures of the next.
Having a baby at 45 means I've been able to nurse babies and cuddle toddlers and read with grade schoolers and nurture adolescents and teach teens to drive and attend graduations and converse with adult children and witness marriages and welcome grandchildren — all at the same time! That's been absolutely amazing as long as it's lasted.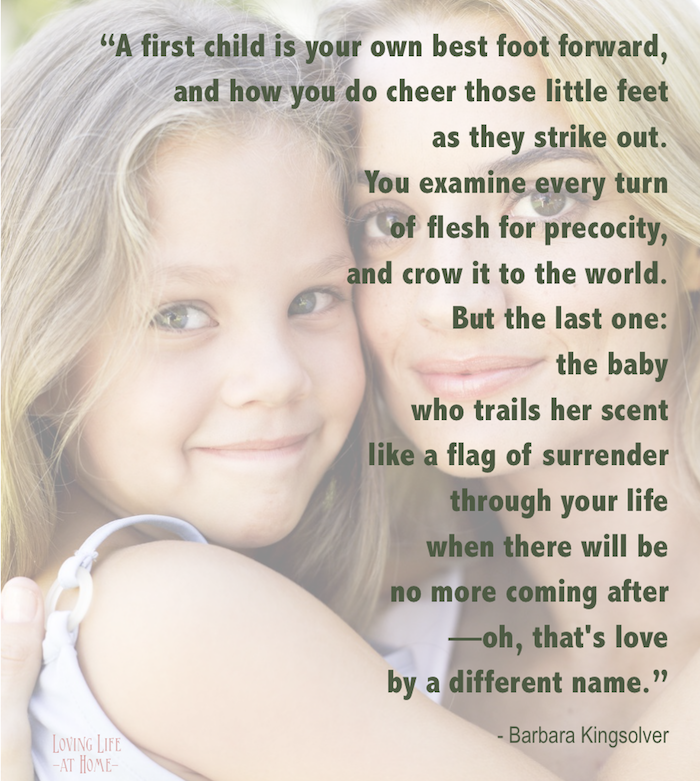 But now that I've (most likely) reached the end of those precious childbearing years, I'm more acutely aware than ever, as my little ones pass milestone after milestone, that some of my favorite aspects of motherhood are being left behind in the transition. I don't want to take any of these moments for granted, which is probably why the following poem so resonates with me at this stage of my life:
The Last Time
From the moment you hold your baby in your arms,
You will never be the same.
You might long for the person you were before,
When you had freedom and time,
And nothing in particular to worry about.
You will know tiredness like you never knew it before,
And days will run into days that are exactly the same,
Full of feeding and burping,
Whining and fighting,
Naps, or lack of naps. It might seem like a never-ending cycle.

But don't forget…
There is a last time for everything.
There will come a time when you will feed your baby
for the very last time.
They will fall asleep on you after a long day
And it will be the last time you ever hold your sleeping child.

One day you will carry them on your hip,
then set them down,
And never pick them up that way again.
You will scrub their hair in the bath one night
And from that day on they will want to bathe alone.
They will hold your hand to cross the road,
Then never reach for it again.
They will creep into your room at midnight for cuddles,
And it will be the last night you ever wake for this.
One afternoon you will sing "The Wheels on the Bus"
and do all the actions,
Then you'll never sing that song again.
They will kiss you goodbye at the school gate,
Then the next day, they will ask to walk to the gate alone.
You will read a final bedtime story and wipe your
last dirty face.
They will one day run to you with arms raised,
for the very last time.

The thing is, you won't even know it's the last time
Until there are no more times, and even then,
It will take you a while to realise.

So while you are living in these times,
Remember there are only so many of them and
When they are gone,
You will yearn for just one more day of them…
For one last time.

Author unknown
If your baby is still a baby, savor the sweet moments while you can. If your youngest has grown up faster than you ever imagined possible, then you can undoubtedly relate to this poem as much as I do. (I don't know who wrote it. If you do, please share in the comment section below.)
Of course, there's no stopping the march of time — and I wouldn't want to, even if I could. It is vitally important that we let our children grow up. That we encourage and facilitate their maturity and independence. And that we — little by little — learn to let go.
But as long as my little girl still wants to crawl into my lap to snuggle, I'm gonna let her do just that!