Prayer for Safety in the Midst of Danger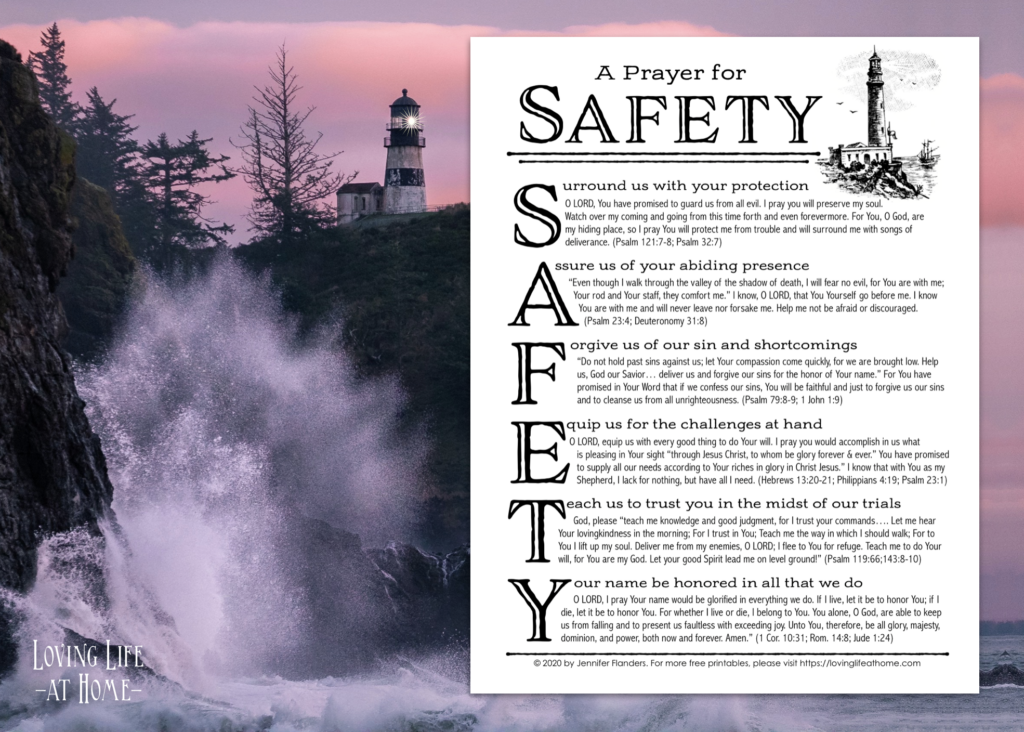 The coronavirus pandemic has turned the whole world upside down in a matter of weeks, hasn't it? In light of this present crisis, I thought a "Prayer for Safety in the Midst of Danger" might be in order.
One of the best ways I know to be sure my prayers align with the heart of God is to draw the words I pray straight out of Scripture. Accordingly, this — like so many of my other free printable prayer guides — is taken almost verbatim from God's Holy Word. Click on the references to read the verses for yourself. May they bring you comfort and hope in these uncertain days.
Current events may have prompted my penning this prayer, but it is appropriate no matter what kind of threat you may personally be facing. As frightening as COVID-19 is to many people, it's not nearly as terrifying in my mind as the prospect of spending eternity without Jesus. That's why my most earnest prayer has been that God would use this unsettling season to draw all hearts closer to Him — including yours, dear reader.
A Prayer for SAFETY in the Midst of Danger
S = Surround us with your protection
O LORD, You have promised to guard us from all evil. I pray you will preserve my soul. Watch over my coming and going from this time forth and even forevermore. For You, O God, are my hiding place, so I pray You will protect me from trouble and will surround me with songs of deliverance. (Psalm 121:7-8; Psalm 32:7)
A = Assure us of your abiding presence
"Even though I walk through the valley of the shadow of death, I will fear no evil, for You are with me; Your rod and Your staff, they comfort me." I know, O LORD, that You Yourself go before me. I know You are with me and will never leave nor forsake me. Help me not be afraid or discouraged. (Psalm 23:4; Deuteronomy 31:8)
F = Forgive us of our sin and shortcomings
"Do not hold past sins against us; let Your compassion come quickly, for we are brought low. Help us, God our Savior… deliver us and forgive our sins for the honor of Your name." For You have promised in Your Word that if we confess our sins, You will be "faithful and just to forgive us our sins and to cleanse us from all unrighteousness."(Psalm 79:8-9; 1 John 1:9)
E = Equip us for the challenges at hand
O LORD, equip us with every good thing to do Your will. I pray you would accomplish in us what is pleasing in Your sight "through Jesus Christ, to whom be glory forever & ever." You have promised to supply all our needs according to Your riches in glory in Christ Jesus. I know that with You as my Shepherd, I lack for nothing, but have everything I need. (Hebrews 13:20-21; Philippians 4:19; Psalm 23:1)
T = Teach us to trust you in the midst of our trials
God, please "teach me knowledge and good judgment, for I trust your commands…. Let me hear Your lovingkindness in the morning; For I trust in You; Teach me the way in which I should walk; For to You I lift up my soul. Deliver me from my enemies, O LORD; I flee to You for refuge. Teach me to do Your will, for You are my God. Let your good Spirit lead me on level ground!" (Psalm 119:66; Psalm 143:8-10)
Y = Your name be honored in all that we do
O LORD, I pray Your name would be glorified in everything we do. If I live, let it be to honor You; if I die, let it be to honor You. For whether I live or die, I belong to You. You alone, O God, are able to keep us from falling and to present us faultless with exceeding joy. Unto You, therefore, be all "glory, majesty, dominion and power, both now and forever. Amen."
(1 Corinthians 10:31; Romans 14:8; Jude 1:24)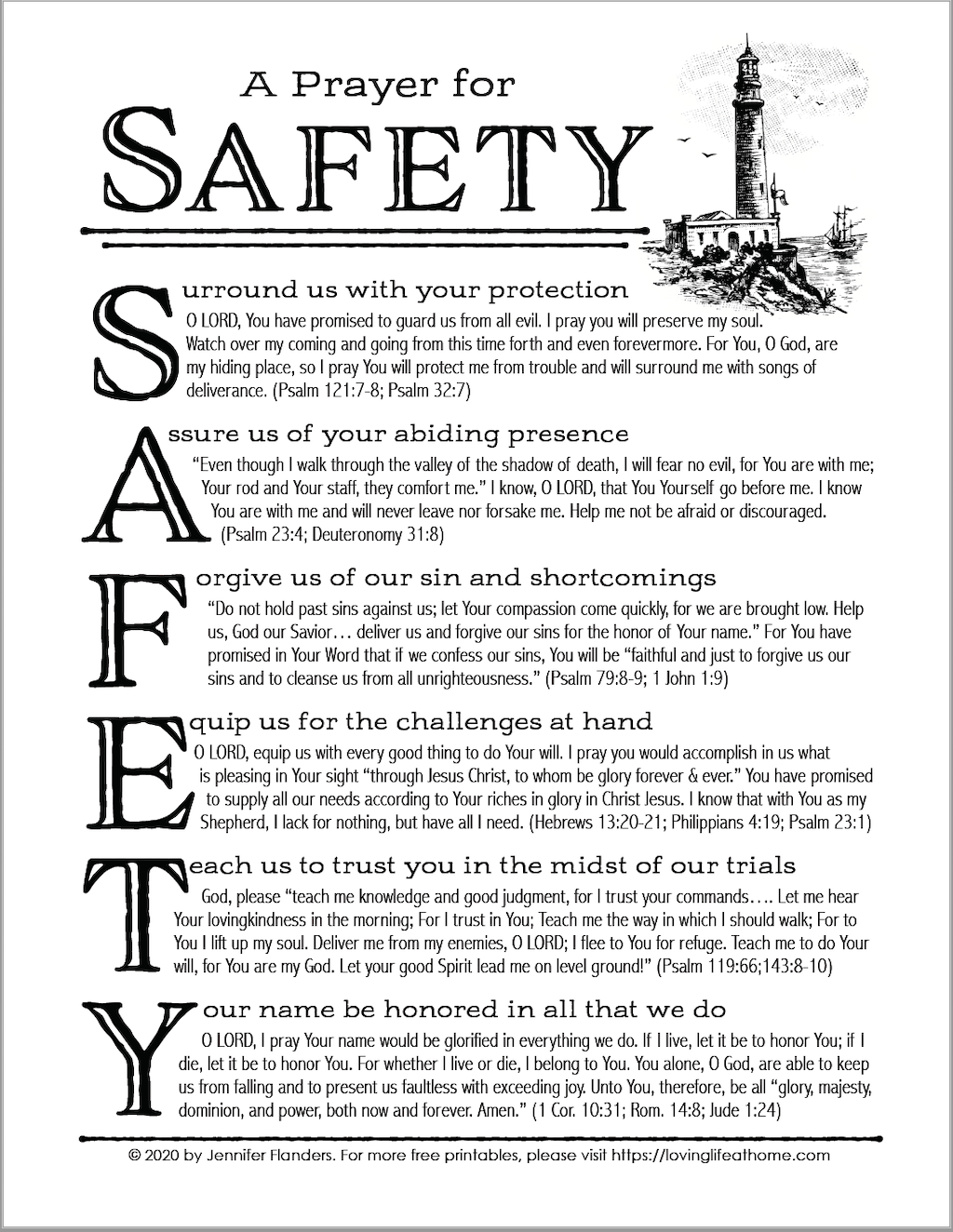 If prayer is to be our first response to troubles, our second response should be praise. James goes so far as to tell us to rejoice when we encounter hardships:
"My brethren, count it all joy when you fall into various trials, knowing this, that the testing of your faith worketh patience unto you." (James 1:2-3)
A very dear friend recently reminded me how important it is to praise God in the midst of our trials. Praise is a more fitting pastime for Christians anyway, don't you think? God receives more glory when we spend our time singing in triumph instead of shivering in terror.
And so I've purposed to be more faithful in doing exactly that. I'd rather devote myself to worship than worry. Wouldn't you?
My friend also sent me the words to a hymn that has been a favorite of mine since childhood. But she included a couple verses I've never heard before.
I've printed the lyrics below. They're full of rich doctrine, much of which is particularly timely given our present circumstances.
You'll notice I've also included a recording of me singing the hymn acapella. That's so you can click on the audio file and sing along with me. Why don't we lift our voices in praise together, right now? It will be good for our souls!
How Firm a Foundation
How firm a foundation, ye saints of the Lord,
Is laid for your faith in His excellent Word!
What more can He say than to you He hath said,
To you who for refuge to Jesus have fled?
"Fear not, I am with thee, O be not dismayed,
For I am thy God and will still give thee aid;
I'll strengthen and help thee, and cause thee to stand
Upheld by my righteous, omnipotent hand.
In every condition, in sickness, in health;
In poverty's vale, or abounding in wealth;
At home and abroad, on the land, on the sea,
As thy days may demand, shall thy strength ever be.
"When through the deep waters I call thee to go,
The rivers of sorrow shall not overflow;
For I will be with thee, thy troubles to bless,
And sanctify to thee thy deepest distress.
"When through fiery trials thy pathways shall lie,
My grace, all sufficient, shall be thy supply;
The flame shall not hurt thee; I only design
Thy dross to consume, and thy gold to refine.
"Even down to old age all my people shall prove
My sovereign, eternal, unchangeable love;
And when hoary hairs shall their temples adorn,
Like lambs they shall still in my bosom be borne."
"The soul that on Jesus still leans for repose,
I will not, I will not desert to its foes;
That soul, though all hell should endeavor to shake,
I'll never, no never, no never forsake."