Give THANKS with a Grateful Heart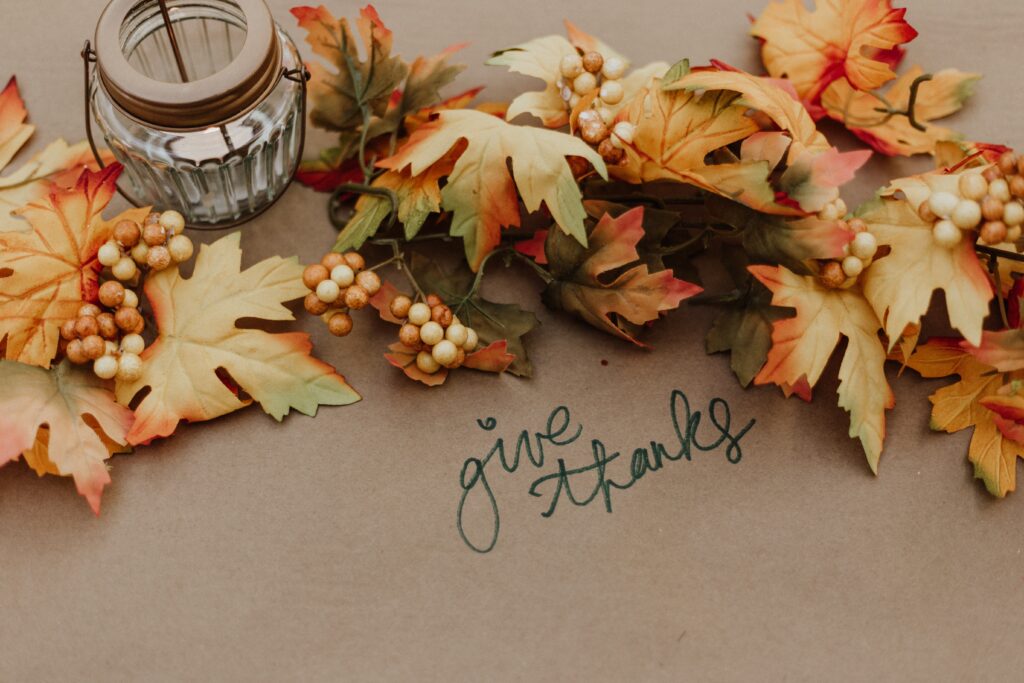 Black Friday didn't even have the courtesy to wait until the end of November this year. Did you notice that? Doorbuster ads started rolling out before we'd even polished off the last of the Halloween candy.
Once again, Thanksgiving – both the day and the act – seems to have gotten trampled in our full court press toward Christmas.
The shopping stampede has begun: Parking lots are already full. Stores are crowded. The wish lists are endless.
Kids queue up for an opportunity to sit on Santa's knee and rattle off a litany of what they hope to find under the tree.
Some of those children seem demanding and ungrateful. But even the courteous ones — the ones who remember to say please and thank you — normally remain focused on their own pleasure. Here's the list of what I want. What I need. What will make me happy.
As distasteful as this pervasive sense of entitlement is to me, if I'm being honest, I can see myself in the way those children approach Jolly Old Saint Nick. Because I sometimes approach my Maker in prayer with that same selfish attitude.
I have an easier time asking God to supply my needs than giving thanks with a grateful heart for what He's already provided. After all, my needs, my wishes, my desperate desires remain at the forefront of my mind, whether I'm praying at a particular moment or not.
Yet God calls me to cultivate an attitude of gratitude:
Therefore as you have received Christ Jesus the Lord, so walk in Him, having been firmly rooted and now being built up in Him and established in your faith, just as you were instructed, and overflowing with gratitude. (Colossians 2:6-7)
We are to give thanks to God with grateful hearts. But this should go far beyond a generic "thank You for Your bountiful blessings."
We should be as specific in communicating appreciation as we are in making requests.
How to Give Thanks with a Grateful Heart
Need inspiration? Here are 6 categories of things that merit our gratitude..
And, since I love acrostics, the categories spell out T-H-A-N-K-S, to make them easy to remember. They'll have you giving thanks with a grateful heart in no time!
T = Trials
It's natural to thank God when life is going well. But what if things turn south? What if you're dealing with a wayward child, with job insecurity, with slander and persecution or with some other circumstance that fills you with dread? What then?
Such situations may tempt us to worry or despair, but God has outlined a better way of dealing with trials:
Rejoice in the Lord always; again I will say, rejoice! (Philippians 4:4)
Now, before you convince yourself that "always" could not possibly mean always, consider the following verse, as well:
Consider it all joy when you encounter various trials, knowing that the testing of your faith produces endurance." (James 1:2)
Clearly, God wants us to be thankful, even in the midst of hardship.
We should thank Him for His purposes in sending such trials our way. Thank Him for his faithfulness to walk by our side in the midst of them. Thank Him for what he plans to accomplish through them.
We should thank him for His unchanging goodness, His unfailing grace, His empowering strength, and His trustworthy promise to use even difficulties for our growth and His glory. What others mean for evil, God can use for good.
H = Health
Reflect with me for a moment. Take a deep breath. Flex your fingers. Do your eyes work well enough to read the words on this page? Is your brain lucid enough to understand them?
Were you strong enough to get out of bed this morning and walk to the kitchen for a cup of coffee? Did you stop off at the bathroom on your way? When's the last time you thanked God that your kidneys and GI tract are working properly? When's the last time you expressed gratitude that your brain and lungs and legs are functional?
Such graces are things many of us take for granted. There's nothing like a bout of ill health to help you appreciate the blessing of good health. When I recovered from three bedridden days of fever and chills earlier this month, I felt like I had a new lease on life.
If you are presently struggling with health issues, go back to the first point and thank God in the midst of that trial. But if you aren't, show some appreciation and thank God for the blessing of good health.
A = Abilities
Are you a great cook? A talented musician? An inspiring teacher? Good with your hands? Strong in math? Have an eye for decorating?
Are you a natural athlete? A wise leader? A good encourager?
Has God given you the gift of service? A heart of compassion? A way with words? An artistic bent? The mind of a programmer? An incredible voice? A discerning spirit? A photographic memory?
Did you know that every unique skill, talent, and aptitude you have comes from God?
For who makes you different from anyone else? What do you have that you did not receive? And if you did receive it, why do you boast as though you did not? (1 Corinthians 4:7)
Make a list of all your various strengths and abilities. Thank God for every one of those gifts and brainstorm ways you can use them for His glory rather than your own. Then bloom where you're planted.
N = Neighbors
When I say you should thank God for your neighbors, I don't just mean the people who live next door.
"Neighbors" include people much closer than that: the family members who share your table. The spouse who shares your bed. The parents and siblings who share your DNA.
But, as Jesus's parable of the good Samaritan proves, "neighbors" also refer to people much further away. People on the other side of the tracks or on the opposite side of the globe. People across town, across the country, and across the political aisle.
If you enjoy close, mutually encouraging relationships with the neighbors God has given you, give thanks for that fact.
If your relationship with some of your neighbors is strained or antagonistic, go back to the first point and thank God in the midst of that struggle, too.
Either way, pray for your neighbors. Thank God for putting them in your life. Ask Him to help you treat your neighbor as you'd want to be treated and to love your neighbors as you love yourself, just as He commanded.
So in everything, do to others what you would have them do to you, for this sums up the Law and the Prophets.(Matthew 7:12)

For the entire law is fulfilled in keeping this one command: "Love your neighbor as yourself."(Galatians 5:14)
K = Kindnesses
We should also be thankful for all the many kindnesses we receive, both from God and from our fellow man. Pray that God will open your eyes to His daily mercies and to the thoughtful actions of others. Fresh air. Warm sunshine. An open door. A friendly smile. A steady arm.
Kindness begets kindness. So if you have trouble spotting much kindness in your community take every opportunity to sow some yourself. Offer a word of comfort. Voice an earnest prayer. Send an encouraging note. Leave a generous tip. Give the signaling car space to change lanes in heavy traffic.
And thank God for the opportunity to be the change you want to see in the world around you.
S = Salvation
Last, but certainly not least, we need to thank God for the gift of salvation and forgiveness He freely offers to all who call upon His name and repent of their sins.
Of course, that's assuming you've accepted this gift. If not, there will never be a better time to do so than right now, this very minute.
The Bible tells us:
If you confess with your mouth Jesus as Lord and believe in your heart God has raised him from the dead, you shall be saved; for with the heart a person believes, resulting in righteousness, and with the mouth he confesses, resulting in salvation." (Romans 10:9-10)
Truly, Salvation is God's greatest and most unfathomable gift of all. It would be a pity to miss that one, above all others.