25 Ways to Disagree with Dignity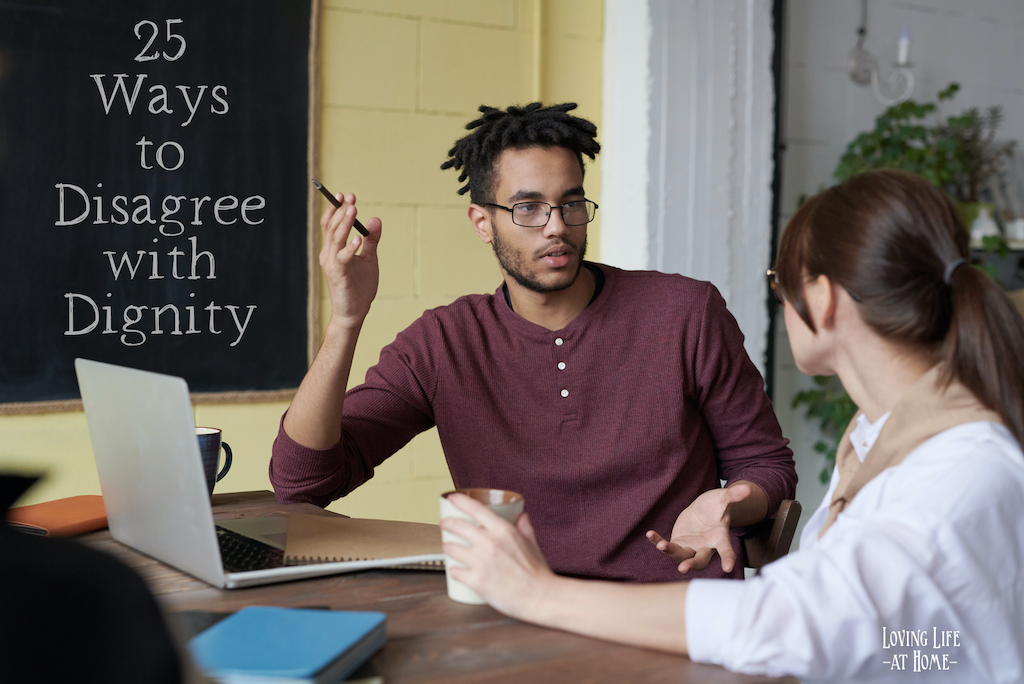 May I just state what should be obvious? Treating someone with dignity and respect does not necessitate agreeing with everything that person thinks. Loving somebody does not mean endorsing everything he does. Leave room for differences by learning how to disagree with dignity.
We can speak civilly to each other, even when we don't see eye-to-eye. We can treat one another with courtesy and kindness, even when we're on opposite sides of an issue. Anybody who has ever been married or parented a child or canvassed a neighborhood for a political candidate has had to confront this universal truth.
There was a time in this country when two people with opposing viewpoints could discuss their differences rationally and respectfully. But that kind of exchange is becoming rarer and rarer these days. Instead, we act as if it's impossible to coexist. How did the cancel culture gain such a foothold? When did bullying, brow-beating, and blocking out anyone with an opposing viewpoint become the norm?
I have lots of like-minded friends and family members. That's a blessing I don't take for granted! But I also have lovely friends whose moral, political, and social beliefs and practices differ dramatically from my own. And do you know what? I'm profoundly grateful for those precious people, too, and for the friendships we've forged.
Sadly, one such friend informed me recently that, if I chose to vote Republican in this election, she would consider me her enemy and unilaterally end our friendship.
I tried to respectfully explain my reasons for supporting the candidate she detests. (Say whatever you will against our president, he has proven himself a friend to the unborn). And I noted that, if she were going to be a "single issue friend," she shouldn't fault me for being a "single issue voter."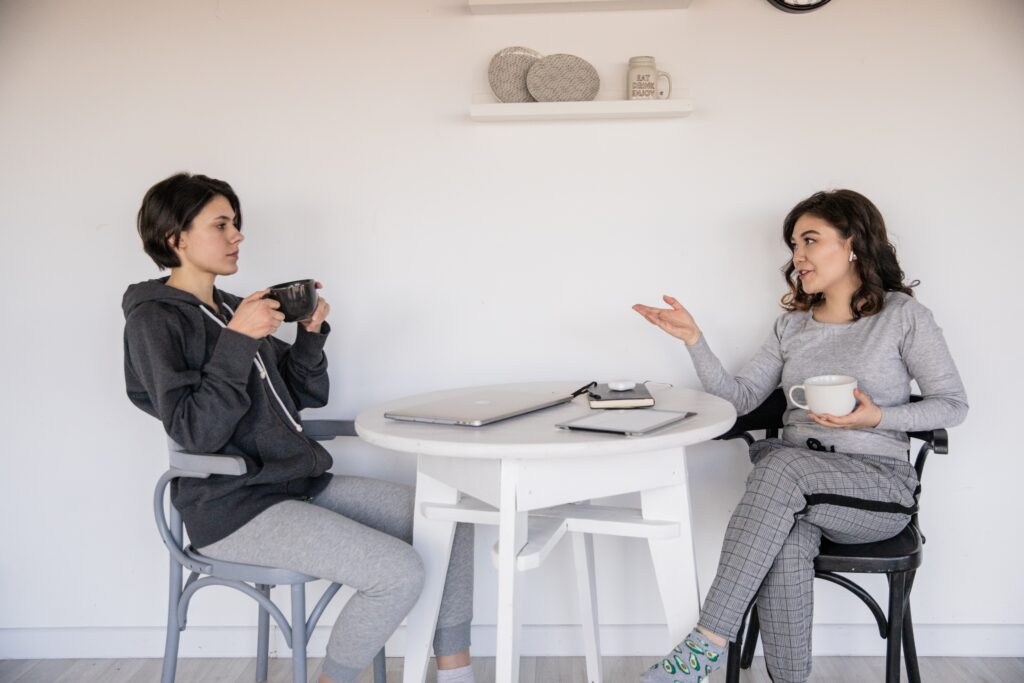 To her credit, my friend eventually reconsidered and buried the hatchet. We'll see whether she digs it up again if this election does not go her way. I suspect she will hold me personally responsible should Trump win a second term.
In the meantime, as long as she's still willing to communicate, I will keep listening to her objections, weighing their merit, and replying with as much grace and dignity as I can muster. And when I must differ with her, as inevitably will happen, I'll continue to abide by the following rules of engagement, so as to do it as respectfully as possible.
25 Ways to Disagree with Dignity
Approach every conflict prayerfully.

Our gracious God is able to bridge the most expansive divides, so enlist His help in dealing with people who don't share your beliefs. Pray for wisdom, discernment, and understanding.

"If any of you lacks wisdom, you should ask God, who gives generously to all without finding fault, and it will be given to you." (James 1:5)

View others with compassion.

Try to see things from their perspective. What do they value? What makes them tick? Consider their background and presuppositions. What life experiences have led them to the conclusions they've drawn?

"Be kind and compassionate to one another, forgiving each other, just as in Christ God forgave you." (Ephesians 4:32)

Separate what they think from who they are.

Dismantle dangerous ideas without tearing down the people who hold them. Expose lies and corruption without labeling your opponent a corrupt liar. Hate the sin, but love the sinner. Assault your opponent's faulty thinking, not his character.

"If you bite and devour each other, watch out or you will be destroyed by each other." (Galatians 5:15)

Assume others have what they consider good reasons for their beliefs.

Those reasons may not make sense to you. But, at some level, their reasons make sense to them. Don't assume they believe as they do simply because they haven't given a matter sufficient consideration. They may've thought through things just as deeply as you have, but arrived at a different conclusion.

"One person considers one day more sacred than another; another considers every day alike. Each of them should be fully convinced in their own mind." (Romans 14:5)

Be quick to listen.

Active listening is a lost art. Don't be so eager to give others a piece of your mind that you fail to hear what the opposition is saying. Instead of using the time they spend talking to mentally rehearse how you'll respond, try attending to their words and asking questions to make sure you are hearing them correctly. Rightly understanding those who oppose you is foundational to disagreeing with dignity.

"My dear brothers and sisters, take note of this: Everyone should be quick to listen, slow to speak and slow to become angry." (James 1:19)

Try not to take offense.

Some people are rude. Some use words as weapons, intentionally trying to do harm. You have no control over whether a person with whom you are conversing says something insulting. But you do get to choose how you respond. Do you take offense? Respond in kind? Or let it slide, like water off a duck's back?

"A man's insight gives him patience, and his virtue is to overlook an offense." (Proverbs 19:11)

Place a guard on your lips.

Measure your words. Don't run at the mouth or say something you'll likely regret. Remember that you must one day give account for every idle word. (Matthew 12:36) So control your tongue. Speak calmly. Don't resort to cursing or calling names.

"Those who guard their lips preserve their lives, but those who speak rashly will come to ruin." (Proverbs 13:3)

Extend common courtesy.

Courtesy never goes out of style. Good manners are always welcome. Treat others with civility and respect.

"Therefore, as God's chosen people, holy and dearly loved, clothe yourselves with compassion, kindness, humility, gentleness and patience." (Colossians 3:12)

Don't give full vent to your anger.

Don't lose your head — or your temper. Learn to reign it in, instead. To "be angry, yet sin not." (Ephesians 4:26-27) To control yourself. And to hold your tongue.

"A fool gives full vent to his rage, but a wise person holds it in check." (Proverbs 29:11)

Balance righteous indignation with patience.

Yes, some of the issues that divide us are matters of life and death. They represent treasured liberties vs. trampled rights, free speech vs. suppressive censorship, law and order vs. anarchy. While it is only right that we would feel passionate about such things, we must be patient with those who think differently. Stand firm, yes. Speak boldly for what we believe in, certainly. But resist the urge to treat those who disagree with us as idiots and imbeciles.

"Whoever is patient has great understanding, but one who is quick-tempered displays folly." (Proverbs 14:29)

Avoid generalizations.

Some generalizations are true: "All have sinned and fall short of the glory of God." (Romans3:23) "None is righteous, no, not one." (Romans 3:10) But those statements were inspired by an omniscient God. Mere mortals should avoid using phrases like "you always" or "they never." Such generalizations are generally untrue and serve only to weaken your argument and inflame your opponent.

"For whoever would love life and see good days must keep his tongue from evil and his lips from deceitful speech." (1 Peter 3:10)

Hold your opinions in humility.

Don't think more highly of yourself than you ought. (Romans 12:3) "God resists the proud, but gives grace to the humble" (James 4:6), so put away all arrogance and self-conceit.

"Do nothing from selfishness or empty conceit, but with humility of mind regard one another as more important than yourselves." (Philippians 2:3)

Speak the truth in love.

Be precise in your words. Season them with grace. Always and only speak the truth in love. Both are vitally needed. Compromise the truth to appear more loving, and you rob the gospel of its transformative power. But hammer home the truth without wrapping it in love, and you become as harsh and irritating as a noisy gong or a clanging symbol. (1 Corinthians 13:1)

"Instead, we will speak the truth in love, growing in every way more and more like Christ, who is the head of his body, the church." (Ephesians 4:15)

Admit when you're wrong.

If you misunderstand, misspeak, or make a mistake of any kind, own up to it immediately. If you've been rude or prideful or misrepresented your opponent in any way, don't double down on that bad behavior. Instead, apologize, seek forgiveness, and purpose to do better going forward.

"If we confess our sins, he is faithful and just and will forgive us our sins and purify us from all unrighteousness." (1 John 1:9)

Use sound reason

A logical argument may not win your opponent, but that's no cause to abandon clear thinking. The Lord says, "Come, let us reason together." (Isaiah 1:18). Shouldn't we use the same approach?

"Do not let wisdom and understanding out of your sight, preserve sound judgment and discretion." (Proverbs 3:21)

Value opponents as image bearers of God.

The Bible teaches that God created mankind in His own image. Yes, we are fallen, sinful creatures. But He created each of us for a purpose, and we would do well to remember that fact and treat one another accordingly.

"The LORD has made everything for its purpose, even the wicked for the day of trouble." (Proverbs 16:4)

Differentiate between moral issues and matters of preference.

Another way to disagree with dignity? By realizing everybody is entitled to his own opinion. So stand boldly on issues where the Bible speaks clearly, but give grace where God's Word is silent.

"Let those who are wise understand these things. Let those with discernment listen carefully. The paths of the LORD are true and right, and righteous people live by walking in them. But in those paths sinners stumble and fall." (Hosea 14:9)

Treat others as you wish to be treated.

The golden rule is as golden today as ever, though perhaps not as popular or as universally applied. Still, "How would I feel if the tables were turned?" is a telling question. Don't want people to yell at you, slander you, condescend to you, or spew venom at you? Then don't do those things to them.

"So in everything, do to others what you would have them do to you, for this sums up the Law and the Prophets." (Matthew 7:12)

Stick to the facts.

Don't go beyond what you know. Separate what you can substantiate from what you merely suspect. You may be correct in your assumptions, but you should not treat them as a proven reality until they are. Don't spread rumors or slander your opponent with innuendos. Don't be blinded by bias.

"So be careful to obey all the commands I give you. You must not add anything to them or subtract anything from them." (Deuteronomy 12:32)

Economize your words.

Be concise. Don't drone on and on or lecture your opponent. Don't beat your point into the ground and break it off, as my parents used to say. Get to the point.

"But above all, my brethren, do not swear, either by heaven or by earth or with any other oath; but your yes is to be yes, and your no, no, so that you may not fall under judgment." (James 5:12)

Walk with integrity through every conflict.

Keep your heart and mind pure. Be upright in all your dealings. Rid yourself of all malice and deceit. (1 Peter 2:1) Guard against hypocrisy.

"Be an example to all believers in what you say, in the way you live, in your love, your faith, and your purity." (1 Timothy 4:12)

Recognize God's sovereignty over the affairs of men.

No matter what happens in this dark and fallen world, God is still upon His throne. No matter who occupies the Oval Office. Regardless which party controls Congress. No matter which justices sit on the bench, our God reigns. He raises up rulers. He establishes kings. Nobody rises to a position of authority apart from His allowing it.

"The decision is announced by messengers, the holy ones declare the verdict, so that the living may know that the Most High is sovereign over all kingdoms on earth and gives them to anyone he wishes and sets over them the lowliest of people." (Daniel 4:17)

Be mindful of His ability to use even bad things for good ends.

The Bible assures us that "God works all things together for good to those who love Him and are called according to His purpose." (Romans 8:28) Nothing that we suffer takes Him by surprise. Men may persecute, slander, and do us all manner of wrong. But none of that is beyond God's ability to utilize for our growth and His glory.

"As for you, what you intended against me for evil, God intended for good, in order to accomplish a day like this—to preserve the lives of many people." (Genesis 50:20)

Do all things for His glory.

Sure, it's nice to win an argument, but our chief aim should not be convincing others of our rightness and their wrongness. Rather, our highest goal should be glorifying God in the process. Our words are important, but the manner in which we say them matters, as well.

"So whether you eat or drink or whatever you do, do it all for the glory of God." (1 Corinthians 10:31)

Remember who your real enemy is.

The Bible tells us our struggle is not against flesh and blood, but against spiritual forces of evil and powers of darkness. (Ephesians 6:12) In other words, you DO have an enemy. But the argumentative coworker who seems constantly at odds with you? That's not him.

"Be alert and of sober mind. Your enemy the devil prowls around like a roaring lion looking for someone to devour." (1 Peter 5:8)
That's it for my 25 Ways to Disagree with Dignity. Can you think of any tips you'd add? If so, sound off in the comment section below.
Keep Reading
To read more posts in this series, check out the following links:
Or, better yet, order one of our books!