8 Great Apps for Building Better Habits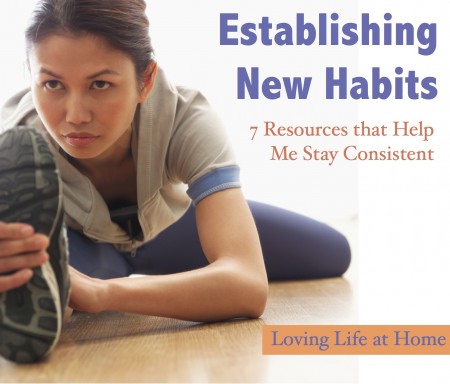 Last January, I wrote about the different approach I was trying for my 2012 New Year's resolutions. I purposed to work on one new habit at a time and allow it to become firmly established before moving on to another.
Although I never got around to blogging about my progress as planned, it's not because the experiment didn't work. It did. But I stayed so busy plugging away at those goals that little time was left for documenting my success.
I may not have built all twenty-four habits I was aiming for, but I achieved many of them, and made decent progress on the others, as well:
I read my Bible every single day and finished it in a year.
I lost 30 pounds and kept them off for six months (so far) through daily exercise and calorie tracking.
I invested daily in my marriage (which really makes our whole family happy, but especially my husband).
I taught two more of my children to read.
I've gleaned and tried lots of new ideas online for projects, crafts, recipes, and organization.
I remembered family birthdays in time to get cards or packages signed, sealed and delivered on or before the big day.
And I tried to economize in every way I could (although other family members sometime work against me on that one :-)).
The key to developing any new habit is consistency.
When we chip away daily at our goals, little by little, the results add up over time. Today's technology makes it even easier to make steady, measurable progress. Here are seven eight online aps and resources that helped me stay consistent last year in the above mentioned areas:
And that about sums up my list of favorite apps and resources. What sorts of things have you found helpful in maintaining consistency and working toward your goals? Leave a comment below and tell us about them!