5 Things Radical Feminists Got (Almost) Right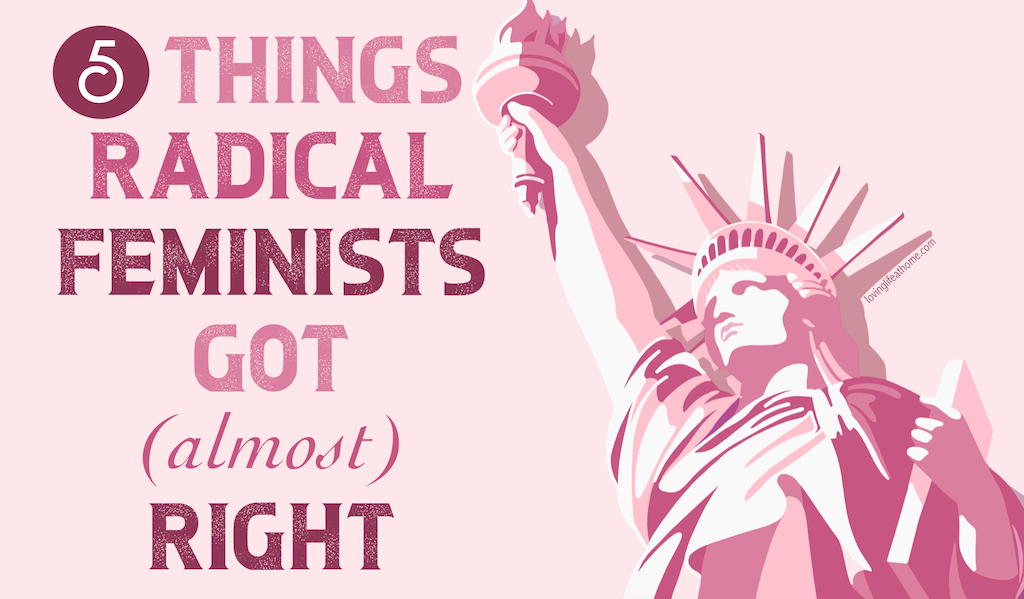 Although crowds at the Women's March seemed a little thinner this year, the radical feminists who participated were wearing the same pink caps, waving the same homemade signs, and chanting the same tired slogans as they did last January.
The more things change, the more they stay the same.
Some of the posters were blatantly false. "Women are Perfect" (that's just wishful thinking) and "Not my President" (if you're a US citizen, he most certainly is) come to mind. But others made points that merit further discussion.
In fact, if more people lived by the following principles instead of just shouting them in the streets once a year, the world would be a better place for everybody in it.
5 Feminist Slogans that Ring True:
"Everybody Deserves Respect"

Every person is of infinite value in the sight of God and should therefore be treated with utmost dignity and respect. This is true, in fact, even if that person does not see eye-to-eye with you on every (or any) issue. Even if his political views vary widely from your own. Even if her life choices look radically different. Even if he's not the person you'd hoped would be sitting in the Oval Office at this particular juncture in time. Everybody means everybody.

Although this concept seems completely foreign to many radical feminists these days, treating others with respect does not mean you have to agree with everything they say or endorse everything they do.

Our family was interviewed last summer for an upcoming BBC documentary, and one of the things the star of the show (Miriam Margolyes) asked me during the taping was my opinion of Barack Obama.

"He's very charismatic," I told her. "Obviously intelligent, nice looking, a great speaker. It's easy to see why so many people love him. But I strongly disagreed with the vast majority of his policies."

I could pray for President Obama (and I did). I could write him letters (and I did). I could work to elect senators and representatives who would hopefully counterbalance some of his liberal leanings (and I did). But there was no denying he was my president for the eight years he was in office, and it would never have occurred to me to pretend otherwise.

And if I had ever been given the opportunity to meet him face to face, I would have smiled, shaken his hand, told him what an honor it was to make his acquaintance… and politely urged him to reconsider his stance on whichever issue seemed most pressing at the time.

"Equal means Equal"

Yes, it does. This is a straight-up, mathematical fact.

With reference to the present discussion, equal means women have the same intrinsic value as men, should be treated with the same courtesy and respect, and possess the same inalienable rights.

What equal does not and never will mean, however, is identical. Very real physical and emotional differences between the sexes do exist, and it is both shortsighted and dangerous to ignore that fact.

It is foolish for radical feminists to lobby for equal treatment in the workplace under the assumption that "a woman can do any job a man can do," then cry discrimination when she's unable to meet the same fitness requirements as her male counterparts, as is often the case for soldiers and firefighters, who require a tremendous amount of upper body strength in order to haul fallen comrades off the battlefield or unconscious victims out of burning buildings. (Lots of men can't even make the cut for those tough jobs, yet women sue to have the standard sufficiently lowered for them to reach it. How does that prove we're equal?)

It is also recklessly double-minded to insist a women can enjoy casual sex with as much abandon as a man, then allow her to file sexual assault charges if/when she later regrets what at the time was a consensual hook-up. This is not equality; it is insanity. Complete madness. And it trivializes the very real experiences of those who have been victims of true sexual discrimination or assault.

"Love Trumps Hate"

This is so much more than a beautiful sentiment. It is Gospel Truth. Love will always triumph over hate. Moreover, as 1 Corinthians 13 tells us,

Love is patient, love is kind and… does not act unbecomingly; it… is not provoked… does not rejoice in unrighteousness, but rejoices with the truth; bears all things, believes all things, hopes all things, endures all things. Love never fails.

Unfortunately, if love is the goal, many radical feminists are missing the mark. Love trumps hate, but the outrage, vitriol, and name-calling on display at the Women's March last week seem more akin to the latter than the former. Protestors rallied under the cry, "Stay angry!"

Judging by the nasty slurs and expletives plastered across placards the participants were waving (I even saw one that read "Crucify the Fascist Christian Right"), it would appear that hatred is not only tolerated in these ranks, but welcomed and encouraged. The love is much harder to spot in the crowd.

"Science > Opinion"

This has always been the case. It doesn't matter if the whole world believes the earth is flat, that doesn't make it so. Ditto for the notion that the universe happened by chance or that man descended from apes or that a (human) fetus isn't human or that children can choose their own sex or that stricter gun laws prevent violence or that casual sex is somehow healthy or that the kids will be fine after the divorce.

Science — real science — is greater than public opinion (and much less volatile). It is intellectually honest, admits its own limitations, does not promote "best guesses" as proven facts, and refuses to cling to debunked theories just because it's politically correct to do so.

I saw a good corollary to the "Science > Opinion" slogan printed on another placard: "Science is Not a Liberal Conspiracy." Sadly, the same cannot be said for pseudo-science, pop psychology, and social engineering, all of which are given far more credence in certain circles than rigorously-tested, evidence-based research these days.

"The Future is Female"

Insofar as females are essential for humankind to have any future at all, this radical feminist slogan is technically accurate (and is also a good argument against sex-selective abortions, since girl babies are targeted far more often than boys by parents who prefer one sex over the other).

Of course, it would be equally correct to claim the future is male, since without men, the human race would also come to an abrupt end. That is why it is imperative that modern day men and women learn to get along, to value one another's contributions, and to work together to build a better world.

The opposite sex is not our enemy, and we need to stop acting as if it were.