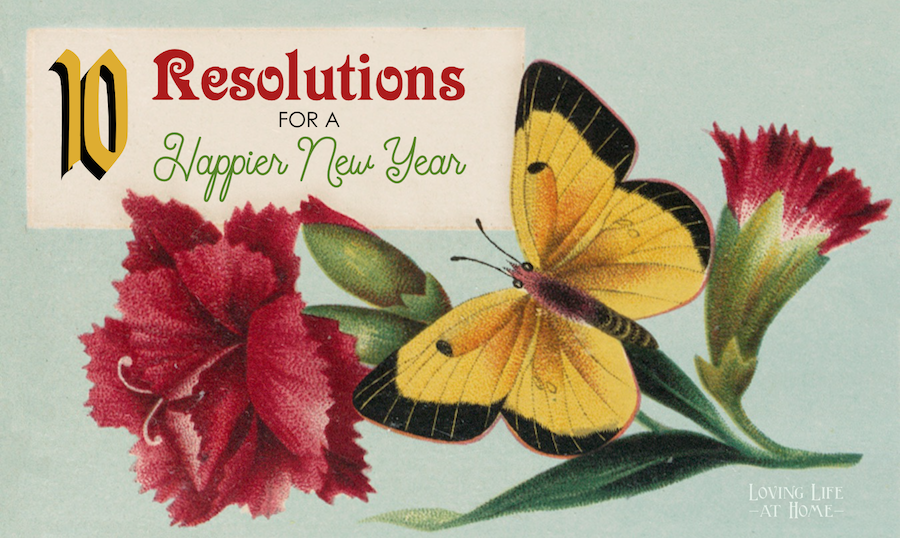 I love New Year's and the fresh start January represents, so I normally kick it off with a list of resolutions as long as my arm.
Some of my goals are specific and easily quantifiable: write a letter a day, read a book a week, lose 50 pounds before my son gets married in May. I believe in dreaming big! Even if I only pen 100 letters or read 40 books or lose 30 pounds, I'll be better off than I am now.
But some of my goals – the really challenging ones – take the form of more general reminders. Here are ten I think should be on everybody's list:
Smile more.

Science has shown that smiling – even when you don't particularly feel like it – actually makes you happier. Wouldn't the folks with whom you interact rather see a smile on your face than a scowl?

Spend less.

I've always had something of a use-it-up-wear-it-out-make-it-do-or-do-without mentality, and while that sometimes drives my lavishly generous husband crazy, there is much to be said for being content with what you have. Plus, living below your means translates into less stress over finances and bigger reserves from which to help others.

Stay active.

So much of modern life is sedentary: sitting at desks, riding in cars, attending meetings. Let's make 2017 the year we get up and get moving. It doesn't matter what you do for exercise, as long as you do something.

Eat smarter.

We need to be more intentional about what we put in our mouths. More whole foods, less junk. More leisurely meals around the kitchen table, less grabbing fast food on the fly.

Don't worry.

Worrying accomplishes nothing but to make us miserable. That's why I gave it up years ago, opting to do #6 instead:

Pray harder.

The Bible says we don't have because we don't ask. Let's spend 2017 delighting in the Lord and allowing Him to align our desires with His. Then we can boldly approach the Throne of Grace, confident that God will hear and answer our prayers.

Hug your loved ones.

I once read that people need at least seven hugs a day to stay healthy, so embrace those closest to you at every opportunity and tell them how much you love them. You never know how many more chances you'll get to do that!

Count your blessings.

Instead of dwelling on what you lack, focus on what you have. This is a practice we've worked hard to instill in our children, and one that would benefit a lot of adults we know, as well.

Listen before speaking.

I sometimes try to answer questions or objections before I've heard the other person out. Proverbs 18:13 calls this habit "a folly and a shame." Let's use our ears more and our tongues less in 2017.

Own up to being wrong.

My husband once accused me of being unwilling to admit when I'm wrong. He was right (although I was unwilling to admit it), so I spent the next several years actively looking for opportunities to admit being wrong without prompting. I got pretty good at it, but have lately found myself slipping into old habits, so #10 is back on this year's list, too.
The trick to making good on any new goal is to post it in a prominent place and review it daily until it becomes second nature. Here's wishing you every success in the New Year!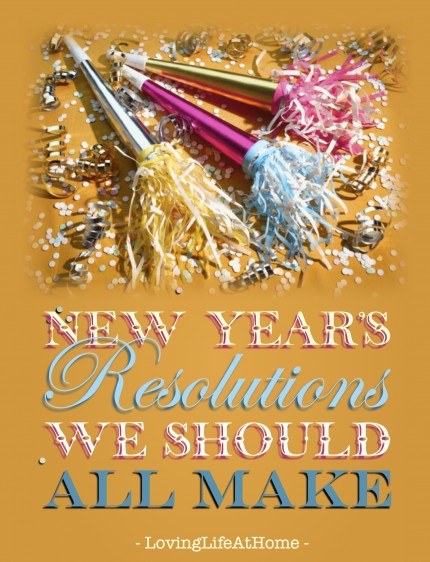 Note: This article first appeared in Family Matters, a weekly column I write for the Tyler Morning Telegraph. And a bare-bone version of it was published on this blog in 2012.