7 Smart Reasons to Save Sex for Marriage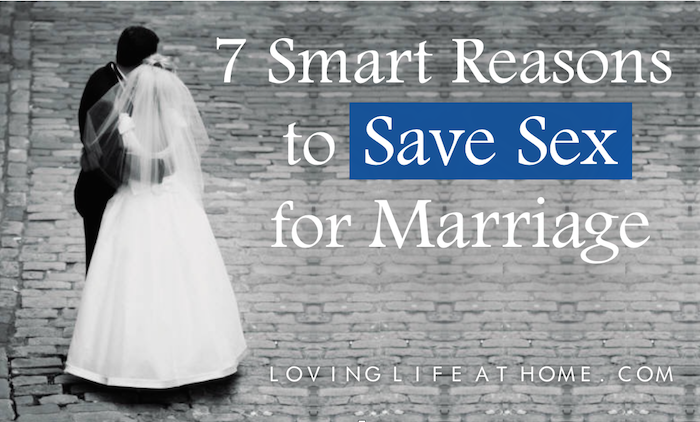 Earlier this week, I published an essay written by my daughter concerning her commitment to save sex for marriage. Choosing to walk a path that others have long since abandoned can make for a lonely journey, and she sometimes wonders whether her carefully preserved virginity will ever be valued or appreciated by anybody else.
I'm confident it will.
I am trusting that God — in His perfect timing — will bring my precious girl an amazing husband, one who will recognize and appreciate what a treasure she is. I know He is able to do immeasurably more than all we ask or imagine. (Ephesians 3:20; Romans 8:32; Matthew 7:11)
In the meantime, I pray for her. I affirm her good choices. And I encourage her to keep walking that lonely path, as there are lots of smart reasons to save sex for marriage:
The Bible Commands It

God designed sex to be enjoyed only in the context of marriage; He forbids it in every other circumstance. His commands are safeguards designed not to confine us, but to protect us. Not to stifle our enjoyment, but to heighten it. That should be reason enough to cooperate with His plan, but for those who need more convincing, here are six other compelling arguments for saving sex for marriage:

Limits Exposure to Disease

In the US alone, there are nearly 20 million cases of new sexually transmitted infections every year — all from just eight viruses and bacteria. One in two sexually active persons will become infected with an STD by age 25. Saving sex for marriage greatly reduces the risk of contracting STDs — and when a virgin marries a virgin, that risk is almost completely eliminated.

Prevents Out-of-Wedlock Pregnancy

Abstinence is the only 100% fail-safe method of birth control (and carries with it none of the health risks associated with hormonal contraceptives). Barring in-vitro fertilization or immaculate conception, if you don't have sex before marriage, you won't get pregnant before marriage. Children do best when raised by a mother and a father; saving sex for marriage increases the odds they'll have both.

Minimizes Comparisons

If you have no sexual experience with anybody prior to marriage, you will have no frame of reference by which to judge your spouse's performance. This goes a long way toward putting minds at ease — your husband won't be constantly wondering how he measures up against your past lovers. The same holds true for a woman who marries a virgin husband. Instead of being anxious and self-conscious, couples who are inexperienced in the area of physical intimacy can learn and grow together, just as God intended.

Reduces Guilt and Stress

Saying "no" to sex before marriage means saying "no" to the worries that often accompany it: the fear of being found out, the worry that your partner is using you, the misgivings about where the relationship is headed, the concerns about pregnancy and disease, and the guilt for violating Scriptural injunctions. The hook-up culture is fraught with stress, so don't sleep with someone you haven't married — sleep with a clear conscience, instead.

Encourages Marriage

There was once a time when a major impetus for marriage — at least, for men — was the promise of sex that came with it. I don't think we'd see so many young people waiting until they're nearly thirty to marry, if it also meant waiting until they're nearly thirty to do what married couples do. The fact that sex is so freely available to singles today has, for many, removed the incentive to get married ever, much less early. (Why take on the burden and responsibility of a wife and family when immediate, no-strings-attached gratification is available via hook-ups and porn?)

Saying "no" to sex outside of marriage may not change the current cultural trend toward postponing marriage (or forgoing it altogether), but it will keep you from wasting time dating guys who are only after one thing, as they won't stick around long once they realize you're serious about waiting. That works out, since a man with that mindset (who'd pressure a girl for sex and ditch her if he doesn't get it) is not good marriage material, anyway.

Rewards Commitment

Virginity is a very special gift you can only give away once. Saving sex for marriage allows you to give it to a person who isn't just saying he loves you to get what he wants, but has proven it by making a lifelong commitment. Plus, couples who save sex for marriage fare better, both in terms of marital stability and sexual satisfaction.


But what if you've slipped up? What if you are unmarried, and your virginity has already been given away?
I am speaking from experience when I say there is still hope (Ephesians 2:3-10). You do not have to let your past dictate your future.
In Christ, you can find forgiveness, grace, and strength to follow a different path going forward.
It takes intentionality and determination, but there are several things you can do that will make preserving purity easier.
And for those who are already be married but may be regretting mistakes made beforehand, I offer this word of advice: You can't make up for being promiscuous before marriage by being frigid afterwards.
Don't punish your husband in the present for mistakes either of you made in the past.
There's a time for everything under heaven, but our society has it backwards: The time for saying "no" to sex is before you tie the knot.
Once you are married, the response your husband should hear most often from you in regards to sex is "yes."
(For the rationale behind this statement, read: Why I keep Saying Yes to Sex)
Join in the conversation:
What are your thoughts on these matters?
How did your attitudes toward sex before marriage impact your relationships afterwards?
How would you encourage a young person who wants to save sex for marriage, but has grown weary with waiting?