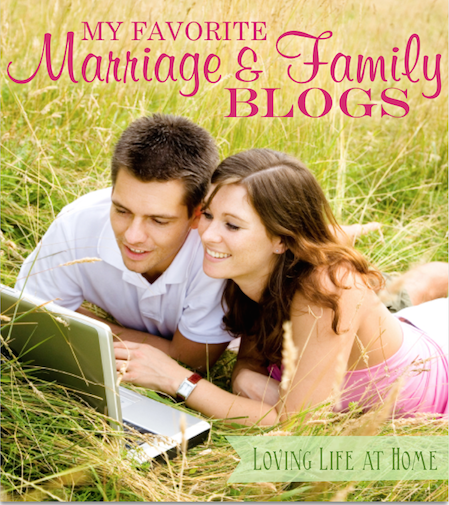 If there's anything I've learned in 27+ years of marriage, it's that "happily ever after" takes work.
Yes, it's attainable, but not without liberal helpings of love and focus and commitment and intentionality and grace and forgiveness and discipline.
Marriage is wonderful. I love sharing life with my best friend.
But we are both human, and there is always room for improvement.
The secret for me has been to focus on the areas I need to improve rather than on what I think he needs to change.
One way I invest in my marriage is by reading good books and blogs on the topic of marriage and family.
I love the encouragement I receive from these candid, Christian writers.
I like the fact that reading their stories gives me the opportunity to learn from somebody else's mistakes rather than repeating them myself.
There are lots of great books and blogs out there to choose from, but here is a list of my personal favorites: Click on each image to visit the blog and learn more about it.
Incidentally, all but two of these authors/bloggers have books in the Ultimate Christian Living Bundle (only on sale through November 10, 2014). Among all the other great resources, you'll find these treasures:
As well as a copy of my own book, which is also included…
Are there any books or blogs on marriage and motherhood you find yourself gravitating toward? Tell me about them in the comment section below so I can check them out, too!
---