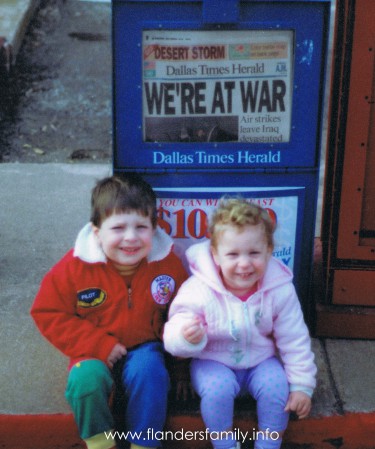 WE'RE AT WAR…. That's what headlines all across the United States boldly proclaimed on the morning of January 17, 1991.
The Masthead was so large, it grabbed my attention the minute I opened the curtains of our little studio apartment.
Wanting to capture this historic moment on film, I bundled my two young children up warm and ushered them across the parking lot to take their picture front of the newsstand.
Rather than the somber faces one might expect from the offspring of an Army Reservist, my little ones broke out grinning from ear to ear as soon as they spotted Mom's camera, totally oblivious to the tumult that threatened to rock their world.
Doesn't that typify what happens in other areas of our lives, as well?
When I look back at photographs taken on our wedding day, I can't help but notice my husband and I were wearing those same naive smiles.
Like most couples, we had no idea that as we walked arm-in-arm down the aisle and out of the church at the close of the ceremony, we were marching into battle. We were oblivious to the fact that there was a war raging on the horizon and that, even as we smiled for the camera, our marriage was under attack.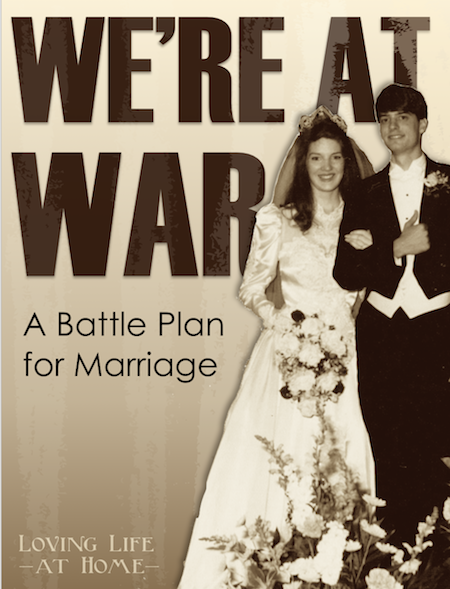 Unfortunately, when the attack is particularly sudden or stealth, it is sometimes difficult to even identify the enemy.
Some couples act as if they're at war with one another. They mistakenly believe they have married the enemy, but they are dead wrong.
Know this:If you are married, you have an enemy — an enemy that will do everything in his power to destroy your marriage — but that enemy is not your spouse.
Ephesians 6:12 warns us:
"For we wrestle not against flesh and blood, but against principalities, against powers, against the rulers of the darkness of this world, against spiritual wickedness in high places."
And 1 Peter 5:8 tells us:
"Be alert and of sober mind.Your enemy the devil prowls around like a roaring lion. looking for someone to devour"
From the moment your marriage ship was christened, Satan has been plotting to sink it.
He is crafty. He is relentless. He is on the prowl. But we needn't succumb to his attacks.
We can win this war. But to make that happen, we need God's grace, we need grit, and we need a good battle plan.

Our Battle PLAN for Marriage:
The best place to do battle for your marriage is on your knees. Couples who pray together regularly enjoy less than a 1% chance of divorce.
Marriage was God's idea in the first place. It only makes sense to enlist His help in preserving yours. (1 Thessalonians 5:17, Ephesians 6:18, John 15:7)
Maintain a teachable spirit. Study what God's Word says about marriage and about your responsibilities to your spouse.
Seek counsel from older, happily married couples who have remained committed to one another for several decades or more — what's their secret?
Read good books about marriage, gleaning as much wisdom as you can and applying what you learn to your own life circumstances. (Proverbs 4:7, Psalm 25:4)
"Into each life some rain must fall." Longfellow's words are true of marriage, as well.
Expect an occasional gale. Prepare for it. And when storms blow in, don't let them drive you apart. Hunker down and weather the tempest together, confident that the sun is still shining behind the clouds and the skies will eventually clear.
Anticipate also how your actions and reactions, both in good times and bad, will affect your spouse. Choices have consequences, so be careful that the decisions you make, the words that you say, and the things that you do are things that will build up and strengthen your marriage and your spouse rather than tearing them down. (Proverbs 14:1, 1 Thessalonians 5:11)
Just as a gardener must spend time cultivating his beds — weeding, watering, fertilizing and pruning the plants to keep them healthy and fruitful — you must invest time and energy into your marriage if you want it to blossom and bear fruit.
Spend time with your spouse. Work together. Play together. Dream together. Pray together.
Be patient. Be considerate. Be respectful. Love your spouse with the kind of unselfish, sacrificial, committed love Christ has for the church. Do all these things, and your marriage will not only survive, but will thrive — even in the midst of attack. (Mark 10:6-9, Malachi 2:15-16)
So my husband and I are fighting again. We've been doing battle for our marriage for 27 years now.
We have no intention of throwing in the towel, because we believe marriage is worth fighting for — and we know God is on our side.

Have you joined in the fray? What has helped strengthen your marriage against the attack? Please share in the comments below. We're always on the lookout for new and effective strategies.