A Battle Plan for Marriage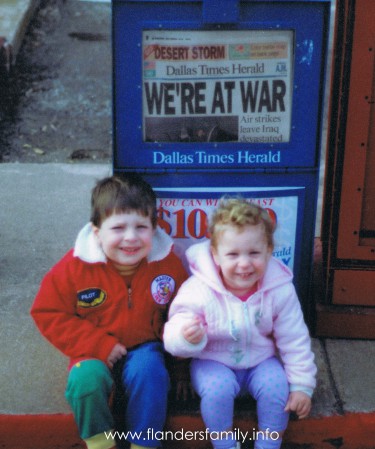 WE'RE AT WAR…. That's what headlines all across the United States boldly proclaimed on the morning of January 17, 1991.
The Masthead was so large, it grabbed my attention the minute I opened the curtains of our little studio apartment.
Wanting to capture this historic moment on film, I bundled my two young children up warm and ushered them across the parking lot to take their picture front of the newsstand.
Rather than the somber faces one might expect from the offspring of an Army Reservist, my little ones broke out grinning from ear to ear as soon as they spotted Mom's camera, totally oblivious to the tumult that threatened to rock their world.
Doesn't that typify what happens in other areas of our lives, as well?
Under Attack
When I look back at photographs taken on our wedding day, I can't help but notice my husband and I were wearing those same naive smiles.
Like most couples, we had no idea that as we walked arm-in-arm down the aisle and out of the church at the close of the ceremony, we were marching into battle. We were oblivious to the fact that there was a war raging on the horizon and that, even as we smiled for the camera, we were already under attack. And we'd need a good battle plan if our marriage were going to survive.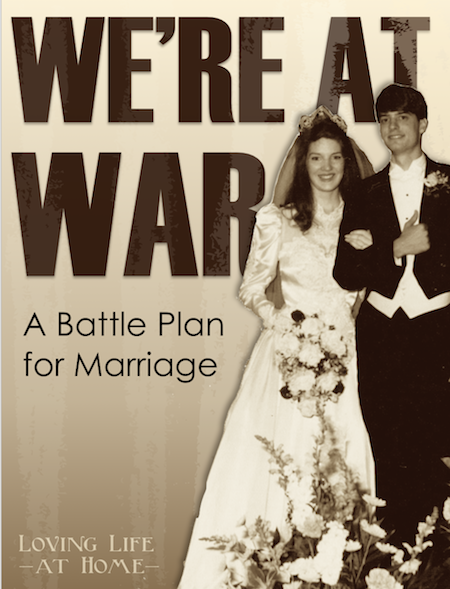 Unfortunately, when the attack is particularly sudden or stealth, it is sometimes difficult to even identify the enemy.
Some couples act as if they're at war with one another. They mistakenly believe they have married the enemy, but they are dead wrong.
Know this:If you are married, you have an enemy — an enemy that will do everything in his power to destroy your marriage — but that enemy is not your spouse.
Ephesians 6:12 warns us, "For we wrestle not against flesh and blood, but against principalities, against powers, against the rulers of the darkness of this world, against spiritual wickedness in high places."
And 1 Peter 5:8 advises, "Be alert and of sober mind. Your enemy the devil prowls around like a roaring lion. looking for someone to devour"
From the moment your marriage ship was christened, Satan has been plotting to sink it. He is crafty. He is relentless. He is on the prowl. But we needn't succumb to his attacks.
We can win this war. But to make that happen, we need God's grace, we need grit, and we need a good battle plan.

Our Battle PLAN for Marriage:
So my husband and I are fighting again. We've been doing battle for our marriage for 27 years now.
We have no intention of throwing in the towel, because we believe marriage is worth fighting for. We know God is on our side. And we know this battle plan for marriage really works.

Have you joined in the fray? What has helped strengthen your marriage against the attack? Please share in the comments below. We're always on the lookout for new and effective strategies.
More Biblically Sound Marriage Tips
The Word of God is full of wisdom for every facet of life, but we've found it especially helpful in building a happy, healthy marriage. For a fascinating look at how science has confirmed the superiority of God's design, check out my book Love Your Husband, Love Yourself.