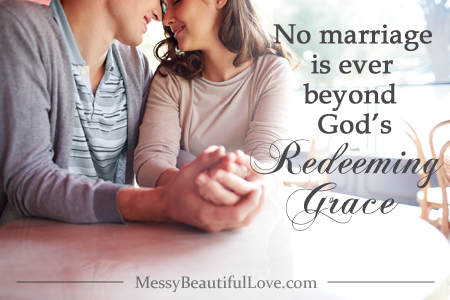 Is your marriage struggling? Does it feel one-sided? Do you long for it to be more than it is?
Marriages are under attack as never before. Unfortunately, those attacks sometimes come not from without, but from within.
In Messy Beautiful Love
, bestselling author Darlene Schacht discusses just such an attack on her own marriage — one that surely would have torn it apart were it not for God's redeeming grace.
The biggest marital problems rarely begin big. Seldom are we slammed with something that materializes out of thin air. Our problems usually start out small and grow.
"If I were to pinpoint the one thing that led me to almost destroy my marriage," Darlene writes candidly, "it would be that I was keeping a record of wrongs…. I took count of [all my husband's] faults and kept track of each one."
Do you ever do that? Do you harbor grudges against your husband or nurse resentment toward him in your heart? Be forewarned: doing so will lead you down a path you do not wish to follow.
"I had forgotten what 1 Corinthians says about love," Darlene continues. "It is not rude, it is not self-seeking, it is not easily angered, it keeps no record of wrongs."
Love is unselfish. It puts the other's interests ahead of its own. While love heals wounds, unforgiveness causes them to fester. When we keep a record of wrongs, we do so to our own detriment. When we give root to bitterness, our love gets choked out and our hearts grow cold, hard, and impenetrable.
"The problem here isn't your husband," Darlene explains. "It's that your level of expectation for him is outshining his character. When you measure him against the weight of expectation, you are left with an unbalanced scale.

"Accepting a person for who he or she is doesn't mean that you excuse sin. I'd never ask or want you to do that. What I am asking you to do is to look past the human frailty of a man to seek his beauty by removing the weight of expectation you hold. I'm asking that you walk in the grace of messy, beautiful love."
Darlene opens the book with a prayer that her testimony would bring glory and honor to God, and that it does. Hers is a powerful story of hope and redemption that will powerfully impact the life of everyone who reads it.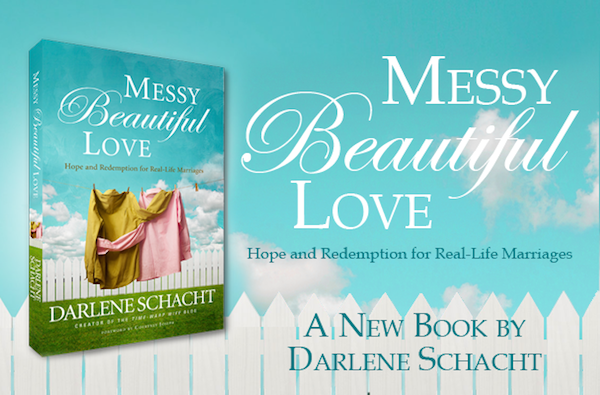 Messy Beautiful Love is a collection of important life-lessons learned — some of them the hard way — that you can take and apply to your own marriage. When you do, you will avoid many of the pitfalls the author points out along the way.