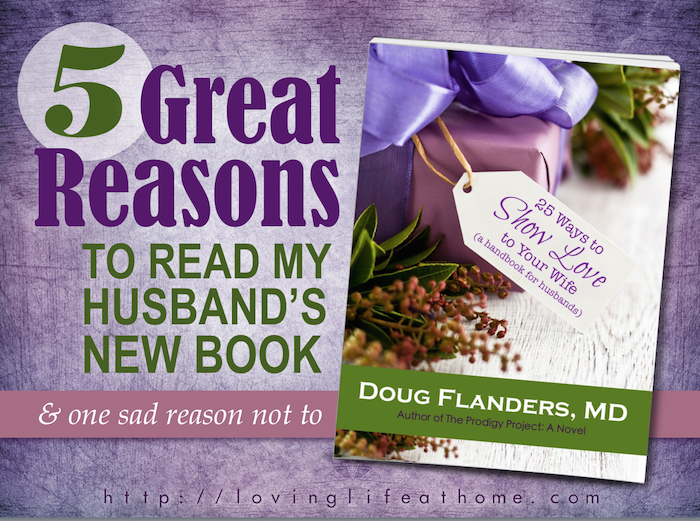 Today is the official release date of my husband's new book, 25 Ways to Show Love to Your Wife. It's been two years in the writing, but over twenty-seven in the living.

Of course, I'd love to see every married couple devour this book, together with my companion book, 25 Ways to Communicate Respect.
That's why this little two-volume set has become my standard wedding gift: I know husbands and wives will both be abundantly blessed when they put the principles into practice.
I can think of a lot more than I've listed, but for the purpose of this post, I'd like to share the five main reasons you should grab a copy of my husband's new book ASAP (plus one possible reason you shouldn't).
5 Great Reasons to Read This Book:
---
Because It's Biblical

This book is absolutely drenched in Scripture. That's a good thing, since the Word of God is the most solid foundation any marriage can be built upon.

The reason divorce is so rampant in our society is because we have strayed so far from God's original purpose and design for husbands and wives. It grieves my heart that Hollywood can take things as wholesome and wonderful as love, sex, and marriage, and turn them into something dirty, degrading, and dysfunctional.

This book is a clarion call to reject all the contemptible counterfeits our culture proffers and return to the role God established for every husband from the beginning: that of protecting, cherishing, nourishing, loving, leading, and providing for his wife in the same self-sacrificing way that Jesus loves His church.

Because It Works

Nothing in this book is hypothetical. The principles discussed have been tried, tested, and proven, not only by my own husband, but by countless others like him — men who are committed to living by these ideals to the best of their abilities by the empowering grace of God.

The more successful a husband is at integrating these truths into his life and actions, the more secure his wife will feel in his love. That's why every chapter ends with a bulleted list of action points, so readers will immediately be able to put what they're learning into practice.

Because You Love Your Kids

No matter how grossed out your children act when they catch their parents kissing in the kitchen, there is a reassuring calmness that settles over their little souls when they know Mom and Dad love one another and are committed to staying together through thick and thin, for better or worse.

The old adage is true: One of the best things a father can do for his children is to love their mother. It doesn't take long to see the damage done to children when Dad is not committed to the marriage or involved in the lives of his kids: the statistics associated with fatherless families are heart-rending.

If you love your children, you should nurture your marriage and invest in resources that will help you tend it more effectively.

Because You've Been Waiting for It

I am always thrilled to hear from women who've read my books and have seen the Biblical principles promoted bring positive change in their marriages. That's an answer to the prayers I poured out while writing the books, and I rejoice over every letter I get that shares such victories and triumphs with me!

I've even received a few letters from husbands, marveling over the changes they've observed in their wives' disposition, thanking me for writing the book, and asking whether we have a similar book for men.

I'm delighted to now be able to answer, yes, we do! So if you are one of those men who've been waiting for it to be publishied, I can't think of a better time to buy…

Because Now It's On Sale

Order a copy before Valentine's Day, and save 25% (and pick up a discounted copy of my book while you're at it):
And Here's One Reason Not to Read It:
---
Because You Think Your Marriage Problems are All His Fault

If you are a wife who is hunting for something to hang over your husband's head, please don't buy this book. It was never intended to be used as ammunition.

If your marriage is struggling, your husband doubtlessly deserves part of the blame — there are two sides to every story, after all — but instead of pointing fingers, I urge you to examine yourself. What changes might you make to improve your relationship?

Sometimes women are unwilling to do what Scripture calls them to do (respect their husband) until their husbands fall into line with what Scripture demands of them (love their wife). They use their husband's perceived failure to justify their own disobedience.

That's a loser's game. You cannot make your own obedience to God contingent on somebody else's performance. You're responsible for controlling your own actions and reactions — attempts to control his are futile.

So if your marriage is in trouble and you are trying to fix it without any help or cooperation from your husband, skip getting this book for now and start with prayer.

Pray that God would open your eyes to things you may be doing to contribute to the relationship problems you're facing. Pray that He'll give you grace to make necessary changes, even though you have no guarantee your husband will ever reciprocate. Pray that He will help you see your husband as He sees him, and that He'll renew your love and admiration for the man you married.

Get my book or read the blog or sign up for the 30-Day Challenge and work your way through each of the action points. And be encouraged that God can make something beautiful of even the most hopeless situations.

"And let us not grow weary of doing good, for in due season we will reap, if we do not give up." (Galatians 6:9, ESV)