Great Advice for Busy Wives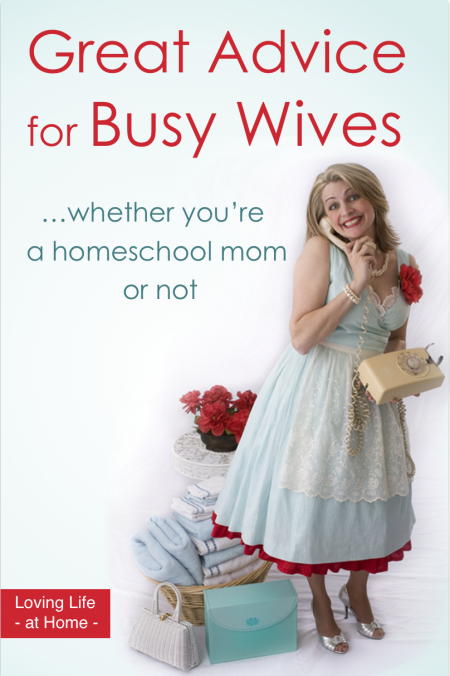 I've been seeing advertisements for Heidi St. John's book, The Busy Homeschool Mom's Guide to Romance, for years now.
From the first time I spotted that adorable picture of Heidi on the cover, I knew it was a book I would enjoy. But being the busy homeschool mom that I am, I didn't get around to ordering a copy until a couple of weeks ago.
Once it arrived, I blazed through it quickly. It's a fast read, but chock full of godly wisdom and practical advice for busy wives at every age and stage of life (whether they're homeschooling moms or not).
In it, I found such jewels as this:
"…the best mothering is borne out of an overflow of a strong, committed marriage. Loving your husband is a choice. Seeing him as God's gift to you is a powerful thing. Every day that you share with the husband of your youth is a day that you can choose to love him with the kind of passion that God meant for you to enjoy."
And this (which is applicable not only to homeschooling, but to any other job or extra-curricular involvement, as well):
"Remember, your calendar will reflect your priorities. Most busy homeschool moms don't choose curriculum with their husbands in mind. But I'm here to tell you that if your curriculum leaves you cold and exhausted at the end of the day, it's time to find a curriculum that is more suited to helping you put the priority on your marriage."
And also this:
"To ignore the sexual needs of your husband or to reject his advances is to tear at the fabric of who you are as a couple. Don't be fooled into thinking sex doesn't matter. It does. Neglect this part of your marriage and you will suffer devastating results."
At the same time, Heidi offers hope, even for marriages that seem irreparably lost. I love the analogy she uses of Jesus speaking life back into the dead body of Jarius's 12-year-old daughter (Matthew 9:18-26). Just as Christ quickened that beloved child and restored her to health, He can breathe life and warmth and beauty back into a desperate, dead, or dying marriage.
I am so convinced you will be blessed by this book that I've decided to give a copy away for Valentine's Day. And because romance goes hand-in-hand with respect, I'm also including a copy of my new book (25 Ways to Communicate Respect to Your Husband
) in the giveaway. Enter here for your chance to win:
---
DISCLOSURE: This is NOT a sponsored post. Although it does contain affiliate links, it was written without Heidi St. John's knowledge or consent, and the books offered in this giveaway were not donated for that purpose, but have been bought and paid for by me.