Love and Respect – Subway Art Printables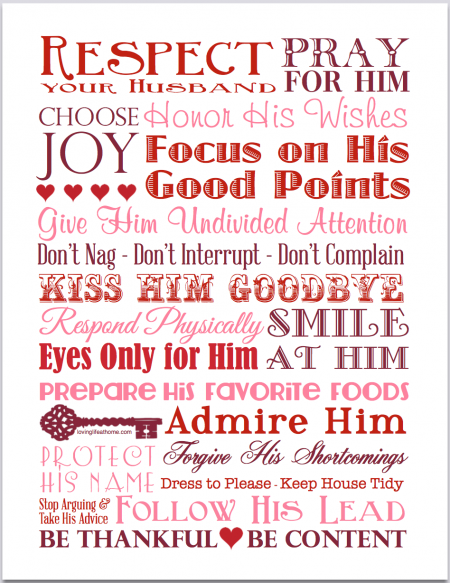 I've been pondering what to get my husband this year for Valentine's Day, as it's only a week away.
In years past, I've written him poems, like this or this. And once I stitched him a silk-embroidered bed pillow, which has been broadcasting the same secret message for more than a decade now.
But just as I was starting to feel stumped for ideas, Doug made it super-easy on me.
"Valentine's is coming up," he reminded me earlier this week. "I thought it might be good for you to turn our Love and Respect lists into some sort of graphic we could post for the occasion."
I told him I thought that was a great idea and got right to work on it. The next day, I presented him with two pieces of subway art: the one pictured here on communicating respect and another (which you can find on his blog) on expressing love.
Both designs are also available in shades of blue.
Incidentally, Doug's been making good progress on the book version of 25 Ways to Show Love to Your Wife, which should be available sometime this spring. The parts I've read so far are terrific! You can expect more detailed posts from him on related topics as he continues to work on that, so you may want to subscribe to his blog if you don't already follow it.