How to Get from Stressed to Blessed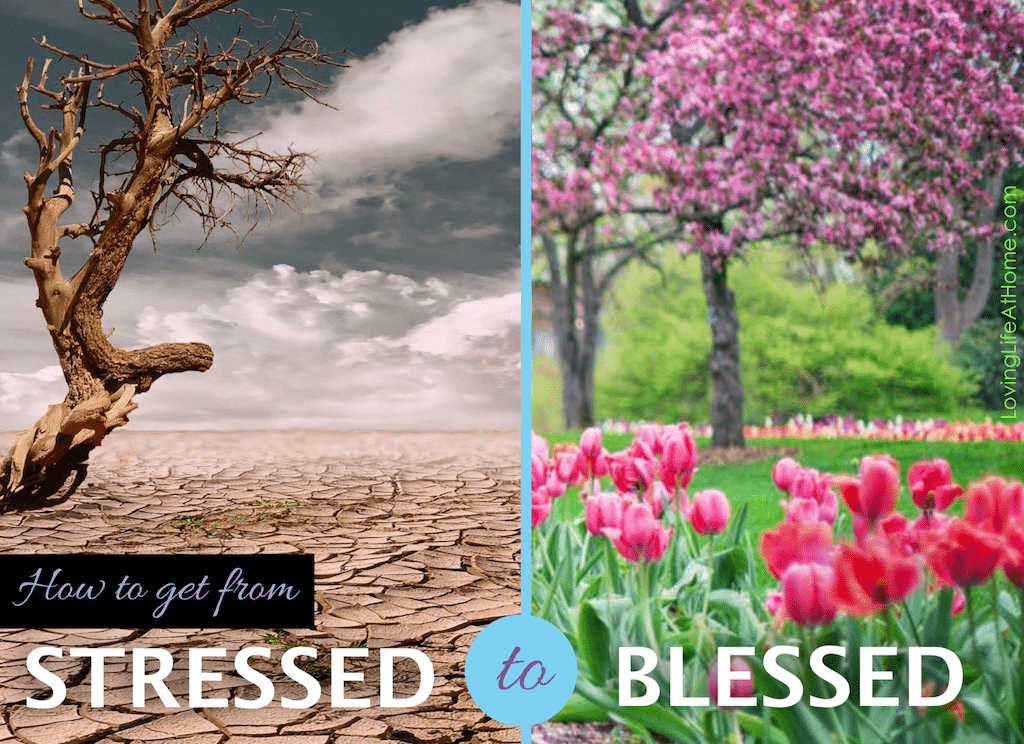 Anxiety. Stress. Overwhelm. These feelings have become ubiquitous for many modern day men and women. But Jesus never intended us to live such over burdened, distracted, chaotic lives. His word teaches us how to get from stressed to blessed. Jesus said:
God calls us to exchange our panic for peace, our burdens for blessings, our chaos for calm.
Do You Feel Stressed or Blessed?
People under stress often live crisis to crisis, driven by the tyranny of the urgent. They never feel like they have enough time, money, strength, wisdom, energy, or other necessary resources to accomplish everything they need to do.
Stressed individuals feel constantly behind, which is why they tend to burn the candle at both ends. They're often harried by worry, anxiety, depression, and feelings of regret. Stress can also give rise to panic attacks.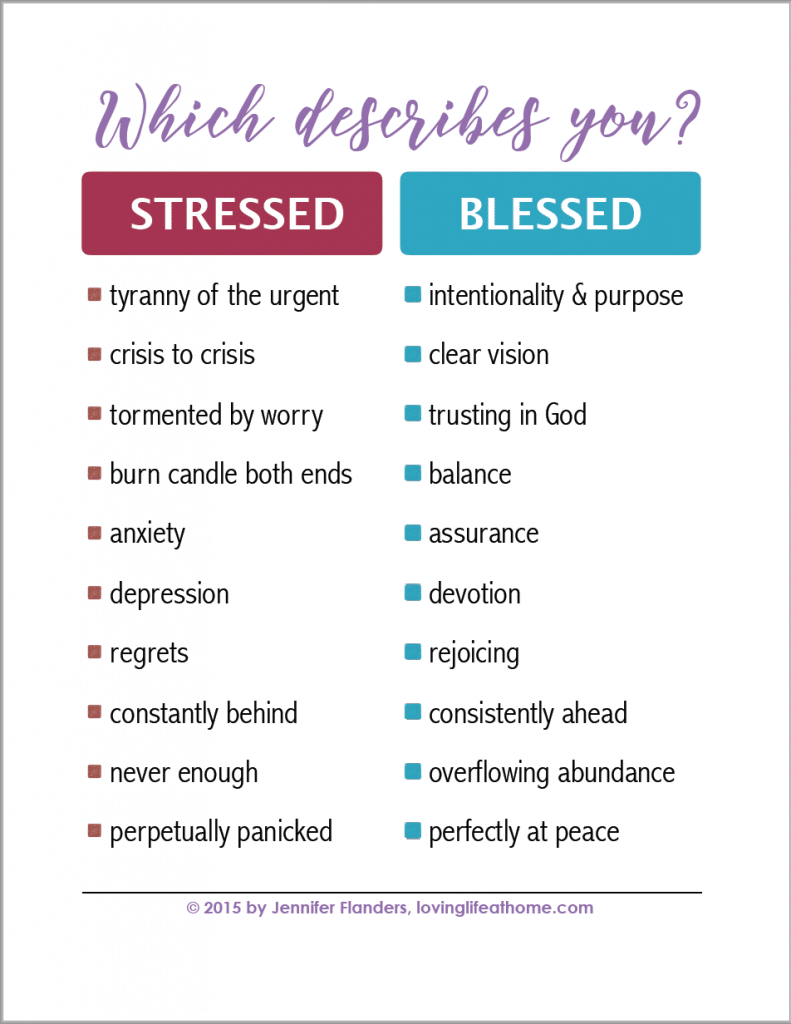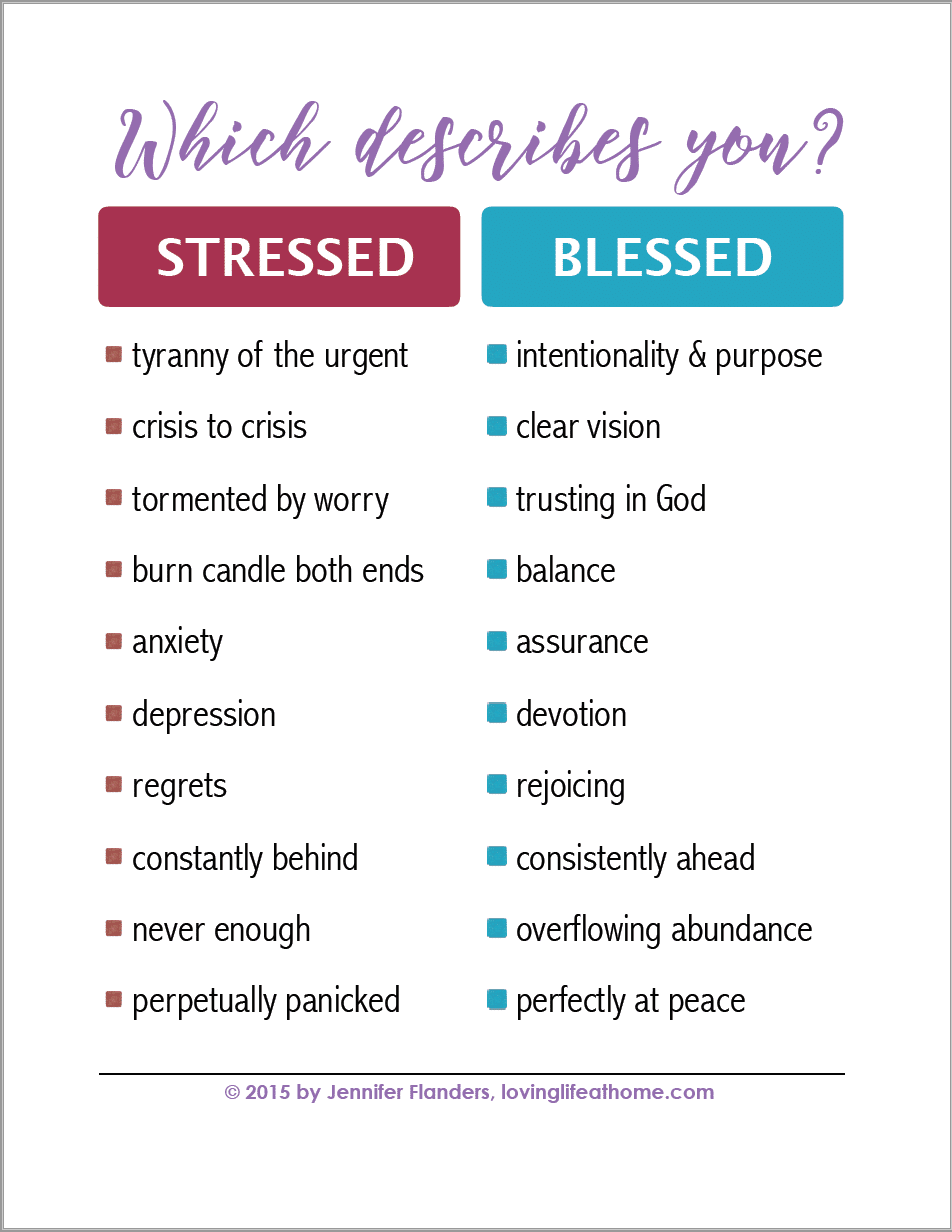 By contrast, living a blessed life means living with vision, intentionality, and a clarity of purpose. It means being completely devoted to God, casting your cares at the foot of the cross, and trusting Him to supply all your needs as you rest on His promises, perfectly at peace.
God's blessing allows you live a joyous life of overflowing abundance. The blessed learn to balance life's hardships with the knowledge that God is working through our trials to mold and mature us.
Where can I get me some of that?
The Bible paints a beautiful picture of what being blessed by God looks like. The books of Psalms and Proverbs are full of such descriptions. But Jesus summed it up this way:
"Blessed are those who hear God's word and obey it!"
(
Luke 11:28
)

The key to stress-free living? Obedience to God.
There is undoubtedly a spiritual correlation between submitting to God and receiving His blessing. But there is also a physiological basis that connects our stress-levels to how faithfully we follow Scripture.
When our bodies are stressed, they release a hormone called cortisol, also known as the fight-or-flight hormone. When we are at peace, our cortisol levels drop.
Science has identified many things that cause a spike in our cortisol levels. These include worry, anxiety, anger, fear, hopelessness, despair, and isolation.
Interestingly, the Bible contains explicit commands against every one of these things.
Things that elevate cortisol (& what the Bible says about them):
All the above activities elevate cortisol. But by taking the opposite tack, we can actually lower our cortisol levels. Significantly.
And by now it should come as no surprise that every item on the stress-reducing list is something God has commanded believers to do anyway.
Activities that lower cortisol (along with Biblical endorsements):
It's all a matter of perspective.
Trusting God changes us. It changes our heart, renews our mind, and restores our fellowship with Him. It frees us from sin and equips us for service and changes the lens through which we view life.
Still, Jesus warned, "In the world, you will have tribulation." It's not a question of "if" but "when."
While the circumstances in which we find ourselves don't necessarily change when we come to faith, our perspective certainly does. And so do our tools for dealing with those circumstances. Because God offers us an inexhaustible supply of strength and grace and wisdom for dealing with stress-inducing situations we encounter in life.
When we're drowning in the ocean, far from shore and sinking fast, Jesus is our lifeboat. As long as we remain in Him, the waves that once threatened to swallow us up and pull us under will now carry us swiftly in the exact direction He wants us to go.
That's why James tell us to "Consider it all joy, my brethren, when you encounter various trials…" (James 1:2-3) Because our new perspective has shown us "that the testing of [our] faith produces endurance."
So… will you live a stressed life or a blessed life? Thanks to God's amazing design, you get to choose.