What if My Husband Won't Plan Date Nights?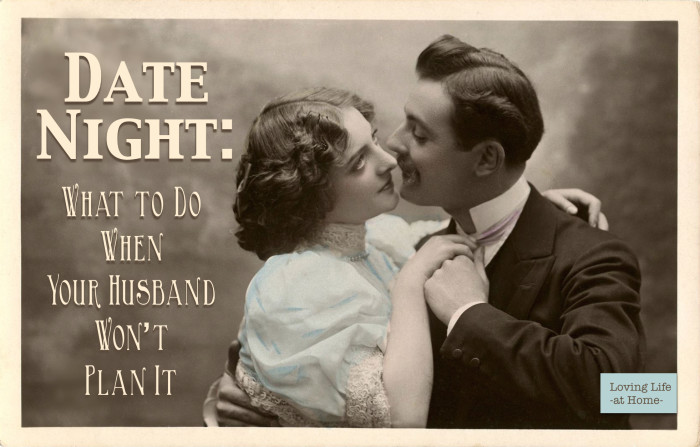 I received this question from one of my readers several months ago. I replied privately at the time, but with Valentine's Day just around the corner (and all the attendant expectations wives sometimes muster up this time of year), I thought it might be a good idea to share my thoughts on this subject here.

---
Question: What if my husband won't plan date nights?
Dear Jennifer,
What do I do when my husband doesn't see eye-to-eye with me on cultivating our marriage?
… I have brought to my husband's attention numerous times (in playful ways, trying not to nag) that I would love to go on a date with him again (I can't remember the last time we did), spend some time alone, that I need some romance in my life. His response is generally a chuckle followed by a comment that we will "when we have the money."
It's been a couple months now… no dates. No change. He is only really amorous when he or I initiate intimacy. We have friends I know would watch our son for free (we've done the same for them)…but I fear that if I give up on him initiating this and make all the plans myself, I will just resent him for not "being the man" and doing it himself.
I don't want to whine to him. I pray about it and ask God to make this a priority to him…. I've also prayed that God would change MY heart to be content with the romance in the mundane…. It's not as easy a fix as I had hoped.
He was so romantic and creative when we were dating! Homemade desserts, hikes, galas, long chats on long walks, and he always initiated it which I LOVED.
How do I get that side of him back?
Any suggestions are most appreciated.
Frustrated Wife
Answer: Take over the planning yourself!
Dear Frustrated,
Please forgive me for taking so long to reply. I promise I didn't forget about you. I've been thinking about you a lot and praying for your situation.
Reading between the lines of your letter [abridged for this post], I can almost hear you thinking things like this:
If my husband really loved me, he'd understand why this is so important to me.
If he really cared, he would see how desperately I need a break.
Our relationship is obviously more of a priority to me than it is to him, otherwise, he'd want to nurture it, too.
Planning dates is really my husband's responsibility. It won't mean as much if I do it.
A real man would want to romance his wife after marriage as enthusiastically as he did before.
If I give in and start planning our dates myself, he'll lose all initiative and never plan another.
Let me just say that all these thoughts are lies straight from the pit of Hell. Don't listen to them.
Don't listen to lies
Satan is trying to blind you to the wonderful things your husband is doing, by focusing your attention on what he isn't doing. Don't fall prey to that trick, or the hurt you're feeling now will grow and fester until you are completely bitter and malcontented.
It is obvious from the [omitted] details of your letter that your husband is very devoted. He cooks dinner, helps with cleaning, is a wonderful father — all while working on a difficult post-graduate degree.
It's obvious your plate is very full during this season, as well: working full-time, caring for a toddler, carrying a new baby (which in itself can be exhausting and — as you intimated — can wreak havoc on your emotions). Please just accept the fact that you are in the midst of a demanding time of life, but that all those challenges will eventually pass (to inevitably be replaced by new ones).
You will not always be deprived of sleep. Your husband will eventually finish that degree. Your pregnancy hormones will dissipate once you've delivered. Your husband may even rediscover the creativity he put to such good use when you were dating.
Make those reservations
In the meantime, I would recommend that you stop hinting and start acting. If you are desperate for a date night with your husband, go ahead and plan one yourself. Tell him that it's important to you, but that you know he's busy with school and are more than happy to make the necessary arrangements, so what day would work best for his schedule? Line up the free babysitting and make it a night to remember.
Let yourself enjoy it just as thoroughly as if he had planned it instead of you. Your carefree smile — with no undertones of resentment or disappointment — will remind your husband of the girl he pursued so creatively when you were dating. And that will be good for your marriage.
When I was dating my husband, he wrote me lots and lots of letters. That really stole my heart, because I'm a big letter writer myself, and I loved the fact that we shared this in common. We've now been married 28 years, and I could probably count on one hand the number of letters he's written me since the wedding (although he often writes himself notes of things he wants to tell me when he gets home from work, a habit I adore).
The letters are no longer necessary, because we are together every single evening and can talk face to face. (We can also do other things now that we're married that were out-of-bounds before. I'd trade all the romance and creativity and correspondence that characterized our dating for the "mundane" pleasures of married life in a heartbeat.)
Nevertheless, that has not always been my attitude. When I was in your shoes — married just a few years with a couple of babies, roller-coaster hormones, shoestring budget, and a husband working on a very difficult professional degree — I threw my fair share of pity parties.
Although I was completely blind to it at the time, I was being extremely selfish and self-centered. I'm convinced our marriage would not have survived had God not changed my attitude, so that I stopped focusing on perceived shortcomings in my husband and on trying to change him, and instead woke up to my own shortcomings and allowed God to change me.
Let God use stressful times to refine YOU
A friend of mine recently told me of a romantic getaway she and her husband (also a physician) had taken this summer. She was still elated from the wonderful time they had together, and smiled broadly as she explained to me how she'd planned the whole thing herself:
She called her husband's office and asked the receptionist not to schedule any patients for the days he'd be out of town. She bought the airline tickets and booked the hotel. She packed the bags and then picked him up from work and drove him to the airport.
She said that as she pulled into the parking space, he looked her in the eyes and said, "Thank you! Thank you so much for making this happen." They both knew it wouldn't have happened otherwise, as the responsibilities of running a busy practice would have convinced him he couldn't take time away.
But she also knew that making that time was important for both of them, and in the long run, it really didn't matter who made the reservations. 
---
More Biblically Sound Marriage Tips
The Word of God is full of wisdom for every facet of life, but we've found it especially helpful in building a happy, healthy marriage. For a fascinating look at how science has confirmed the superiority of God's design, check out my book Love Your Husband, Love Yourself.