When God Gives Us More than We Can Handle
Last week, I published a piece entitled I'm Not Enough — and Why It's Liberating to Admit It. The message must have resonated with my readers, for within the first twenty-four hours, over 1000 people had clicked through to read the post. The gist of the article is that positive self-talk does not change the facts. Repeatedly telling yourself "I am enough" doesn't make it true.
Today, I want to focus on another saying that's long been popular among Christians. "God never gives you more than you can handle." Have you ever heard that one before?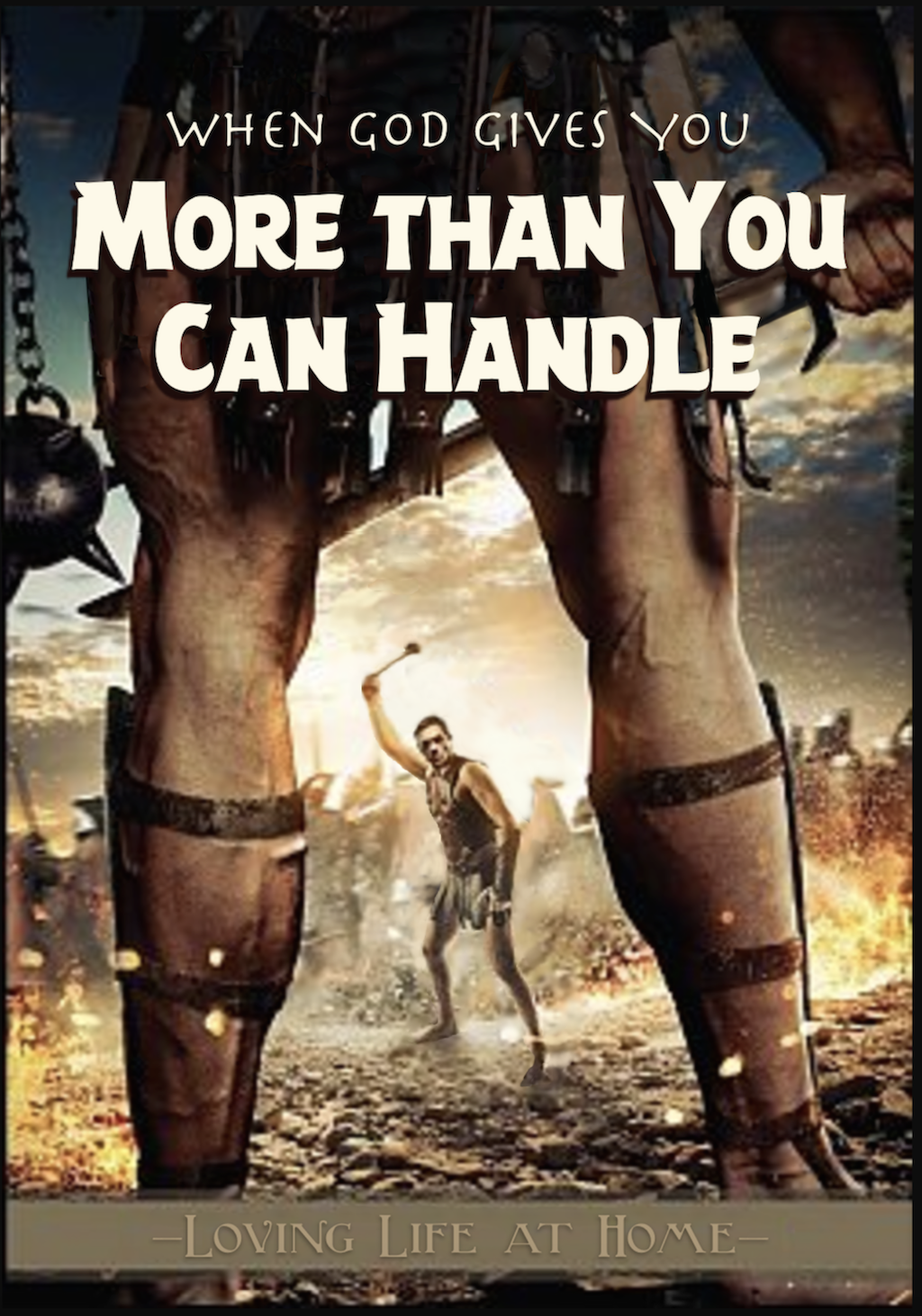 Such a sentiment may sound reassuring. But it simply isn't true.
His Power Is Made Perfect in Weakness
You see, God routinely gives us more than we can handle. It's His modus operandi — the way He naturally operates.
That's because God loves using our weakness to showcase His strength. And He loves doing it in a way that leaves no doubt Whose strength we're leaning on in the midst of seemingly insurmountable odds.
Think about it.
If David had won a fist fight with a boy half his size rather than a death match with a giant who'd intimidated the entire Israeli army, no one would have lauded his bravery.
Were Shadrack, Meshack and Abednego thrown into a jail cell instead of a fiery furnace, nobody would be surprised when they came out unsinged.
Had Jesus used five loaves and two fish to feed five people instead of five thousand, the meal would have seemed mundane, not miraculous.
Yet in each of these situations, God gave His children far more than they could handle on their own. And He does business the same way today.
That's one reason our family enjoys reading missionary biographies. They serve as a reminder of the amazing things God can do through a life wholly yielded to Him.
Far More than You Can Handle
I finished reading Gladys Aylward: The Adventure of a Lifetime aloud to my children just yesterday. It was my younger ones' first time to hear this incredible true story. And they were completely mesmerized. "Just one more chapter? Please? Please?" they'd beg every time I tried to set the book down.
They marveled at how, after being kicked out of missionary school, Gladys scrimped and saved for years until she could afford to pay for her own passage to China. And she even trudged through the snow on foot through war-torn Siberia to get there.
They rejoiced that, when Gladys was left without any means of support to continue her mission work in China, the Mandarin hired her as his Royal Foot Inspector. As such, she traveled throughout the countryside eradicating the practice of foot-binding. And simultaneously carrying the gospel to the farthest reaches of the province.
They were astonished that the Mandarin would send this tiny British woman into a prison to quell a riot that was so violent that armed prison guards were too afraid of being killed themselves to attempt to stop it. Since Gladys claimed to have "the living God in her heart," they believed she couldn't be harmed. Therefore, they insisted she do their job for them.
My children sat on the edge of their seats as Gladys led nearly 100 orphans to safety during the Japanese invasion of China during World War II.
This book recounts the adventures of a woman who accomplished more in her 67 years than most of us could accomplish in ten lifetimes. Reading the account of her years in China leaves no doubt. It would have been impossible for her to do these things in her own power. God obviously strengthened her for the task.
And He longs to do for us what He did for her.
Yes, God gladly gives us more than we can handle. But He never gives us more than He can handle. Are you struggling under a load too heavy to bear? You must learn to lay your burdens at the foot of the cross. And let Jesus carry them for you.