Always Tip Your Waiter Well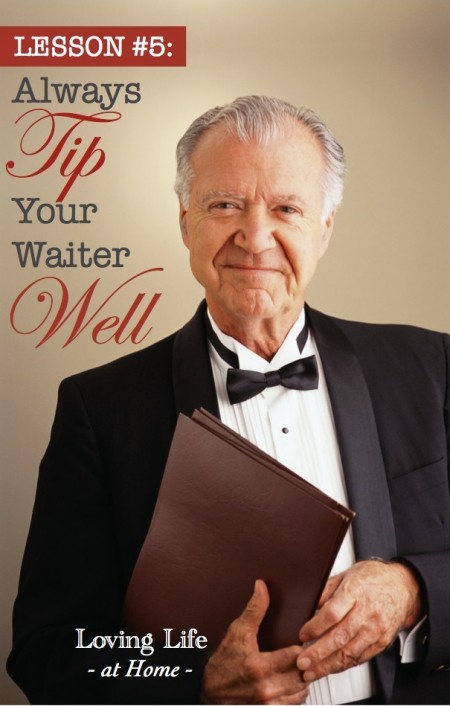 What follows is the fifth (and long overdue) installment in a series I started late last summer called "7 Life Lessons I've Learned from my Husband." It's an important one, so take notes!
---
My husband and I entered marriage with very disparate attitudes toward tipping.

I had always calculated my tips according to exact (minimum recommended) percentages, with a little extra thrown in if the service exceeded my expectations (which were admittedly high, so it rarely did). My goal was to spend as little as possible, which explains why I also ordered only water to drink and steered clear of exotic (read "expensive") menu offerings.
My husband tips generously regardless.
I've even seen him leave a 25% tip at a self-service buffet for a waitress who was blatantly rude to us, took our receipt and never returned it, and didn't refill our drink glasses a single time throughout our meal.
If you were to question him about it, he'd explain the rationale behind this practice:
Servers Depend on Good Tips –

People don't just wait tables because they enjoy getting chewed out when the steak's overcooked. More often than not, they are waiting tables to make ends meet. What's more, they only get paid $2.13 an hour to do it — the rest is (theoretically) made up in tips.

Servers depend on the generosity of their customers to make a living wage. They need tips to pay the rent, to put food in their children's mouths, or to cover their college tuition. Additionally, many waiters are required to share a fixed percentage of their tips with bussers, runners, and hosts. When a customer stiffs them, they must pay the difference out of their own pocket.

Good Service Deserves Good Tips –

Waiting tables is grueling work. Servers are on their feet all day. They must multitask continually. And they have to bust tail to keep up with all the demands, especially during busy times, like the lunch hour rush, Friday nights, and Sunday mornings. And they do it all with a smile on their face.

There are orders to be taken (while patiently waiting as 4-year-olds deliberate indecisively between chicken strips and grilled cheese), drink glasses to fill (and refill and refill), piping hot plates to serve up promptly, bread baskets (or chips and salsa bowls) to replenish, desserts to proffer, tickets to tally, to-go boxes to fetch, and change to be made.

Most servers work hard to earn their tips, so leave them a nice one.

Bad Service is Improved by Good Tips –

Servers are only human. Your waiter has bad days, just like everybody else: His car breaks down. His girlfriend dumps him. His bills come due. His last customer sends her order back to the kitchen three times before she is satisfied.

The discouragement, distraction, and/or despair that accompanies such stressers can adversely affect his job performance. Of course, you are in no way obligated to reward lousy service with a large tip, but if you choose to do so anyway — to extend grace where it is so obviously and desperately needed – you might just turn a server's crummy day (and attitude) into a great one.

Your tip will be appreciated and remembered, guaranteeing you better service next time, should the same server be assigned to you again. But it will also give him hope, which in turn will lead him to render better service to all the customers who come after you.

It Reflects Well on You to Leave Good Tips –

Successful CEO's know something obnoxious restaurant patrons don't: The way you treat (or mistreat) your waitress says a lot more about you than it does about her.

This fact, commonly known as "The Waiter Rule," is what leads savvy business owners to conduct luncheon interviews of potential hires in a restaurant setting. That a prospective employee is courteous to the person conducting the interview — the one who will determine whether or not he gets the job — says very little. That he is patient with a waitress who gets his order wrong or spills ice water in his lap speaks volumes.

More revealing still is how a person treats his server when he thinks no one is watching — including (and perhaps especially) when it comes time to sign the check.

You Share God's Blessings When You Leave Good Tips –

It is common knowledge in the service industry that Sunday morning shifts are the absolute worst. The Sunday lunch hour is insanely busy as restaurants fill to bursting with church-going folks fresh from worship, and tips are minimal or non-existent.

This may be, as one sweet waitress conjectured, because those customers gave all their money to the church and have nothing left for leaving a nice tip, but such reasoning fails to account for why they'd be eating out in the first place, and it certainly doesn't explain why so many of them treat the waitstaff with frequent and unjustifiable rudeness while they're there.

"Out of the same mouth come both blessings and cursing. My brethren, these things ought not be so." (James 3:9-10)

We who name the name of Christ should demonstrate His character in how we treat others, including our waiters and waitresses. The fruit of His Spirit — love, joy, peace, patience, kindness, goodness, faithfulness, gentleness, and self control — should be evident in our every interaction (Galatians 5:22).

Surely those of us who have been forgiven so much should be willing to overlook the offenses of others (Matthew 6:14), especially such minor mistakes as a server's filling our glass with sweet tea rather than unsweet or forgetting that we ordered our salad dressing on the side.

And we who know personally the Creator of the universe should be able to look past a waitress's tattoos (or body piercings or unconventional hairstyle or the fact that she is working on Sunday), and see a person created in the image of God — one who deserves to be treated with dignity and respect, especially by those of us who call ourselves Christians, and especially if we are to have any hope of sharing the love of Jesus with her in a way that rings true.

Yes, Christ's redeeming love is the best gift anybody will ever receive, and yes, those of us who have experienced that love firsthand should share it with others at every opportunity, but if you want your server to actually read that gospel tract you're leaving behind on the table, you should first slip between its pages the most generous tip you can muster.
So there they are in a nutshell: The reasons my husband insists that we always tip our waiter well. It's a philosophy forged while he was waiting tables himself through high school and college.
He has always maintained that his experience waiting tables during that season of life makes him a better physician during this one. Doctors, like waiters, must be willing to get their hands dirty; they need to know how to multitask, how to interact with a variety of cultures, personalities and backgrounds, and how to deal with an oftentimes demanding and unreasonable public (whether they're sick or they're hungry, people want to be taken care of fast and can be downright difficult until their physical needs have been addressed and their pain or hunger alleviated).
Also in medicine, as in the food industry, one's success or failure depends on a combination of both skill and personality. One must be both competent and courteous to do well. These lessons are best learned early in one's career, which is why our son Samuel, who'll be starting medical school this fall, is spending his last semester at home waiting tables (parttime, at least, when he's not teaching biology labs at the junior college). He hopes to follow in his father's footsteps.
And, just in case you're wondering about my own current tipping practices, my husband has completely won me over to his way of thinking. Now, on the rare occasion that I dine out without him, I never scrimp on the tip or try to see how little I can leave without feeling guilty. Neither do I calculate a fixed 20% and leave it at that.
Instead, I think to myself, "How much would my husband tip on this tab?" Then I leave that amount, plus a little bit more — just to be safe.