5 Lessons I Learned by Losing a Diamond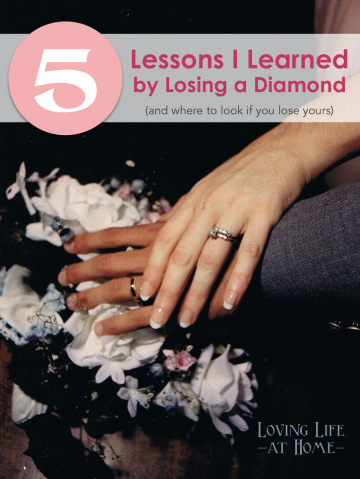 Last month, I lost the diamond out of my wedding ring — an irreplaceable family heirloom. It made me feel sick when I glanced down at my hand while dining in a local restaurant and noticed it missing, for how long, I didn't know.
Years earlier, my husband's grandmother had taken the diamond off her own finger as soon as Doug announced his intention to marry me. She reached over, patted me on the knee with a twinkle in her eye and said, "Then we'd better go get the ring sized."
Nanny and Poppy drove us to Taylor Brothers that very morning, then Doug "officially" proposed on bended knee in their living room as soon as the ring came back from the jewelers.
A rare antique cut, the diamond had been in my husband's family for over 120 years when it was given to me (and almost 150 years when I lost it two weeks ago).
As soon as I realized it was gone, I called my mother and asked her to pray that it would be found. I also posted a prayer request on Facebook, where I received an incredible amount of encouragement from friends there, many of whom had lost-diamond stories of their own to tell:
One of my friends lost her ring at Walmart, and some good Samaritan turned it in.
Another friend had found her lost diamond two years later, in the mouth of a whale in a pop-up book that was on its way to Goodwill!
Someone else lost a custom-cut, heart-shaped diamond IN THE OCEAN while honeymooning in the Caribbean. If that isn't about as hopeless as it gets, I don't know what is. Yet her husband spotted it wedged in the crevice of a rock on the beach almost two weeks later, the day before they were scheduled to fly home.
Even friends who hadn't lost diamonds promised to pray and gave great suggestions for searching:
Hunt in the dark with a flashlight
Empty the vacuum bag
Check your dryer lint trap, sink bin, clothes closet
Thoroughly search the car
Make sure it's not caught in your broom fibers
Of course, I thought of a few more places to search on my own:
In the bed linens (maybe it fell out in my sleep?)
Under couch cushions (no diamond, but I did find several pennies and ink pens)
In the fishbowl (I emptied out all the decorative rocks in the bottom and searched one by one)
In the flower beds (I'd spent a couple of hours there, trimming back ivy and azaleas the day before)
In the garbage disposal (It's a cramped, slimy job, but the peace of mind was worth it)
Unfortunately, my diamond didn't surface through any of that, but I kept praying, kept hoping, kept looking….
I also did a little therapeutic writing. I began a (not-yet-published) post about a diamond I lost forty-two years ago and the lessons I learned through the experience. (Watch for that story soon. It still makes me cry every time I tell it.) And I wondered what lessons God might be trying to teach me this time around. Here are a few I've identified thus far:
As it turns out, between all the prayers and all the cleaning, my diamond finally did resurface. Praise the LORD! It had evidently fallen out in our bathroom where it rolled under a cabinet and into a small gap in the grout between the tile and the wall (there's one more place to check if you ever lose yours!). I'd already swept the bathroom several times in search of the lost stone, but because our pastor's family was coming for dinner Saturday night, I decided to lay down on my stomach to scrub those hard-to-reach tiles by hand. I still couldn't see it, but the diamond was there all the same, safe and sound, just waiting for my fingers to dislodge it from its hiding place.
Now, isn't that a happy ending?
---
How to find your own happy ending
The Word of God is full of wisdom for every facet of life, but we've found it especially helpful in building a happy, healthy marriage. For a fascinating look at how science has confirmed the superiority of God's design, check out my book Love Your Husband, Love Yourself.