I am NOT enough — and why it's liberating to admit it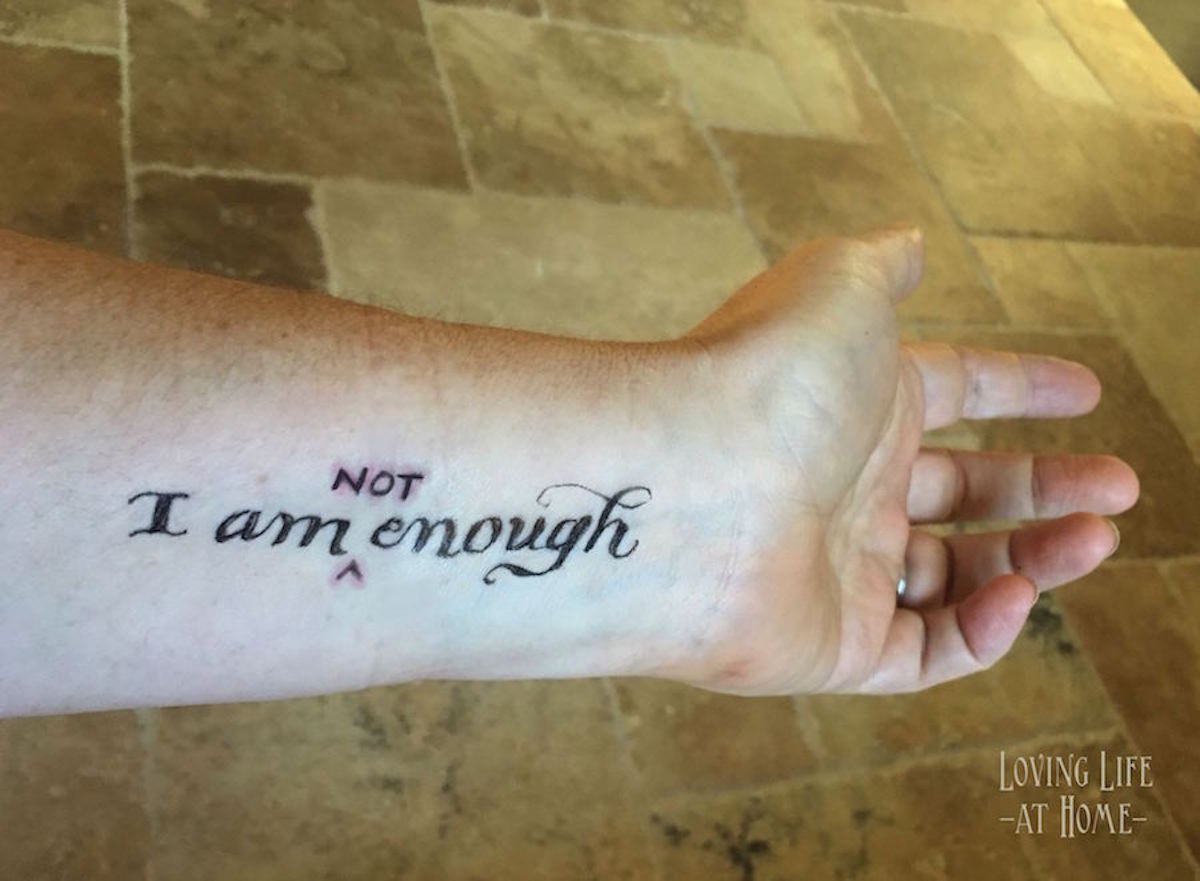 Do you know that feeling you get when you hear fingernails grating on a chalkboard? I guess most modern classrooms have switched to dry erase boards, so maybe you've missed it. It's sort of a squeaky, screechy, scraping sound that really sets your nerves on edge. Back when I was in school, there was always one little boy in my homeroom who would routinely claw the board just to see his classmates wince.
Anyway, I've been getting that same feeling a lot lately, but not from blackboards. The thing that's making me cringe these days is a catchphrase gaining traction in Christian and secular circles alike. It's touted at women's conferences. It's promoted on blog posts. It's plastered on car bumpers. It's chanted during religious rituals. It's engraved on stone pendants, silver charms, and golden rings. It's tattooed across countless shoulders, arms, wrists, and ankles. And the trend shows no signs of letting up.
I'm referring, of course, to the affirmation, "I AM ENOUGH."
Granted, the purveyors of this mantra are often well-intentioned. Perhaps they're using "I am enough" as a reminder that we shouldn't be constantly comparing ourselves to others or coveting things we don't have or trying to keep up with the Joneses. And those are valid and important messages.
But the words we use to convey such messages are also important, and "I am enough" leaves way too much room for misunderstanding. It neither resonates with reality nor lines up with Biblical truth. That's why so many groups have been able to appropriate the slogan and use it to support widely disparate worldviews:
Atheists argue: "I am enough. I don't need God."
Relativists reason: "I am enough. I don't need rules."
Feminists fume: "I am enough. I don't need men."
Loners lament: "I am enough. I don't need friends."
And folks who've grown complacent and lazy about life contend: "I am enough. I don't need to work toward bettering myself in any way. This is who I am. Take it or leave it."
As I mentioned before, the problem is that all these assertions are not only unbiblical, but they're completely out of touch with reality. That's why it's so liberating to confess, "I'm NOT enough. I'm not even close."
Jesus came that we might "have life, and have it more abundantly" (John 10:10), but we will completely miss out on the bountiful life He offers if we never look beyond our own thoughts, feelings, and extremely limited resources. The first step to overcoming any problem is to admit you have one, and the first step to living a full, satisfying, deeply meaningful life is to reject the notion that you can do it completely on your own.
In reality, we are all born with something missing. And trying to fill the void with positive affirmations doesn't really work. No matter how often I tell myself, "I am enough," in my heart of hearts, I know it's a lie. The simple truth is, I'm NOT enough. I fall far short of the mark, and I freely admit it. (Romans 3:23) I'm not strong enough or smart enough or pure enough or mature enough or anything enough to make it through life without a lot of help.
I'm not enough — but, praise God, I don't have to be.
Did you catch that last phrase? "It is by grace you have been saved." It is not because of something we are — we could never BE enough. (2 Corinthians 3:5) It is not because of something we've done — we could never DO enough. (Ephesians 2:8-9)
Human will and desire and effort and exertion are not enough (Romans 9:16) — salvation and the abundant life that accompanies it are the work of God, from start to finish. (Philippians 2:13) And He can be trusted to see that work through to the end. (Philippians 1:6) I can cooperate with Him in that work, but I can't do it on my own — any more than a dead man can bring himself back to life. (Romans 6:13)
So if you've been telling yourself, "I am enough" but not feeling it, you can leave off pretending right now. Break out of the prison of supposed self-sufficiency and turn your life over to Christ.
You are NOT enough, but God never expected you to be. He stands ready and willing to give you the significant, soul-satisfying life you crave, if only you will recognize your need and ask Him for it. (1 John 1:8-9)