"Bad" Advice that Might Save Your Marriage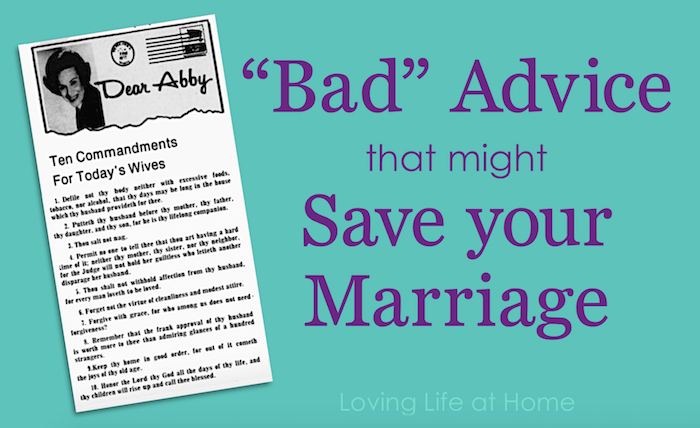 I spotted an article earlier this week entitled "The Worst Marriage Advice of Every Decade Since the 1900s." Curiosity compelled me to click through and read.
I'll admit that the advice from the most recent decades truly was horrible. No wonder so many marriages end in divorce, if the guidelines couples are attempting to live by these days revolve around keeping secrets until their deathbed or saying one thing while doing another.
But the earlier advice from bygone eras? Not surprisingly, many of those recommendations were actually spot on. In fact, I suspect marriages would fare much better if more folks adopted such attitudes toward their mates as were so highly prized in past generations.
Once source referenced was particularly good, I thought. It was a piece written by Abigail van Buren in 1965 called The Ten Commandments for Wives.
She wrote a companion column devoted to the Ten Commandments for Husbands, then later combined the two, but as this is the one referenced in the above article, I've chosen to reprint it in its original form, along with some of my own thoughts about what Abby advised:
10 Commandments for Today's Wives