Is It Wrong for Singles to Think about Sex?
I received the following sweet message last month from a reader who raised several good questions, including whether it's wrong for singles to think about sex. Does keeping your thoughts pure mean you shouldn't contemplate sex at all? Since other singles may be wondering about the same thing, I decided to post my response here.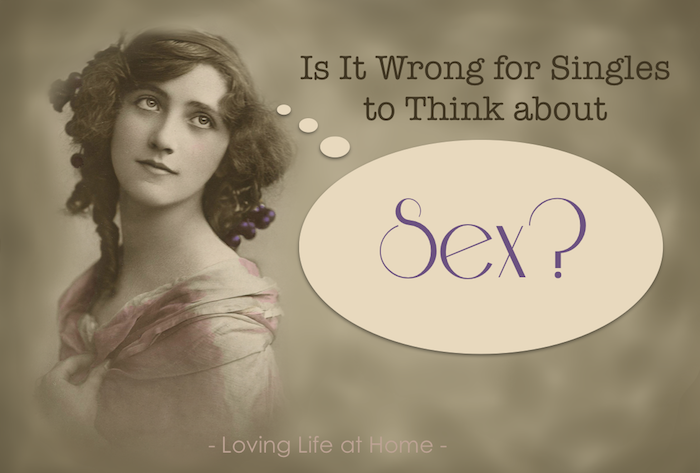 Question: Is it a sin for singles to think about sex?
Hello Mrs. Flanders,
I enjoy reading your blog, Loving Life at Home. Not many married Christian women are as open to talking about sex as you are on your blog, and I was hoping I could ask you some questions. You seem like the kind of mother that I could sit down with over a cup of tea to talk to.
[As a college student in my early twenties], I am a virgin and have never even been kissed. I am waiting and saving myself for marriage, but I am also very curious about the sexual aspect of marriage, and I do think about it a lot. I guess that is one of my questions for you — is it wrong to be curious about sex before marriage? To think and wonder about it a lot? To long to experience it for myself someday?
Even though I only want to have sex with my future husband and only when we are married, I really worry sometimes that my thinking about it so much may be lustful, but I do not know.
Secondly, I have wondered often about what my husband and I will do for birth control once we are married. I have read on your blog and elsewhere about the awful effects of birth control pills, so I do not want to use that. And then Natural Family Planning sounds great, but I have read of several people who used it and got pregnant [multiple times] unexpectedly — all within a few years of marriage. Is using condoms every time enough?
I don't want a child for every year of marriage, but I would also like to be able to enjoy sex with my husband! What would you recommend? This is something I would like to research and learn about before I get engaged someday, and then suddenly the wedding night is here, and we have no idea what we are doing for birth control.
Thank you so much for any help you can give me. I appreciate your blog about marriage and family life so very much.
Sincerely,
Curious but Concerned
---
Answer: It depends on the kinds of thoughts you're entertaining.
Dear Concerned,
Thank you for your sweet letter. I'm so glad to know young single girls like yourself are reading and enjoying my blog. I did lots of reading and researching and thinking about marriage before I ever married, too, and feel that helped make my transition into married life much smoother than it might otherwise have been.
It is very natural to be curious about sex and to spend time thinking about it, even before you are in a position to enjoy it with your (future) husband in the context of marriage. That drive is one God has put inside both men and women, and I do not think there is anything sinful about longing to experience something He created and called very good.
Where that yearning crosses into lust, I believe, is when you allow yourself to imagine doing things with a man who is not your husband (which, as long as you are single, means any man at all).
Rather than creating steamy scenes in your head of what it will be like or reading erotica or viewing porn — things which will actually inhibit your enjoyment of sex once you are married — I suggest you channel that energy into more wholesome pursuits, including:
Prayer

Don't be shy about asking God to send you a husband. He has promised to give us the desires of our heart when we delight ourselves in the Lord, trusting Him fully and committing our ways unto Him. (Psalm 37:4-5)

Preparation

Use the waiting time (before Mr. Right shows up) to prepare yourself to be a better wife and mother, both by reading books and by developing skills that will help you in those endeavors. (You can view several recommended titles on marriage and motherhood by clicking on "My Favorites" in the menu bar.)

Projects

Rather than holing up at home, waiting for God to drop a husband on your doorstep, get involved in a few projects you feel passionate about. Stay active in your church, school, and community in ways that will allow you to meet guys with similar interests and life goals.
As for the birth control questions, that is something you will need to discuss with your future husband, once he shows up, and decide together with him what tack to take. You are smart to want to thoroughly research the options in advance, though. There are lots of things you'll want to take into consideration before making such an important decision, including the following questions:
Is it abortifacient?

Some forms of "contraception" act not by preventing fertilization, but by preventing implantation. The IUD definitely falls into this category, in that it turns the womb into a hostile environment for the developing embryo. Hormonal contraceptives produce a similar effect by thinning the uterine lining so much that it is incapable of supporting life. If you believe, as we do, that life begins the moment egg and sperm unite, then you should avoid as unethical any methods of "family planning" that rely on spontaneous abortion to work.

What are the side effects?

As I've written before, hormonal contraceptives (such as the Pill) pack a powerful lot of potential health problems, including increased risk for breast cancer, heart disease, stroke, thyroid problems, and depression. For many women, they also cause a significant decrease in libido. Yet even non-hormonal methods of contraception may carry side-effects that will need to be taken into consideration, such as allergic reactions, skin sensitivities, itching, and discomfort during or after use.

Is it convenient?

Without question, hormonal contraceptives are probably the easiest to use. Now you can even have them implanted and not have to think about birth control at all for months at a time. But the fact that hormonal contraceptives failed the first two questions above makes their convenience much less attractive. Barrier methods are neither abortifacient nor dangerous to our long-term health, but they can be a bit of a hassle to use. Ditto for Natural Family Planning. The reliability of any method will hinge on your consistent compliance in using it correctly, so if you are set on using contraception, you'll need to pick something for which the hassle factor is minimal.
I know that's a lot to consider, but before you get too bogged down in deciding which method of birth control is best, you should probably back up and ask yourself some even more basic questions:
Why do I want to prevent pregnancy?

Is there a serious health concern? Extenuating circumstances? Or are you just doing what is expected of you or "what everyone else is doing" without fully considering the consequences?

Do I share God's heart when it comes to children?

The Bible calls children a gift and unequivocal blessing. Jesus made time for children during His earthly ministry and told His disciples not to hinder their coming to him. Modern society, on the other hand, views children as a financial burden, a nuisance, and something to be nipped in the bud if the timing isn't perfect. Where on that continuum do you fall?

Would I be content with no children at all?

The problem with the term "birth control" is that it insinuates we can decide to have a baby just as easily as we can choose to prevent one. That simply isn't true. The average age for first marriage in the US is now 27 for women, which also happens to be the age at which her fertility begins to decline. For most women, the window of opportunity is closing before they are ever in a position to take advantage of it. If they postpone pregnancy for too long, they may miss the miracle of giving birth altogether. So you must ask yourself, in the event that such a thing happens, will you regret the years you squandered using contraceptives? If the answer is yes, you may want to rethink your position on using "birth control" at all.
Interested in reading more on this topic? Check out these books, all of which I highly recommend:
I decided to post this response to your original letter, because I suspect lots of young girls wonder about the same questions, although few are so bold as to put them in writing. I appreciate your courage. You remind me a little of myself at your age, only I sent my questions to Elisabeth Elliot via snail mail. She answered, and I am eternally indebted to her for giving me such wise counsel and good advice! I would love to think that my words might have even a fraction of the impact on my readers that hers had on me.
Blessings,
Jennifer