What follows is the sixth (and next-to-last) installment in the series 7 Life Lessons I've Learned from my Husband: God wants the Whole Pie. This concept is key to understanding the Christian walk.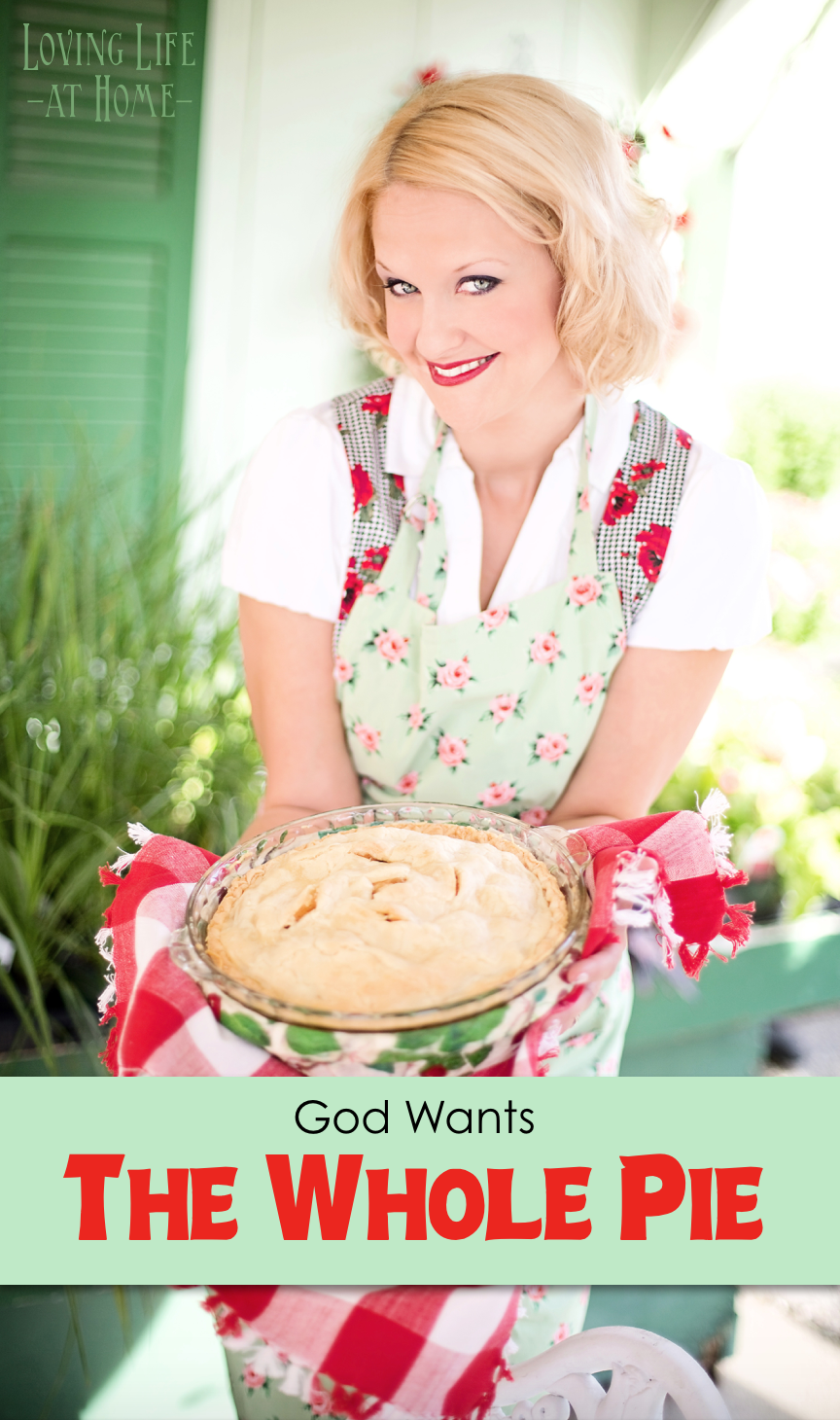 I grew up believing I should put God first in everything:
He wants the first part of my week, so I should attend church every Sunday.
He wants the first part of my day, so I should read my Bible each morning.
He wants the first part of my produce, so I should tithe on every penny I earn.
As with so many other matters, when I got married, my husband really challenged my thinking in this area.
It's not that there is anything wrong with attending church or reading the Bible or supporting missions.
Quite the contrary.
But worship services and quiet times and charitable giving cannot be where it ends.
God should be more than the top item on my to-do list.
When we think in terms of putting God first, then by definition, something else comes next. It implies that once God's been given His fair share, the rest of my resources are mine to do with as I please, to pour into family, job, hobbies, or whatever else might be on my list.
But that's not entirely accurate. This whole hierarchical way of thinking is fundamentally flawed.
God will never be satisfied with a trifling token of our time and talents. Our service to Him should not be ranked alongside dental appointments and PTA meetings and Little League games — just one more thing packed into an already overcrowded schedule.
God transcends our to-do list, and our devotion to Him must be all-encompassing.
If life is a pie, God doesn't just want the first piece. He doesn't even want the biggest piece. God wants the whole pie. And — what's more — He has a right to it!
But what does this sold-out sort of living look like? And how do we get from here to there?
We do it by following these five simple principles:
So, there it is. These are the areas that come to my mind when I think of handing all of my life over to God. What does sold-out living look like to you? I'd love for you to share your thoughts in the comment section below.