After Valentine's Day: Plea for Perseverance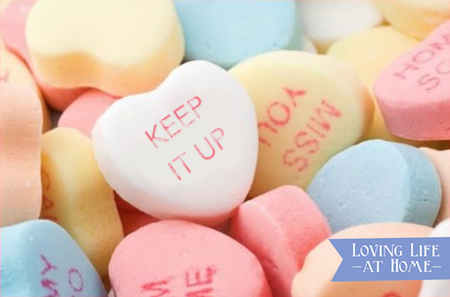 When I was in high school I dated a boy who would go all-out for Valentine's Day: balloon bouquets, long-stemmed red roses, boxes of chocolates, candlelight dinners.
Every day for the week, some grand new token of his affection would be delivered to my doorstep.
But then, Valentine's would be over, and that would be that.
Two years older and away at college, he would go entire semesters without so much as a phone call or a post card. The stark contrast gave me a little bit of a jaded view toward all things cupid.
In my mind, Valentine's Day is just window dressing. It's a public display that may or may not accurately represent what is truly stored up in one's heart.
Our most telling declarations of love aren't made on February 14th — they are made in the days and weeks and months that follow.
When my husband brings home heart-shaped candy boxes and fancy flowers this time of year, I know that it's (at least partially) because he knows the nurses at the hospital are going to quiz him about what he got me.
But when he brings me hot tea when I'm sick? Or starts a load of laundry for me when I'm busy? Or runs my bathwater when I'm tired? Or makes a list at work of things he wants to tell me when he gets home? He's not doing any of that for show. Nobody will ever ask him about it. He does those things purely because he loves me and takes pleasure in demonstrating that fact in practical, everyday ways.
I love that about him.
Wives can be just as guilty as men of pouring so much thought and energy into a single day that little is left over for later.
If you enjoyed an extra-special evening of romance with your husband on the 14th, terrific. But don't expect that single interlude to carry him over until next Valentine's Day — or even until next week.
Sometimes when a wife breaks out the candles, perfume, background music, and lacey negligees, she's tempted afterward to think, Wow! I really outdid myself tonight! That should tide my husband over for at least a week or two!
Meanwhile, her husband is thinking, Wow! That was great! We need to do that more often. How about tomorrow?
Wives want to serve sporadic samplings of gourmet delicacies, when most husbands would be far more satisfied with a steady diet of meat and potatoes.
So… this is a plea for perseverance. Did you kindle some sparks this weekend? Fan them into a flame, then keep it burning all year long.
More Biblically Sound Marriage Tips
The Word of God is full of wisdom for every facet of life, but we've found it especially helpful in building a happy, healthy marriage. For a fascinating look at how science has confirmed the superiority of God's design, check out my book Love Your Husband, Love Yourself.