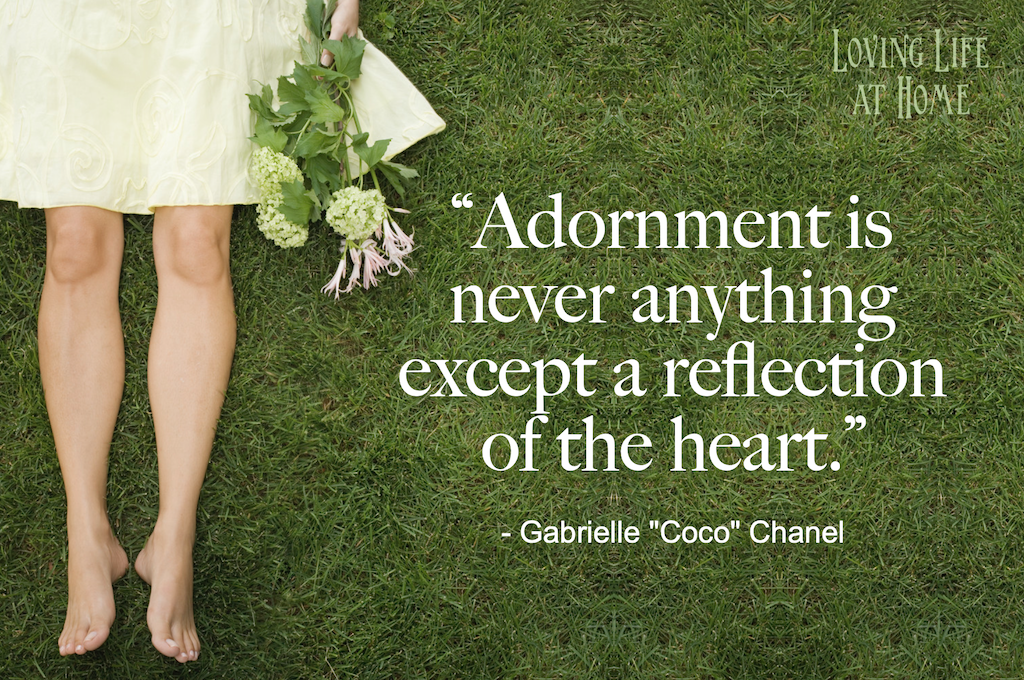 When I first published 25 Ways to Communicate Respect over a year ago, I was astounded to see how many women took offense at my suggestion that a wife should dress in a way her husband finds attractive.
In my mind, there were points on the list that were far more controversial than this one — I expected those might draw some criticism — but I never imagined #17 would provoke the ire of so many readers.
Things to consider when deciding what to wear
No, I'm not trying to reduce women to the sum of their physical attributes, as some falsely accuse. I concede that a woman's worth is based on infinitely more than what she looks like.
But to say that our appearance does not matter most is not to imply that it does not matter at all.
Men are visual creatures. Putting a wedding ring on their finger does not negate that fact.
Many of us went to great lengths to look good before we got married. We combed and curled and coiffed our hair. We slicked on lip-gloss and crimped our eyelashes and primped in front of the mirror for hours on end.
Why? Because we wanted to look our best. We were trying to attract our guy's attention. We were willing to do whatever it took to snag a husband and make him our own.
Is it fair, then, for us to pull a bait-and-switch after the wedding? Promising an attractive, put-together wife, but delivering curlers and cold cream? Why do we seem to think that once we marry, we can stop trying?
There may be little chance that I'll ever be mistaken for a trophy wife, but do I really want to present myself in a way that removes all doubt? After all, the Bible does say that a virtuous wife is a crown to her husband. (Proverbs 12:4) Isn't a crown a little bit like a trophy?
Dressing to please
I want my man to be proud to show me off in public. Don't you? Don't you want to keep your husband captivated?
Then dress the part.
I'm not saying you have to wear things that you detest or find uncomfortable, nor do you need to clean your house in a cocktail dress and stiletto heels or shop for groceries in revealing negligees, but I do think you should take care of your appearance and dress in a way that pleases the man you married.
Women in the work force often adhere to very strict standards of dress, whether written or unwritten. You don't see many female executives showing up at the office in their bathrobes and slippers, do you? Lots of women — including waitresses, nurses, police officers, surgeons, and even Supreme Court justices — must wear prescribed uniforms to work every day.
So why all the resistance about looking good on the home front? There is nothing demeaning about a woman wearing clothes her husband finds flattering and pretty. This is not oppressive. It's not objectification.
It is simply something a wife chooses to do because she loves her man and values his opinions. It's the same reason she pays attention to her health and hygiene and tries to get adequate rest and exercise — not only because she respects husband, but because she respects herself and wants to look and feel her best.
She wants to look her best in public…

because she understands that when she goes out into the community, she is not only representing herself, but her husband and family, as well.

She wants to look her best at home…

because she knows that looking good and feeling comfortable does not have to be an either-or proposition. (And she can really rock an apron).

She wants to look her best in private…

because that's when it's especially easy to please her guy. (Just because an outfit is not modest enough to wear in public or in front of the kids does not mean you can never wear it at all. Lock the bedroom door and slip into something just for your husband. Do this regularly enough, and he won't care what you wear to clean out the garage.)
Of course, looking your best encompasses much more than what clothes you put on your body.
Our appearance is more than our apparel.
Don't neglect inward beauty
Scripture tells us our "adornment must not be merely external — braiding the hair, and wearing gold jewelry, or putting on dresses; but it [should] be the hidden person of the heart, with the imperishable quality of a gentle and quiet spirit, which is precious in the sight of God." (1 Peter 3:3-4)
So our carriage also comes into play. Our attitudes and behavior speak volumes, revealing not only what we think of ourselves, but also how we regard everyone around us.
Including our husbands.
"What attracts men to women is their femininity," writes Dr. Laura Schlessinger in The Proper Care and Feeding of Husbands
, "and femininity isn't only about appearance, it's also about behaviors. Looking womanly and behaving sweetly and flirtatiously are gifts wives give to their husbands. This gift communicates that the husband is seen as a man, not just a fix-it guy, the bread-winner, or the sperm donor."
That's a good reminder.
Sprucing up for your husband and treating him like a man is not only good for him and good for your marriage — it's good for you, as well. Doesn't it make you feel strong and confident and desirable when you flash your husband a knowing smile and his heart gives a little flutter in response?
You captivated his attention before marriage. Why not make the effort to turn his head again?
More Biblically Sound Marriage Tips
The Word of God is full of wisdom for every facet of life, but we've found it especially helpful in building a happy, healthy marriage. For a fascinating look at how science has confirmed the superiority of God's design, check out my book Love Your Husband, Love Yourself.