EP 3: Learn to Speak Your Spouse's Love Language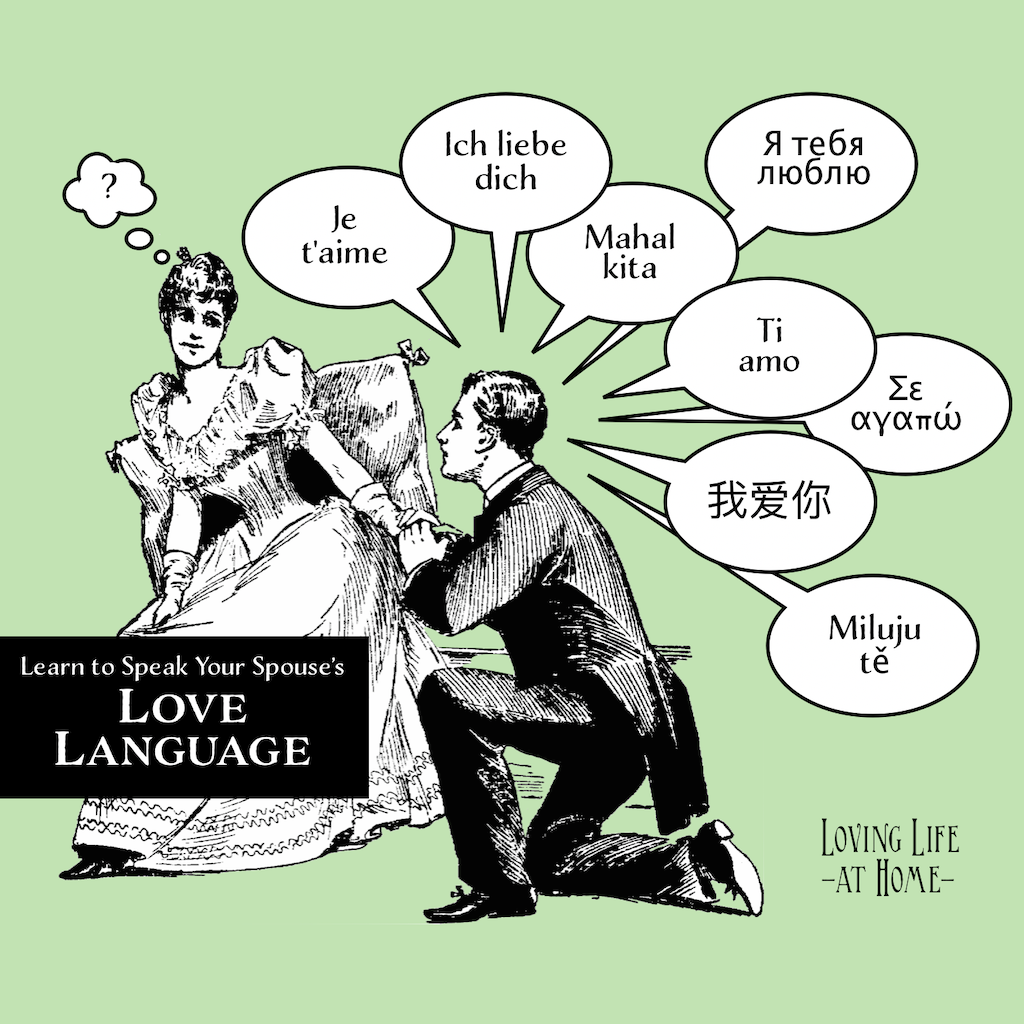 Want a powerful way to improve your marriage? Learn to speak your spouse's love language! In this week's podcast, I share six practical ways to gain proficiency in your husband's preferred love language — and I also discuss what to do if he isn't fluent in yours.
Show Notes:
The material for this week's podcast was taken from a post I originally wrote in 2020, which you may read in its entirety below.
BOOKS MENTIONED IN THE PODCAST:
SUPPORTING SCRIPTURES:
"Dear children, let's not merely say that we love each other; let us show the truth by our actions." (1 John 3:18)
"Let all that you do be done in love." (1 Corinthians 16:14)
RELATED LINKS:
Appreciate Your Spouse's Differences
My husband loves conversation hearts. By which I mean, he actually enjoys the taste of them. He seldom pauses to admire their pretty pastel colors or cute, chunky shape. Nor does he normally bother to read what they say. He just downs them by the handful, crunching them between his teeth with a boyish grin on his lips.
As soon as he spots these ubiquitous Valentine treats at the grocery store in mid-January, he buys them by the bagful. If he finds conversation hearts on the clearance aisle after Valentine's Day is over, he cleans them out. Such confections are only available a couple of months of the year, so he likes to stock up while he can.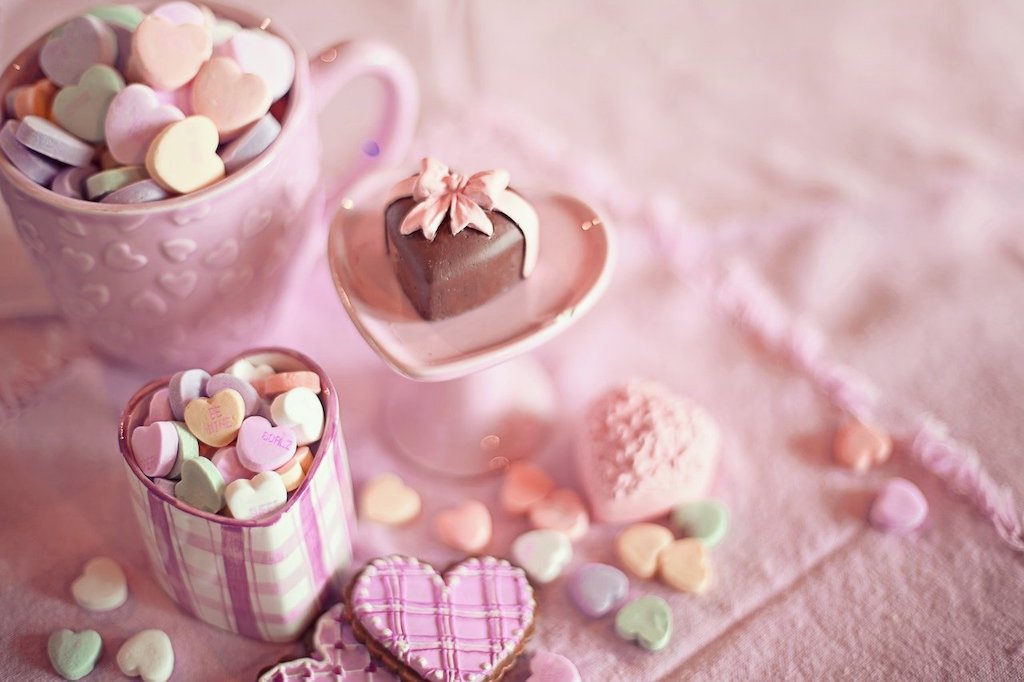 But Doug rarely buys any conversation hearts for me.
For me, he gets chocolate. Chocolate with nuts. Chocolate with toffee or peanut butter. Even chocolate with coconut, which he detests, but I relish.
That's because my husband knows how to speak my love language.
Discover Your Spouse's Love Language
In his groundbreaking marriage book, The 5 Love Languages, Gary Chapman identifies five basic ways individuals give and receive love. These include words of affirmation, quality time, receiving gifts, acts of service, and physical touch.
(Yes, I realize "chocolate" is not actually on this list. It should be. That was obviously an oversight on the author's part.)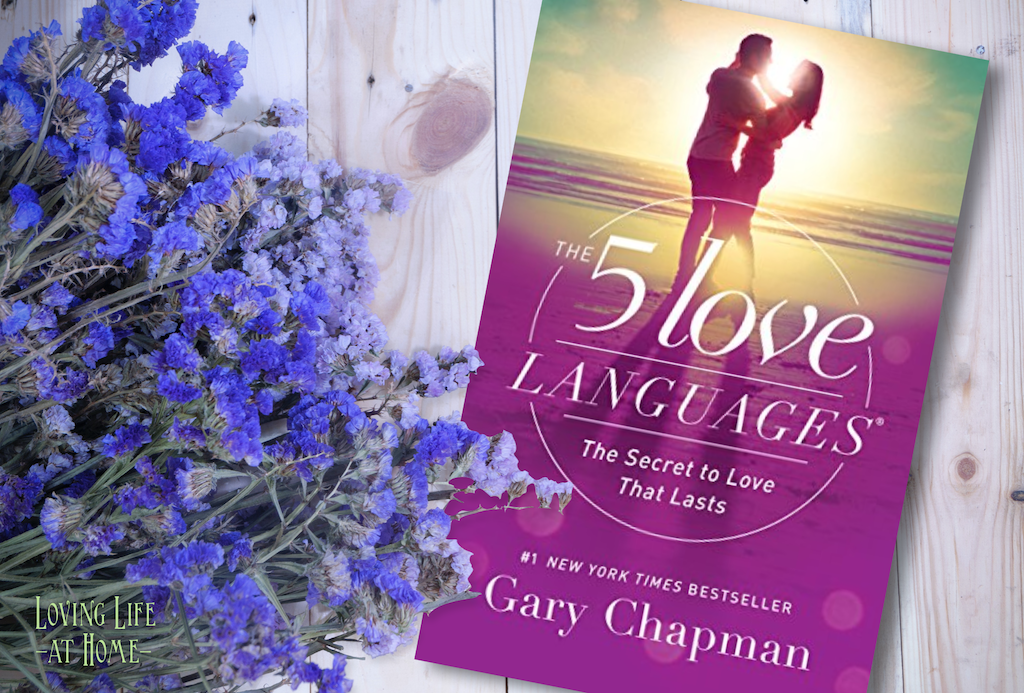 The 5 Love Languages has been a New York Times bestseller for ten years running. I highly recommend it. The book has sold over 12 million copies, and for good reason. Chapman calls these love languages "the secret to lasting love."
After enjoying more than three decades of happy marriage ourselves, my husband and I have learned a thing or two about effective, loving communication. Here are a few things to remember as you're learning to speak your lover's language.
Master Your Spouse's Love Language
Practice regularly

As a military brat, my husband spent his early childhood in Turkey. Consequently, he learned to speak Turkish and English simultaneously. Once his family moved back to the States, however, English was the only language he ever heard or used.

Without regular practice, his Turkish was completely lost. These days, Doug couldn't even count to ten in Turkish without considerable cramming beforehand.

The same thing is true for love languages. Once you identify your spouse's love language, you need to put that knowledge to good use. Practice, practice, practice. Without consistent use, you may forget how to communicate in that language altogether.

Ask clarifying questions

For the first 20 years of our marriage, every time I cut a tomato, I gave my husband the juicy, center slices and ate the dry, mealy ends myself. I did this as an act of love — giving him my favorite part while I choked down the less desirable portions, like some kind of culinary martyr.

Then one day, I noticed a thick, ripe, mouthwatering slab of homegrown tomato lying untouched on the edge of my husband's plate. Thinking perhaps he was too full to finish it, I asked if I might eat it.

"Sure," Doug answered, "I don't really like tomatoes when they're all gooey in the middle like that. I prefer the end slices."

In other words, for two full decades, my husband had silently entertained the opinion that I was selfishly hogging the choicest part of the tomato and feeding him the scraps, even as I was intentionally trying to do the exact opposite!

The point? Don't make assumptions. Don't presume your spouse's likes and dislikes necessarily align with your own. If you aren't sure about your partner's preferences, ask. Otherwise, your best guesses may make you both miss out on something marvelous.

Get outside help as needed

Some people have brains that are wired for language acquisition. They are fluent in more tongues than you can count and seem able to add to that number almost effortlessly.

Other people flounder through high school French, barely passing their vocabulary quizzes. If it weren't for tutors, language tapes, and learning apps, they'd have flunked out completely. But with the extra help, at least they're able to exchange niceties (Bonjour!). Or order from a menu (Crêpes, s'il vous plaît). Or ask directions to the bathroom (Où est la toilette?).

Similarly, if you have trouble getting on the same wavelength as your spouse, don't be afraid to get outside help. Attend a marriage retreat. Read some good books on the topic (like the ones mentioned in this article). Find a happily married mentor. Talk to a trusted Christian counselor.

There is no such thing as a static marriage. You are either growing closer or drifting apart. So be proactive about investing in your relationship and building it up every way you can, including learning to speak your spouse's love language well.

Study the local dialect

Accents vary from one region of the country to another — a Bostonian's speech bears little resemblance to a Southerner's drawl, even though both are (presumably) speaking English. So, too, love languages vary from one couple, one marriage, one household to the next. You may sometimes even notice a slight shift from one day to the next.

For instance, Doug knows that I love chocolate and would welcome a fudge-filled surprise from him anytime. Unless, of course, I've lately sworn off sweets in a concerted effort to "get in shape." In which case, he should not even consider bringing chocolate into the house.

(I like to keep him on his toes like that.)

Likewise, I know my husband loves physical touch. So I do my best to provide generous daily doses. But whenever Doug is actively eating pizza, I give him space. Because I learned many, many years ago that it freaks him out for me to touch him when his hands are greasy, even if my hands are clean.

(Right back at you, Sweetheart.)

So study your mate. Learn what makes him tick. Make note of circumstantial changes. Look for seasonal shifts. And adapt accordingly.

Expand your vocabulary

Did you made an "A" in the conversational Spanish class you took as a Freshman? Congratulations. My guess is, if you ever hope to have a deep and meaningful conversation en Español, you'll need to command a few more words than you learned in that introductory level course.

The same thing is true for communicating in your spouse's love language. Is his love language quality time? Quality time can mean long conversations over candlelight dinners, but it should encompass so much more than that.

Run errands together. Pursue a new hobby together. Do chores around the house shoulder-to-shoulder. Take dance lessons, get your scuba diving certification, or attend a cooking class together. Join forces to show hospitality, to volunteer at the local soup kitchen, to coach your kids' soccer practice. The common thread through all these activities is that you're doing them as a team. Side-by-side. Together.

Is your spouse's love language physical touch? Then prioritize your sex life. (For an in-depth look at the benefits you'll reap by doing so, read my book, Love Your Husband/Love Yourself: Embracing God's Purpose for Passion in Marriage.)

But don't stop there. Expand your repertoire to include other kinds of touching, as well. Hold hands, slow dance, take long, hot baths together. Walk arm-in-arm. Cuddle and spoon. Give your spouse a full-body massage. A pat on the back. A playful pinch on the bottom. Scratch his scalp. Kiss his lips. Rest your head on his shoulder. Do a little passionate necking. Squeeze his muscles admiringly. And hug him every chance you get.

Aim for fluency

The longer and more regularly you speak a new language, the more fluent you become. When you're first learning, it is easy to make mistakes. If you throw up your hands and quit the first (or tenth or twentieth) time you try to say something and are misunderstood, you will never gain mastery.

The same is true when it comes to forging a love that lasts. If your initial efforts to speak your spouse's love language fall flat, don't give up. Keep on trying. Study. Learn. Ask questions. The more you practice, the more fluent you'll become, and the more happiness and satisfaction you will enjoy in your marriage.
Decipher Your Spouse's Love Language
My family recently took a Mediterranean cruise. We were among only a handful of Americans on the ship. Consequently, we found ourselves surrounded by people who spoke tongues that were foreign to us.
We made friends with a few of them, despite the language barriers. The Italian couple who shared the table next to ours at dinner every night spoke only broken English, but were fluent in German. My German is very rusty, but I managed to haltingly answer a few of the curious questions they asked about our family.
I explained that my husband and I have been married 32 years. And that we have 12 children: Ich bin… mit mein Mann… fur zweiunddreißig Jahren. Wir haben… zwölf Kindern…
They answered back enthusiastically, though I caught only every third word and had to ask them to repeat a few statements. Assuming I understood them clearly, they told us our children are beautiful ("schön") and very well-mannered ("sehr höflich") and that Doug and I look much too young ("zu jung") to have so many.
I was happy to hear such lovely compliments, even if they were spoken in a tongue with which I'm not completely comfortable. The fact I had to work to decipher what my new friends were saying in no way diminished the sincerity of their words. How petty and entitled it would've been for me to scorn their kind remarks, just because they weren't offered in English!
So I leave you with this word of caution: Never discount love that's expressed in a language that's foreign to you. Such overtures are still heartfelt, still valuable, still packed with deep emotion.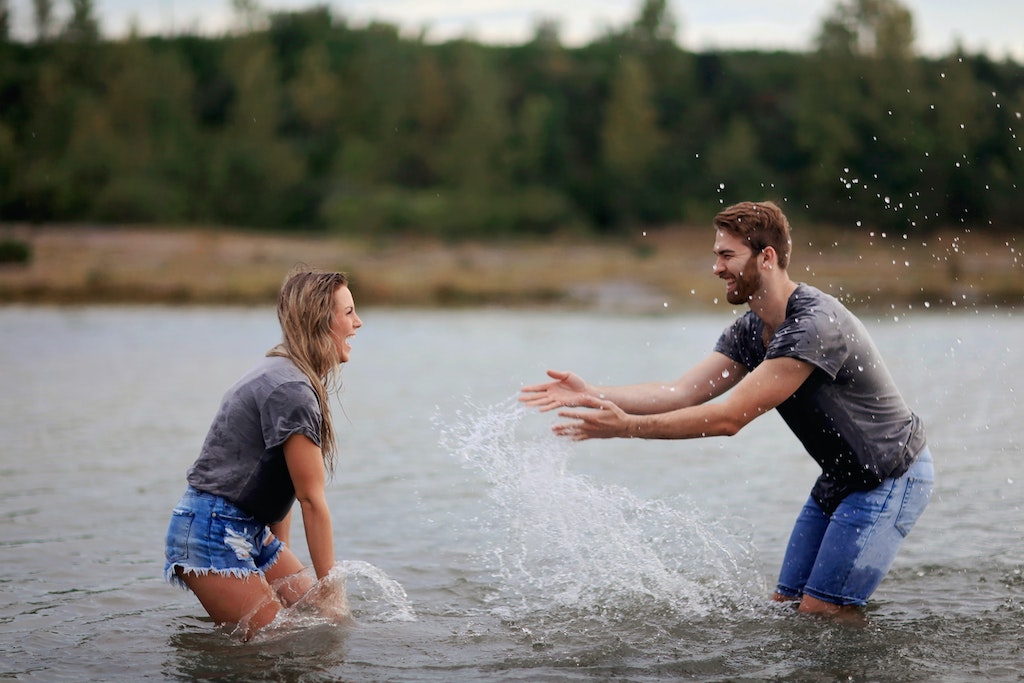 If you can read a marriage book like 5 Love Languages as a way to better understand your husband, go for it. If it helps you improve upon your own ability to communicate your love for him in more meaningful ways, brava!
Glean as much as you can. Apply what you learn. Keep up the good work.
But if you find yourself scouring such titles with an accusatory eye, you're heading for trouble. If Chapman's words leave you feeling irritable and slighted because your husband is not yet fluent in your preferred language, you'd be better off leaving his book on the shelf. It was not, I think, the author's intent for you to use his book as ammunition against your husband or as a prooftext for all the ways he's failed to love you well.
The Goal: Become Multi-Lingual
When it comes to love languages, I personally favor words of affirmation. And I like actions that back those words up, such as acts of service or quality time.
Receiving gifts is not my native tongue, and neither is physical touch.
As a newlywed bride, I was unappreciative of either. Much to my shame, I often acted downright disdainful and disgusted when my extremely generous, exuberantly affectionate new husband attempted to communicate his love to me in the ways that most resonated with him. I would've preferred for him to just tell me he loves me, then keep his hands to himself and his money in the bank (rather than spending it on gifts I didn't need).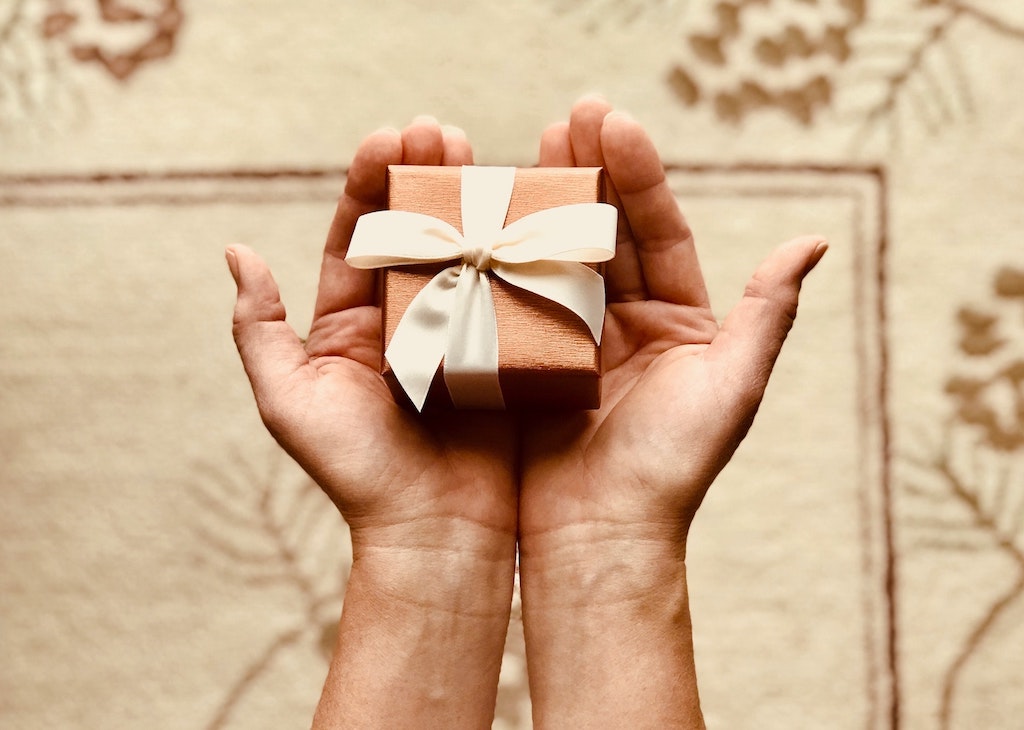 But thankfully. Thankfully. Thankfully, my husband didn't give up. He kept on loving me in the best way he knew how, and God eventually convicted me that I needed to stop being so self-centered and receive my husband's love in the same spirit it was offered. To accept it with genuine gratitude. To seek to understand and appreciate his way of communicating affection.
So now, when my husband brings home gifts, I do my best to welcome them with gladness. (And he's learned to shop for bargains, as he knows I'll be happier about a gift if I hear he got a good deal).
And do you know what else? Although I still love words of affirmation, I've really learned to delight in physical touch now, as well. So much so that I'd be hard-pressed to choose between the two.
Fortunately, I don't have to choose.
My advice: Don't box your mate into using only one language when communicating his love to you. There's a benefit to becoming fluent in all five.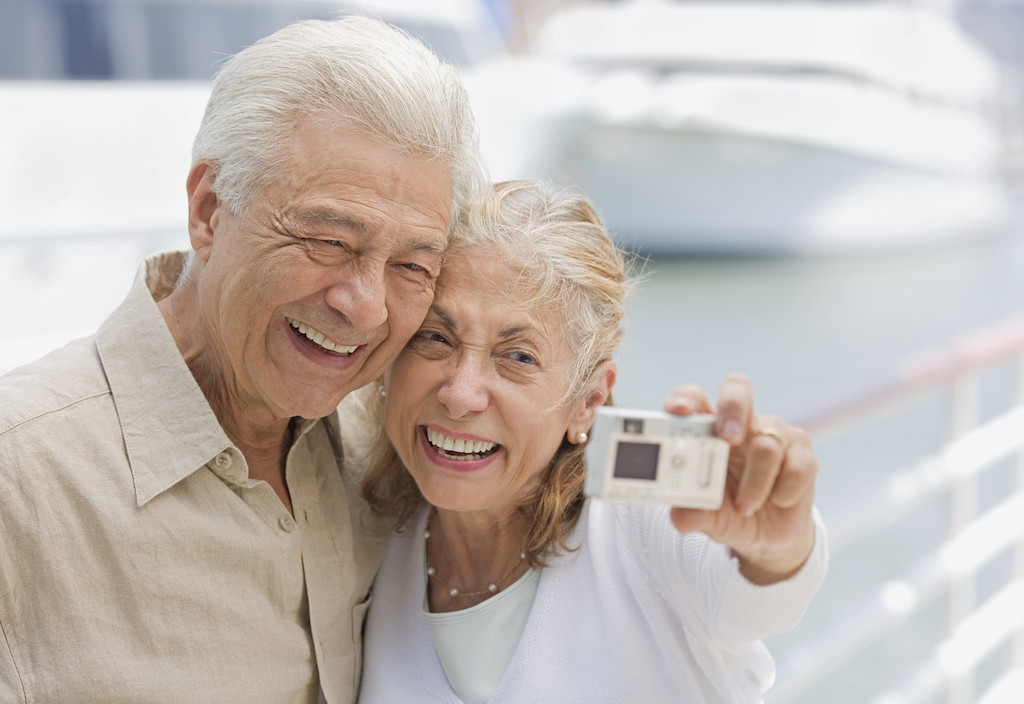 Or six, if you count chocolate.
And if ever your husband sorts through a package of conversation hearts and passes you one that reads "Love U 4ever," don't turn up your nose. Accept it with gratitude. Then find one that reads "Love U More," place it in the palm of his hand, and whisper, "Right back at you, Sweetheart!"