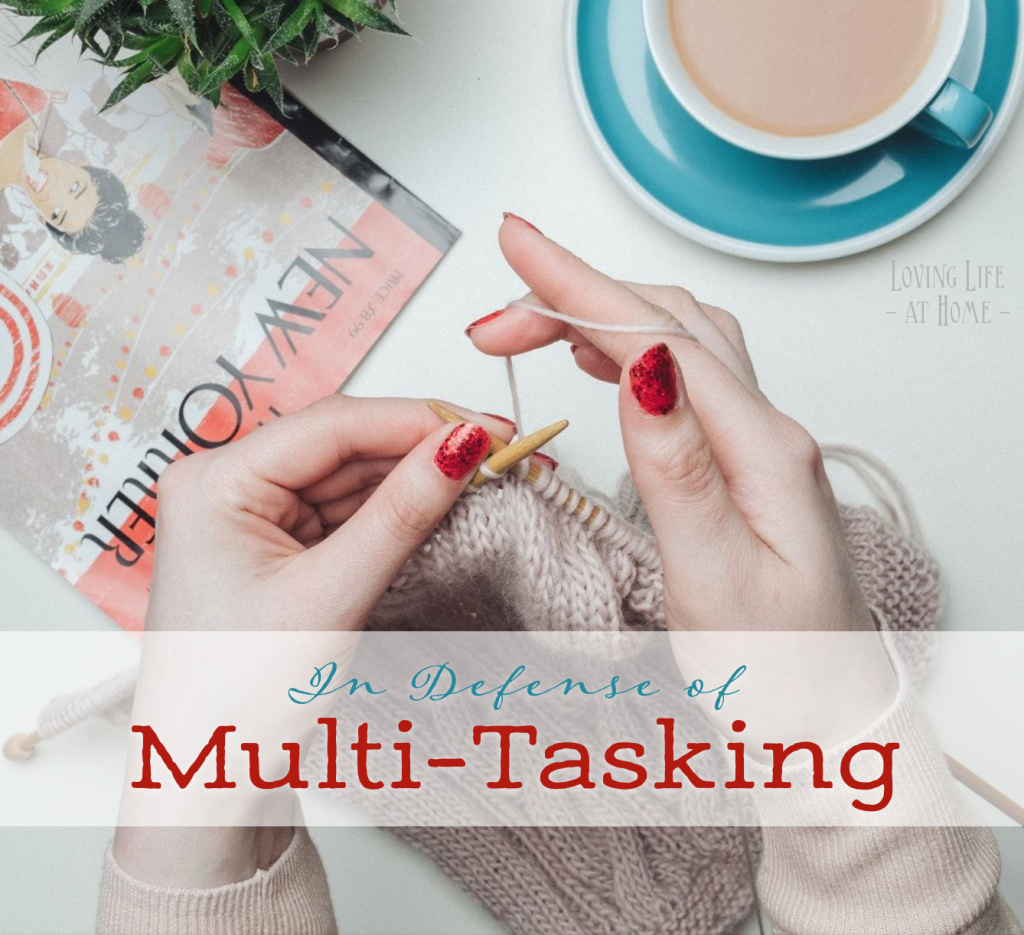 I think multi-tasking has gotten a bad rap these days.
Sure, some forms of multi-tasking are downright foolish: Texting while driving can be deadly. Mindlessly munching on junk food while watching TV is bad for your waistline.
And I know better than to try scrolling through social media, eyes glued to phone, when my husband is in the mood for a meaningful conversation. Or a hot meal or a clean house or anything else, for that matter. Doing so would be rude and disrespectful.
But aside from a handful of ill-advised pairings like the ones mentioned above, I've always thought multi-tasking makes a lot sense. I wouldn't be able to accomplish half of the things I do without doubling up at times.
Multitasking done right means matching a relatively mindless activity – like jogging – with something that will increase your enjoyment and productivity – like listening to Ted Talks while lapping the block.
Modern day appliances make it easy for us to multitask. I can start dinner in the crockpot or a load of laundry in the washer and let them work their magic while I clean house or do lessons with my children. What a timesaver!
Our forefathers understood multi-tasking. They'd call all the neighbors together and build friendships while raising a barn. The women did the same with quilting bees. They'd share news, encouragement, and hearty laughs around a quilting frame while pushing their needles up then down through the thick layers of fabric and batting.
I've been to a couple of quilting bees and must say that I found it quite enjoyable. Here are a few more of my favorite ways to boost productivity through multitasking:
My Favorite Ways to Multi-Task
Listening to podcasts while folding clothes

With seven children still living at home, we cycle through a lot of laundry. Even though the kids and my sweet husband help out with the folding, there's enough left for me to do that I get through several podcasts a week. Doing so keeps my mind engaged while my hands are busy.

Doing Sudoku while soaking in the tub:

I keep a book of these number puzzles handy and work one whenever I'm relaxing in a hot bath… or anytime else I'm stuck in that room for an extended period of time. 🙂

Writing letters while waiting for doctor's appointments

Although my wait time is usually minimal, unexpected and unavoidable delays are common for physicians, so I always pack a few notecards or a book to read before heading to the clinic. Between my daughter's broken arm and the follow-ups to my well woman check, I've used time spent in waiting and examination rooms to pen close to a dozen letters since January.

Praying while climbing stairs

Stair climbing makes for great cardiovascular exercise, but a monotonous workout. Instead of counting flights, I pray through a list of family members and friends – one for each trip up and down our staircase. When I get to the end of the prayer requests, I know exactly how many flights I've logged.

Singing in the shower

The shower is a great place to vocalize. Whether I'm singing praise songs or Italian arias, I can really belt it out in there without anybody looking at me like I've lost my mind.

I've also been known to keep an open hymnal by my sink, as I like to sing while scrubbing dishes or spot treating laundry, and I sometimes forget the words to the middle verses of the Christian classics I've loved since childhood. (The little Baptist church where I grew up was bad about just singing the first and last verses and skipping all the rich doctrine taught in between.)

Sewing while my husband or children read aloud

We still have story time every evening after dinner. My husband finished re-reading To Kill a Mockingbird to the family last week (easy to understand why that one's a classic!) And he's just a couple of chapters away from finishing Belly Up this week (this one was new to us, but delightfully imaginative).

Not only does Dad read to all of us, but our kids read to me for school and to one another for entertainment, as well. (In our house, to echo the grandfather out of Princess Bride, television is called books.)

This is especially true during winter months, which makes for a lot of reading and a lot of sewing. And explains how I've managed to finish stitching six new sequined Christmas stockings since the end of December.

Listening to audiobooks while traveling

If I'm the one driving, the storyline helps keep me awake. But more often than not, I'm in the passenger seat, which allows me to really make the most of my multi-tasking and crochet while listening and traveling. I've finished many a baby blanket that way on extended road trips over the years. 🙂
If you've bought into the hype that multi-tasking is bad for your brain or makes you less efficient, I'd urge you to reconsider. I think those studies are focusing mainly on digital and online activities – like checking Twitter while you're supposed to be writing a report.
Too much screen time is bad for you, whether you're trying to multi-task or not.
But I've been doing the kind of multi-tasking described above for decades now, and I can't tell that doing so has negatively impacted my brain function or attention span or efficiency at all. In fact, I'd argue that exactly the opposite has happened.