Winston Churchill Gives Sound Marriage Advice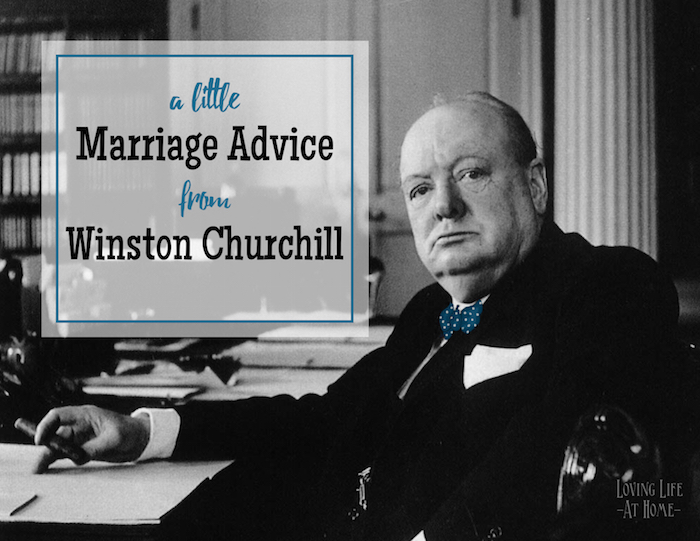 April 9th is Winston Churchill Day. This year marks the 53rd anniversary of Churchill's being made an honorary U.S. citizen, so it seems fitting to spend a few minutes today reflecting on some of the words of wisdom for which he is so well known.
Apparently, Winston Churchill exercised the same dogged determination in love as he exhibited in war: Despite the pivotal role he played in WWII, he often boasted that his "most brilliant achievement" was persuading his wife to marry him. When Churchill passed away at the age of 90, he and Clementine had been married 56 years.
Below are a few of my favorite quotes from the British Bulldog. Had Winston Churchill been a marriage counselor rather than a Prime Minister, I imagine his marriage advice would have sounded something like this:
"The price of greatness is responsibility."

Want a great marriage? Don't just twiddle your thumbs, waiting for your spouse to create it for you. Take responsibility. Take ownership. Do everything in your power to make your marriage the best it can be.

"The first quality that is needed is audacity."

A great marriage requires bold risk-taking. It takes a hundred-percent, sold-out, do-or-die commitment. No holding back. No hedging your bets. You've got to give it your all, pouring body, soul, and spirit into making your relationship everything God intends for a marriage to be.

"Attitude is a little thing that makes a big difference."

This is true in every area of life, and marriage is no exception. Want a happy marriage? Cultivate a happy heart. Dwell on the positive. Be loving, patient, cheerful, kind, and quick to forgive.

"We make a living by what we get, but we make a life by what we give."

Marriage is more about making a life than making a living. When you focus on what you can GIVE rather than on what you can GET, you stand a better chance of making that life wonderful in every way.

"'No comment' is a splendid expression. I am using it again and again."

Don't feel obligated to spout off everything that pops into your mind. Some things are better left unsaid. Be slow to speak. Weigh your words carefully. If you can think of nothing worthy to say, say nothing.

"Kites rise highest against the wind – not with it."

Do hardships send you spiraling to the ground? Pressures spin you out of control? Stay anchored and work together. You'll rise above the buffeting winds and soar higher than you ever thought possible.

"If you're going through hell, keep going."

Push through your misery — don't sit down and wallow in it. Just as the joy of holding a newborn follows the intense pain of childbirth, couples who pull together and work through their problems report feeling far happier and more deeply satisfied afterward than those who let difficulties drive them apart.

"Never give in! Never give in! Never, never, never, never."

This was Churchill's strategy in dealing with the enemy during WWII. Let it be yours, as well. If your marriage is to survive, you must repel anything that would threaten to destroy it — "great or small, large or petty" — with unyielding tenacity.
Every marriage will face adversity sooner or later. How will you respond when it comes? Will you panic, throw up your hands in despair, and watch your marriage crumble before your eyes? Or will you do as Churchill urged and meet each new challenge with "intense vigilance and exertion," doing all that is necessary to protect and preserve life on the home front?
Could your marriage use a dose of that kind of moxie? What's your favorite Churchill quote, and how might you apply it to your own situation?
More Tried and True Marriage Tips
The Word of God is full of wisdom for every facet of life, but we've found it especially helpful in building a happy, healthy marriage. For a fascinating look at how science has confirmed the superiority of God's design, check out my book Love Your Husband, Love Yourself.