Funny Memes: 12 Pins that Made Me LOL
Since we all know that laughter is the best medicine, and since every April Fool's prank I've ever pulled has backfired, I thought I'd celebrate today by spreading a little sunshine instead of playing tricks. Here are a dozen funny memes I recently spotted on Pinterest that actually made me laugh out loud. I hope they'll give you a good laugh, too:
1. Indisputable Findings
I was initially excited to think that the little extra weight I'm carrying might benefit me somehow… then I realized this was written in jest. It's undoubtedly an accurate observation, but a joke all the same.
---
2. An Honest Mistake
>

Those expressions are so priceless! I'd be a little afraid of making such a mistake myself if I had two babies at a time to care for. Don't know how mothers of twins manage!
---
3. A Tough Decision
It would be in poor taste to play it, 50-point bonus or not. But he could play "veins" or "noise" instead and still get a double letter score out of it.
---
4. Old Habits Die Hard
I've often been tempted to do the same thing.
---
5. Thanks for Telling Us

Too late to do anything about it now…
---
6. Metamorphosis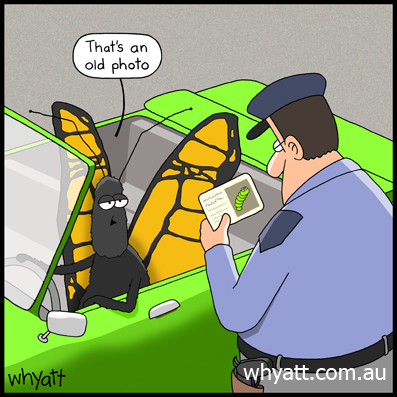 But why drive a car when you can fly?
---
7. Beware of Eye Strain
I'm sure this is what I must look like when I try to thread a needle early in the morning. Fortunately, most of my kids sleep through that spectacle.
---
8. I Love Nerdy Humor
(H2O is water, of course, but H2O2 is hydrogen peroxide. Nobody would want to drink that.)
---
9. She Just Couldn't Help Herself
Gotta love that granny…
---
10. What Would We Do without Social Media?
Ha! If you follow me on Instagram, you know that I never post pictures of coffee cups… or of anything else, for that matter. (That's right, I can understand all sorts of esoteric math and chemistry jokes, but I can't figure out how to upload a single picture to the Instagram account I opened two years ago.)
---
11. I'm Prone to Unrealistic Expectations, Too
Or maybe it's just a RECEIPT for the pony, which is quietly grazing in her backyard even now… Surprise!
---
12. Don't You Say These Things, Too?
And I had to include this one, because Anita Renfroe does such a brilliant job of putting all the things a mother says in a day into rhyming verse, then setting it to music. This song makes me smile every time I hear it.
---
If you share my same quirky sense of humor, you will find more funny memes on my Life Cracks Me Up Pinterest board, so connect with me there! Hope you have a happy April Fools Day. Don't take any wooden nickels.