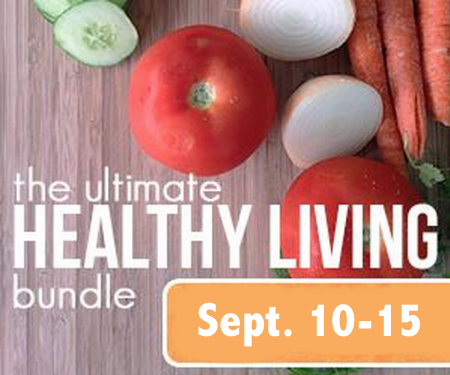 Anybody who has followed this blog for long knows that I love to read. I average about a book a week.
Although I like a variety of genres, I especially enjoy books that teach me something new. The more I read, the more I learn. And the more I learn, the more I want to learn.
That's one reason I'm so excited about the titles included in this year's Ultimate Healthy Living Bundle.
I used to think e-book bundles weren't for me. I really prefer reading hard copies of books rather than digital, so I'd skip over bundle ads without much thought.
But then I noticed that last spring's Ultimate Homemaking Bundle included four books I was already intending to read — and some quick calculations showed me that those four books, bought individually, were going to cost me more than the entire bundle put together.
So I took a chance and bought the whole thing.
And am I ever glad I did.
The quality of books included with the Ultimate Bundles far surpassed my expectations, and all the free bonus products made the deal even sweeter. (I am still using the Dizolve laundry detergent that was included with the Ultimate Homemaking Bundle — I liked the full-sized sample box so much, I bought two more when I finished the first.)
So is the current Ultimate Healthy Living Bundle for you? I'd encourage you to take a closer look to find out, especially if you are interested in making better health and lifestyle decisions, getting fit, losing weight, boosting energy, using greener products, creating nutritious and delicious meals for your family, and/or doing what you can to prevent serious diseases.
If some of the topics appeal to you, but others don't, that's okay. Nobody expects you to read them all. Feel free to pick and choose.
Personally, I'm planning to skip reading the books about cloth diapering and natural childbirth, because — as sad as it makes me to admit it — baby season seems to be behind me now. And since I'm not allergic to gluten, eggs, or dairy, I probably won't take time to read the bundle books on those topics, either.
But there are several books in this bundle that are very applicable to where I am at this point in in my life.
These are the ones I'm focusing on first:
The Eczema Cure

I had eczema as a child. Although I eventually outgrew it, I well remember the way it burned and itched and kept me awake at night. Although I haven't personally been troubled by the condition for years, I have a little son who suffers terribly with it. He has cracked, crusty skin around both ankles that sometimes even breaks open and bleeds. It looks far worse than anything I ever had when I was little.

We've tried lotions and cortisone creams galore, and although they've helped to some degree, nothing has been able to clear it up completely. That's why I was so glad to get my hands on a copy of The Eczema Cure. The author gives detailed, step-by-step advice for treating eczema from the inside out.

(Note: Just this title alone retails for $30. That's like getting the rest of the bundle for free!)

Money Saving Mom's Guide to Freezer Cooking

I love every book I've ever read by Money-Saving Mom Crystal Paine (which is quite a few now) so when I noticed she had a book in this bundle, I downloaded that one first. Tried, true, and to-the-point, Crystal shares strategies for freezer cooking that will fit any mom's schedule — whether you have a whole day to devote to preparing your family's meals in advance, or just fifteen minutes at a time here and there.

I did a little freezer cooking after buying the Ultimate Homemaking Bundle last spring, but grew discouraged when our freezer broke down (twice!) this summer, and all my hard work was lost. 🙁 The frig has been fixed now and has given us no further problems, so I 'm ready to try again. Crystal's book was just the motivation I needed.

Clean & Simple

Stephanie Langford's subtitle tells you exactly what you can expect out of this one: "7 Inexpensive Ingredients, 12 Green Cleaning Recipes That Work."

When I recently ran out of furniture polish, I searched this little volume for alternatives to what I'd been using. Although dusting spray was not one of the twelve recipes mentioned in the title, Stephanie did include a link in the back to exactly what I was looking for, and it works beautifully. What's more, she provides in the dozen some simple, easy recipes for other things I use regularly but hadn't thought of making myself, like foaming hand-soap and oven cleaner.

Not only are the homemade varieties of each of these better for my family and better for the environment, but they can be made for a fraction of what their store-bought counterparts cost. And they work! It's a win-win!

42 Simple & Healthy Dinners

When I learned that one of the authors of this book, Brandy Ferguson, is the mother of eight boys, I knew I had to read it. If she has discovered how to cook healthful, whole food meals that simultaneously satisfy a house full of growing boys, then I want in on her secrets! The book is filled luscious looking photographs for protein-rich dishes such as garlic lemon chicken and pasta, basil beef lettuce wraps, and tilapia tacos, plus a whole section of vegetarian recipes.

This collection of recipes is meant to complement Brandy's other book, 42 Days to Fit which contains, among other things, a custom-written exercise plan I'm eager to try designed specifically for mothers. Since that book's also included in the Healthy Living Bundle, I'm planning to read both concurrently.

The Happy Housewife's Guide to Dealing with Picky Eaters

I haven't started this one yet, but intend to do so right away, as I'm dealing with a couple of picky eaters at my house right now and getting a little frustrated.

They aren't picky in the usual sense of only wanting to eat junk food. Both are huge salad and veggie eaters, but they turn up their noses at anything with even a hint of meat in it. This their father, who is a diehard meat and potatoes man, can scarcely comprehend.

Don't get me wrong — I'm thrilled that my little ones love lettuce and spinach. I'm just hoping the Toni Anderson's tips will give me fresh ideas for encouraging them to try some new dishes, as well.

Simply Salads by Season

And if I can't talk my little ones into eating anything but salad? Then at least Kristen Michaelis' book Simply Salads by Season (also included in the bundle) will help me add some variety that way.

Kristen offers a treasure trove of salad recipes, all filed and organized according to when the main components are most readily available: spring, summer, winter, fall, or year round.

She also includes more than two dozen recipes for salad dressings and condiments using all-natural, whole foods ingredients, making this book a great resource you'll want to refer back to again and again.

The Urban Chicken


Given that I live in town in close proximity to my neighbors, the choice of this book may seem a little odd, but I've always been enamored with the idea of raising chickens and would like to learn more about how one goes about it.

This summer, my children and I got to talk to some folks who raise quail, and they assured us those birds would be quiet enough to keep in our backyard without any fear of disturbing our neighbors. I'm thinking that much of the material in Heather Harris's book, The Urban Chicken, would probably apply to raising quail, so I am planning to give it a look-see as I continue to contemplate the possibility of harvesting fresh eggs every morning from my own back porch.

The Nourished Metabolism

I have always had a low metabolism, but now that I am closing in on fifty, my metabolism seems to have sunk through the floor. There was a time (back in my twenties) when three months of breastfeeding was all it took to completely melt my baby fat away. I delivered my last baby the day before I turned forty-five, and — four years later — have still not dropped all the weight I gained during that pregnancy, despite daily workouts and meticulous calorie counting for months at a time.

I'm hoping that Elizabeth Walling's book, The Nourished Metabolism, will give me some good guidance as to what I might do to naturally combat this problem. And here again, this one book retails for $30, more than the price of the whole bundle.

Get Up & Go: Fun Ideas for Getting Fit as a Family

I don't think I've mentioned it on this blog yet, but a few months ago, I finished writing my new book, Get Up & Go.

And guess what?

It's included in this bundle, too!

So if I were to list the bundle books in the order I've read them, this one should really come first, as I had to go through it cover to cover at least three or four times during the editing process.

This book is full of great ideas for staying active as a family. Don't be duped into thinking you need a gym membership and a babysitter to work in a good work out — it's much more fun to get in shape alongside your husband and children, and you'll make some wonderful memories in the process!
So… that's my list of personal picks for this particular bundle. If you'd like to read them ,too, you'll need to act fast: This bundle will only be available until Monday, September 15, or until 30K copies are sold. If you wait too long, you'll miss it!
---